Samsung Display was missed at the SID event last year (it was concentrating on promoting its branded products last year, rather than components, we heard), so we were pleased to see the company back in San Francisco. Unfortunately, the firm was not holding any press meetings, just showing its technology.
The first display we looked at was a 65″ UltraHD 'Black Crystal' LCD panel that has high contrast and low reflectance to boost the black performance. Samsung was quoting a contrast ratio of 6,000:1 (up from 1,500:1) and reflectance of just 2.3%, compared to 7%-8%. In a dark (<1 lux) environment, the lower reflectance means that contrast is even better at 8,000:1, as the black brightness is down to 0.06 cd/m². The panel is available now and can be supplied with either local direct dimming for better TV sets or edge or direct global dimming for mainstream and entry sets.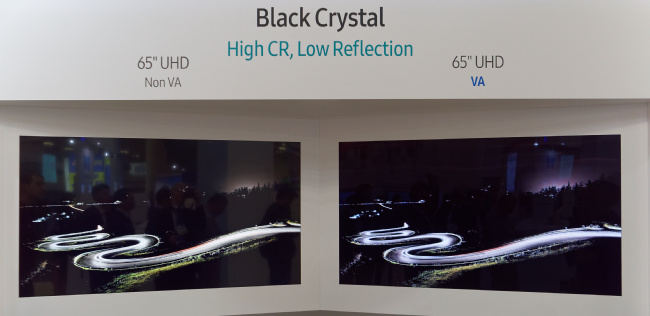 Samsung highlighted the contrast of its 'black crystal' panel
There was also a 65″ slim curved UltraHD panel.
As Samsung Electronics had done at MWC, the Display group was highlighting how the Samsung mobile phone and tablet business has evolved in recent years, from using LCDs to OLEDs to flexible OLEDs. The company was also highlighting its SEED 3.0 'Samsung Enhanced Engine for Display' which is a processing system that adds skin colour optimisation, outdoor readibility and dynamic contrast for movies to the SEED 2.0 version.
The company was drawing attention to AMOLED features including:
Colour on the latest OLEDs is specified at over 100% of DCI P3.
An 'Always on' display mode uses high peak brightness on just a small part of the display to boost outdoor legibility for daylight viewing with low power consumption.
The 13.3″ and 14″ OLED panels shown in new notebooks at CES were also demonstrated – they do look good!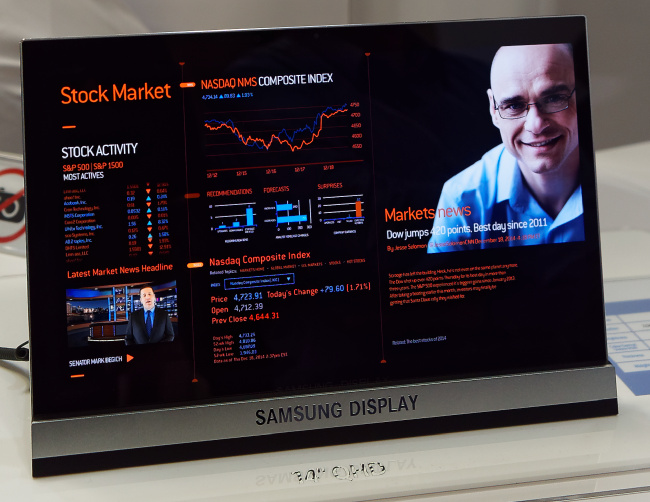 Samsung's OLED notebook panel looks great
One of the key technologies for Samsung Display is flexible OLED and this has been shown for some time 'behind closed doors'. This time, a 5.7″ FullHD panel with 386 ppi was being shown rolled up with a minimum radius of 10mm. (Watch out for a video of this in our SID highlights video – under preparation at the time of writing.)
All the major panel makers are working to get into the automotive market, and Samsung was showing a 7″ 960 x 540 (157 ppi) display with 300 cd/m² of brightness (600 peak). Contrast is more than 1 million to 1 and colour gamut is 97% of AdobeRGB.
In the same 7″ size was a transparent OLED with 480 x 272 resolution and 1,000cd/m² of brightness. Contrast and colour are the same as the mirror display, but transparency is 45%. The application is automotive HUDs.
A central console display uses a rigid OLED with 7″, again, and 350cd/m² of brighness and 1280 x 800 resolution (216 ppi).
Chris wrote about the 'holographic' and 'lightfield' demonstrations at the event. (3D Developments at SID 2016)