Rohm Semiconductor has announced the mass production technology for Short-Wavelength Infrared (SWIR) devices, which is the smallest class in the industry. SWIR is characterized by longer wavelengths than near-infrared (NIR), making it more permeable through different materials, while being less susceptible to sunlight, smoke, and other particulate matter. This technology is expected to expand the range of sensing substances such as water/gas and glucose.

In the past, most SWIR devices were through-hole package types for relatively large applications, such as communication equipment and industrial analyzers. However, Rohm's new SWIR devices offer a range of features suitable for compact applications, including light sources for blood oxygen saturation and blood glucose measurement devices in the medical field, measuring the water and sugar content of fruits and vegetables in the food industry, and sensing applications through OLED panels in portable devices and wearables devices to add health monitoring and other novel functions.
Rohm has established mass production technology for compact 1608-size surface mount SWIR products, leveraging manufacturing technology cultivated through the mass production of compound semiconductors, such as visible and near-infrared LEDs. For the light emitting side, a lineup of ten LEDs is planned in varying package shapes (molded/lens) and wavelengths (1050nm to 1550nm), while on the light receiving side, four photodiode models will be offered in different packages (1608-size / 20125-size (2.0mm × >1.25mm)) and photodetector block sizes.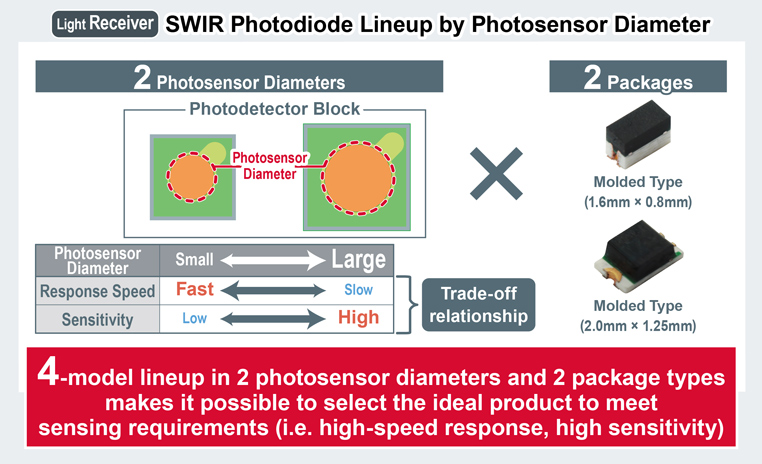 These SWIR products (light emitters/receivers) are available now, and Rohm will pursue new areas for sensing by supporting a wider range of material detection in compact applications. The SWIR devices are expected to bring the total to ten models in various combinations, contributing to a wide range of material detection, including the presence and constituent analysis of substances such as water, gases, and glucose.