Rockwell Collins hosted a series of demos at its facility in Sterling, Virginia on January 29. We were there to hear and see what the company was showing. The first demo was a JTAC (Joint Terminal Attack Controllers) scenario. This demo was similar to one I witnessed in November 2013 in its UK facility.
JTACs are the soldiers who manage air to ground strikes by coordinating the identification of targets and orchestrating the assets used to attack them – all while minimizing collateral damage and fratricide.
In the demo, a live aircraft was planned to be flown out of Cedar Rapids, Iowa and joined by simulator aircraft piloted in Virginia. Bad weather grounded the live aircraft, so they quickly reconfigured the platform to do the same mission, but sitting on the ground instead. An experienced JTAC coordinated the transfer of the target information to the pilots (the 9-line data), while communicating with ground forces near the target. The plane's out of cockpit visual was shown on a local simulator while a command center showed the radar and map data with target and plane positions. Several scenarios were run in a short time.
JTACs are now training across many international services so a US soldier knows how to interact with a French Mirage, if that is the asset available to prosecute a target. Five years ago, training was done almost exclusively with live assets. Over the last few years, it has become acceptable to accomplish their proficiency re-certification using virtual training. But when the next certification rules (modes) are released, it seems likely that all-virtual training will now be allowed for the initial certification as well.
The next station featured Rockwell Collins' Core Simulation platform. This is an instructor workstation software package that allows the quick and easy customization of the training. Previously, such changes to the courseware might have to be done by the supplier and require a recompile of the software.
In addition, since Rockwell Collins is also a supplier of many of the instrument packages used in the same platforms being simulated, the simulator has access to the latest revisions of these platforms – a competitive advantage for them.
In a second flight simulator demo, the new particle physics addition to the Rockwell Collins EP 8000 Image Generator (IG) was showcased. This means that clouds, fog, dust and other particle-based phenomenon can now be modeled much more accurately and realistically in the simulator.
This was demonstrated by flying in and out of clouds that showed various levels of transmissivity – just like in real life. Previously, you were either in or out of a cloud. This capability should be very useful in "brown out training" – the obscuration of visuals in helicopter landings as dust is kicked up, for example.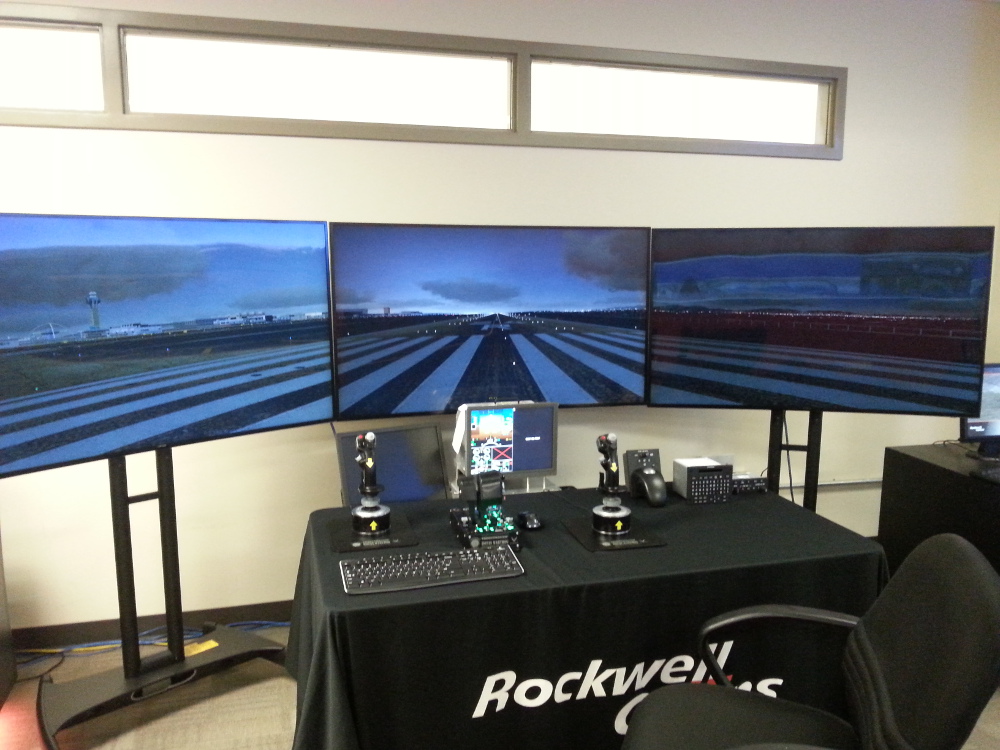 The company also highlighted the IG's ability to display a large number of light points – like runway lights, with high brightness – again in an attempt to better mimic real life.
Another innovation the company is working on is voice control of an aircraft. This was shown on a commercial platform. Rockwell Collins has developed the voice engine using only a limited vocabulary and says it is very robust in being able to recognize commands in noisy environments and for people with heavy accents.
The system has implemented about 12 features and performed well, but did require some repeating of commands in one or two instances. It is designed to require a physical acknowledgement of the command by clicking a button on the joy stick.
Simple tasks may not benefit too much from the technology, but more complex ones will. This can save a great deal of time over conventional methods of entering data into instruments or even looking up information in manuals.
This is an interesting development to keep an eye on. – Chris Chinnock