Ricoh was emphasizing that its offer these days goes a long way beyond just projection, with interactive flat panels and videoconferencing solutions as well as the projectors. The company highlighted that it is really focusing on the corporate market in the US with collaboration a major theme across all the products. Ricoh said that video conferencing has moved away from using special dedicated rooms for presence. In the firm's view, one of the issues was that room-based systems were often complex to control and get started.
The company has its own software, which can work on dedicated hardware or can operate with apps through the cloud. Ricoh has a dedicated conferencing box with a camera and microphones, the P3500M, but it can talk to any browser app that supports the WebRTC protocol.
Ricoh started its IFP developments with 55″ and 65″ LFDs and then extended that to a smaller unit which has a 21.5″ monitor-based system that can support web conferencing (it has a camera, microphone and speakers) without the need for a separate PC. We heard that it is popular with executives and also for huddle rooms. Now the company is developing 75″ and 84″ UltraHD systems. There is a partnership with IBM to use the Watson platform which can support the Ricoh Meeting Manager. Watson can record meetings, notate them and even offer simultaneous translation. It can identify the people in a meeting and can even decide from a project topic that a particular team should be invited and re-schedule meetings if there are conflicts.
The firm has a strong background in secure systems for special industries including education, hospitals and health and can develop very secure systems. However, it also has an open controller system, with much simpler security.
Turning to projectors, the company has systems from 600 lumens to 12,000 at 1920 x 1200. There was a new short throw L/P projector that has 4,500 lumens of output. The PJWU5570 is a 1920 x 1200 projector with 5,500 lumens of output using a DLP and lamp-based engine.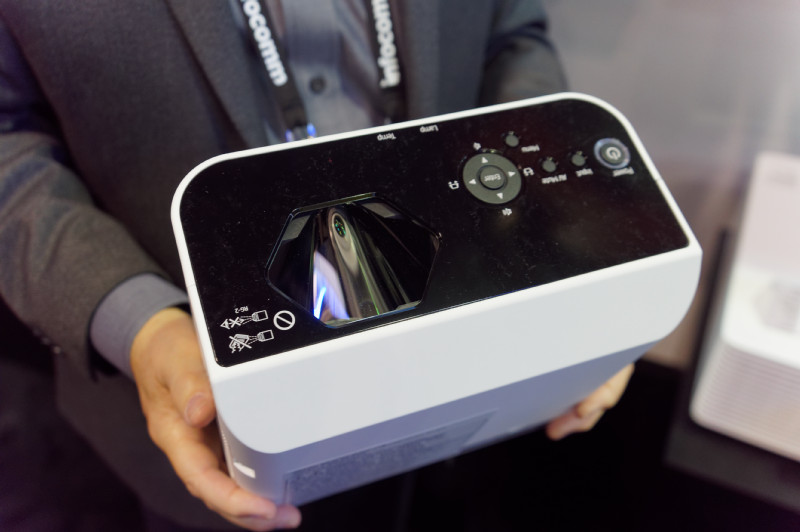 Ricoh has a new ST projector. Image:Meko
In the installation area, the PJWU6590 is 9,000 lumen 1920 x 1200 unit that uses DLP and dual lamps. There are six interchangeable lenses, from UST to ultra long zoom. There are variations with different resolutions and output – the PJ X6480 (1024 x 768, 8,800 lumens), PJ WU6480 (1920 x 1200, 7,500 lumens), PJ X6590 (1024 x 768, 10,000 lumens).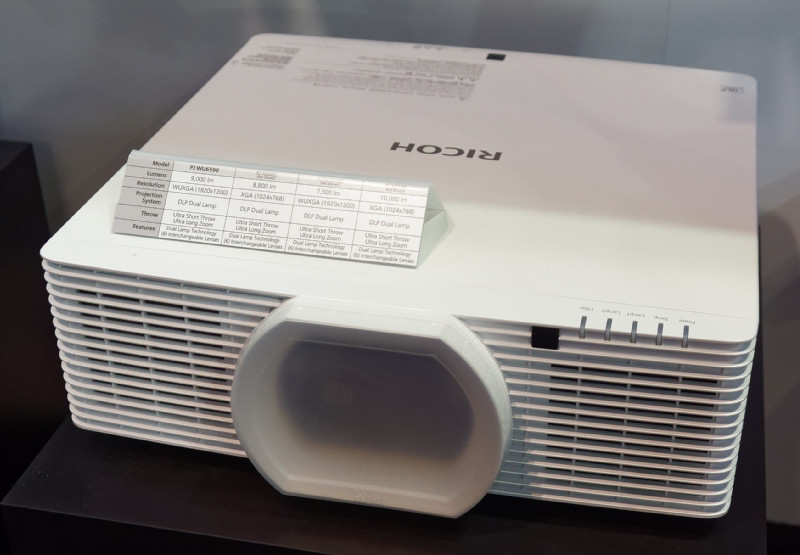 Ricoh's PJWU6590 puts out 9,000 lumens of output. Image:Meko
Analyst Comment
What struck me about the Ricoh offering was that, although the firm had a good story about its ability to support corporate collaboration, the range of products, especially the projectors, really lacked any kind of design consistency and highlighted that the company does not have its own technology. If I was a buyer, that would make me nervous. (BR)