An article on the investor website, Seeking Alpha, has suggested that the industry capacity for OLEDs for smartphones may have a 100% oversupply by 2020. The report suggests that excess capacity may be absorbed by boosting the development of OLEDs for TVs. The article includes this table of capacity, taken from a report from The Information Network and entitled "OLED and LCD Markets: Technology, Directions, And Market Analysis".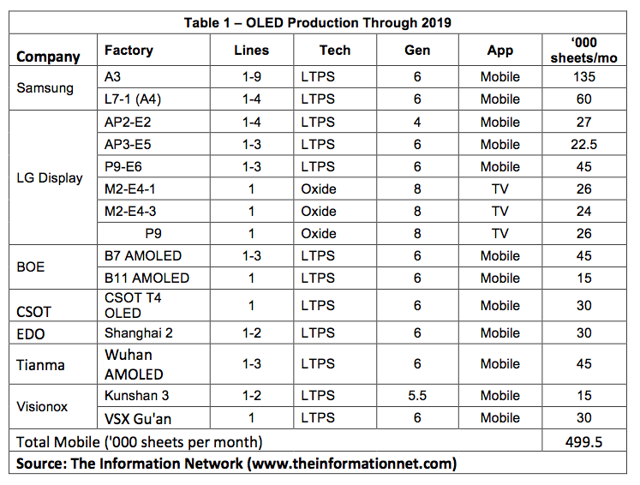 OLED Fabs at the end of 2019
The calculation was based on the following assumptions:
A Gen 6 plant with a capacity of 15,000 sheets can produce 45 million 5.7" smartphone displays, monthly.
Total sheets per month in Table 1 is 499,500 sheets, but since not all are Gen 6, the writer simplified to get the average number of plants, which is 33.3, by dividing the 499,500 total sheets by 15,000 sheets per Gen 6 plant.
Since each Gen 6 plant can yield 45 million smartphone panels per year and there are 33.3 Gen 6 equivalent plants, total smartphone, total panels, total smartphone panels for the plants detailed in Table 1 are 1,498,500,000 for 2019.
The writer assumes there will be an estimated 1,700,000,000 smartphones sold in 2020.
In 2020, OLED displays are expected make up 50% of smartphone sales, with the remainder LCDs.
Total overcapacity for OLEDs is 76% based on shipments
Analyst Comment
From my point of view, there is little or no real ability to switch a plant from making smartphone-style panels to TV panels is simply not feasible. David Barnes gave a very good talk at the SID a few years ago that highlighted that one of the problems with LCD was the factories are 'fungible' – that is to say, almost any factory can make almost any product. The same is not true of OLEDs. The OLEDs for smartphones will have very high dot density and be based on flexible substrates. It's hard to imaging TV panels being made flexible in the next seven to ten years. It adds cost and would only have limited benefits, I think.
On that basis, I'd be very nervous about the writer's conclusions, although the possibility that the smartphone OLED business might be in oversupply is more of a probability, I think. (BR)