Qualcomm followed on from the Samsung event which ran to the limit of the allocated time so it was hard to cover both, but we just about managed it!
President of Qualcomm, Christiano Amon, started by saying that Qualcomm has been investing in mobile and 5G technologies which the company believes will enable many new applications and use cases. The company has also diversified over the last couple of years away from simply the smartphone base. The company has been looking for businesses that have been disrupted by mobile technology. An obvious challenge is to develop core competencies fast in new areas.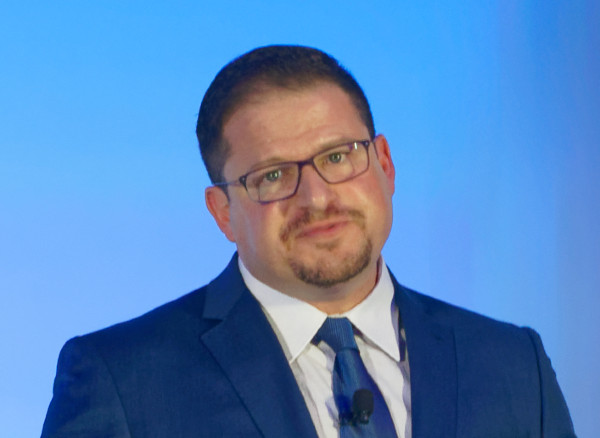 Qualcomm's Christiano Amon. Image:Meko
The core mobile-based market is valued at $32 billion but the total is up to $150 billion if you look at all the addressable markets that Qualcomm is interested in. The company is closing its acquisition of NXP to enter those areas. Qualcomm will see more than $3 billion revenues in FY 17 outside the mobile area and the 'front end' business is 75 % up on last time. The key areas for Qualcomm are automotive, IoT, mobile, computing and security.
Qualcomm expects to see 5G in a smarpthone by 2019 which is faster than was originally expected. High speed, low talency and the capacity for limit free contracts are the compelling features that are driving 5G development. The Qualcomm X50 is a certified modem and the ecosystem is growing with AT&T promising tests in 12 markets by end of 2018, while Verizon will be in three to five markets. China will start large scale trials in 2019 and Korea Telecom could also get started as early as 2019.
Low latency means more and more convergence and Amon pointed out that unlimited data and almost unlimited speed makes the internet similar to internal networks. On the other hand, the complexity of RF is increasing in the front end. In the early days of 4G, just 16 bands were used but then up to 1000 combinations have been used now there are over 10,000 RF channel combinations in 5G and that makes the front end very complex.
In terms of front end design wins, Qualcomm has signed Google, HTC, LG and Sony already and with Samsung in 2018.
Qualcomm has a tunable 5G front end and a 4G multimode front end which is, they say, significant because of the number of possible band combinations, but the complexity means that devices must be created with a system level design, rather than components working independently. The controller needs to work well when switching between 4G and 5G and so the radio front end can't be realistically isolated.
Qualcomm has developed the "Always connected PC" with Microsoft and the concept has been embraced by the PC industry. For most purposes, during the working day, no charger is needed and the systems have "no boot time" and are always connected. Qualcomm was expecting an announcement from Lenovo on the day after the press event.
Turning to networking, there has been big progress with mesh networks, which Qualcomm supports. In retail, there is a 40% share in the US for mesh access points. Consumers want gigabit in every room and mesh networking is seen as a way to move towards that. Qualcomm claims to be the #1 supplier in retail mesh networking. Plume, which makes small network access points, is now using mesh in the Xfinity. Qualcomm's next targets are service providers, the intent is to move service providers away from PLC to mesh Wi-fi. Asus has a speaker that is also a router and uses mesh technology which is a good solution making hubs for the IoT.
In automotive, Qualcomm has 25 new design wins in FY2017 and "all major automakers" now using Qualcomm for telematics, infotainment and in-car connections. Cars started their connectivity with 2G and 3G, but had few use cases beyond diagnostics and emergency initially, but now there are "many, many" use cases with 4G and 5G levels of bandwidth.
Qualcomm has 12+ automakers signed up for the Snapdragon Automotive platform and Qualcomm noted that even entry level autonomous cars will have premium level communication features.
There were a number of announcements around low power bluetooth SoCs for wireless earbuds, based on a new Qualcomm SoC using technology from CSR, which Qualcomm acquired some years ago. The Qualcomm solution is claimed to be 65% more efficient than other solutions. The opportunity is not only for add-on headsets, but also for their inclusion with smartphones.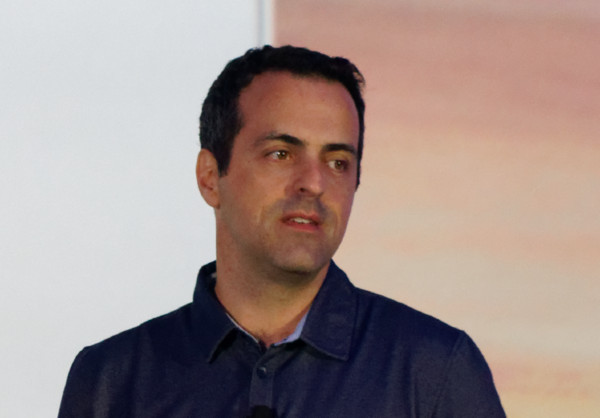 Barra of Oculus said that the firm is using the Qualcomm 821 in the Oculus Go. Image:Meko
There are over 20 AR devices based on the Qualcomm XR platform, with more than 20 more in development. Amon brought on Hugo Barra from Facebook/Oculus. Oculus is developing the GO systemwhich is a new category between smartphone VR and PC VR and will be self contained. The Go device is based on a Snapdragon 821 chipset which is a balance between power and battery efficiency. Xiaomi is the first partner for Oculus Go, globally. Xiaomi has a new headset for the Chinese market and Thomas Tang of Xiaomi, the head of Mi Labs, came on. The headset is a standalone device and will be sold by Xiaomi in China only.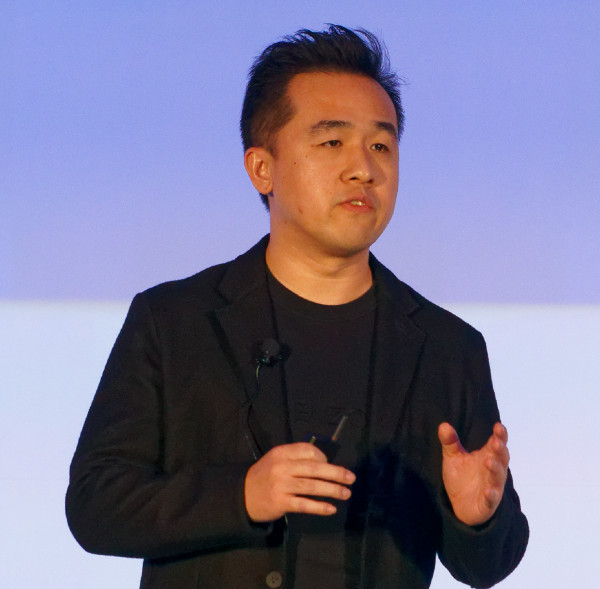 Xiaomi's Thomas Tang said that it would launch a new AR headset in China. Image:Meko
The Mi VR is a standalone headset for the Chinese market.
At the show there were other announcements including a partnership with Land Rover Jaguar for infotainment and telematics. The modem is included in the SoC which has also been adopted in the 2018 Honda Accord which will support 4GLTE. The Land Rover is the first time that an integrated solution has been used in an infotainment system. The company is also working with BYD to put its chips into 2019 electric cars for infotainment and for the 'digital cluster'.
There is a big opportunity for Qualcomm in IoT because of the connectivity, low power and multimedia support. Amon said that deal on Voice UI are very important and five deals were announced for voice support. Alexa, Google Assistant and Cortana are all now supported on the Qualcomm Smart Audio Platform, but also on Alibaba's voice cloud service and Baidu's DuerOS (which were announced last year). The deals mean that voice can be put into hubs and routers.
In questions, Amon said that the Oculus Go is a significant step in getting to the level of 100 million devices that he said in 2017 was going to be the volume of installed base needed to provide real depth in the highest quality content. He also addressed the roll out of 5G. All major markets are planning deployments this year or next year and a number of different configurations are being tested. The technology also has gigabit LTE to fall back on.
Amon also appointed out that the low latency for 5G may mean that client devices do not need as much local storage in flash. It may be that although the radios cost more, there could be offsetting cost savings in the design of client devices.
Qualcomm is not too concerned about the Spectre and Meltdown bugs because for them to be exploited there need to be rogue apps, but in mobile users generally use stores with curated content. Qualcomm has also released drivers.
Finally, he talked about the advantages of the SnapDragon security hardware SBU architecture which has secure hardware for biometrics and execution and used in the 845 chip.
We went around the Qualcomm booth, but there was not a great deal to see. Unfortunately, staff with deeper knowledge of the developments in WiGig were not on the booth when we went by. We expect to catch up on this topic at MWC next month. The company was showing PC-level graphics running on the Snapdragon 845 witth an Adreno 630 GPU and supporting 10 bit HDR.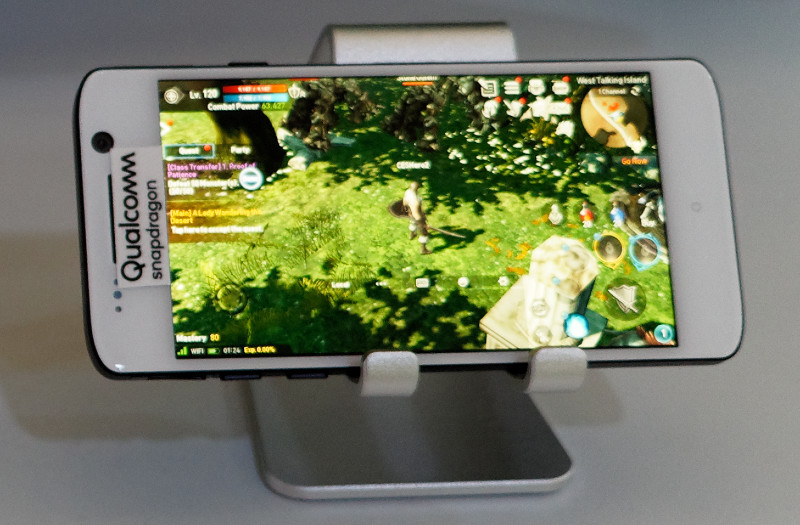 Qualcomm was showing PC-level gaming on its 845 chip