Absen did not have any new products that we didn't see at ISE, but where it made a big impact with its CoB technology. The company told us that it had a very positive response to the technology. It also told us that it was getting a good reception in the rental market to its lightweight cabinets, which are just under 19 kg/m². In fact, the company's new products are considered quite advantageous for the rental application. Germany is proving to be a very positive market for the company at the moment.
AVLInk is from Taiwan and has a range of video wall controllers. News at the event was a new version of its controller which can apparently display at 'any angle' (although demos at the show were all at multiples of 45º). The controllers can be adjusted to allow for different widths of bezel, from no gap at all to big gaps. Output is up to FullHD, with dual outputs, but multiple units can be cascaded using a splitter to support higher resolutions.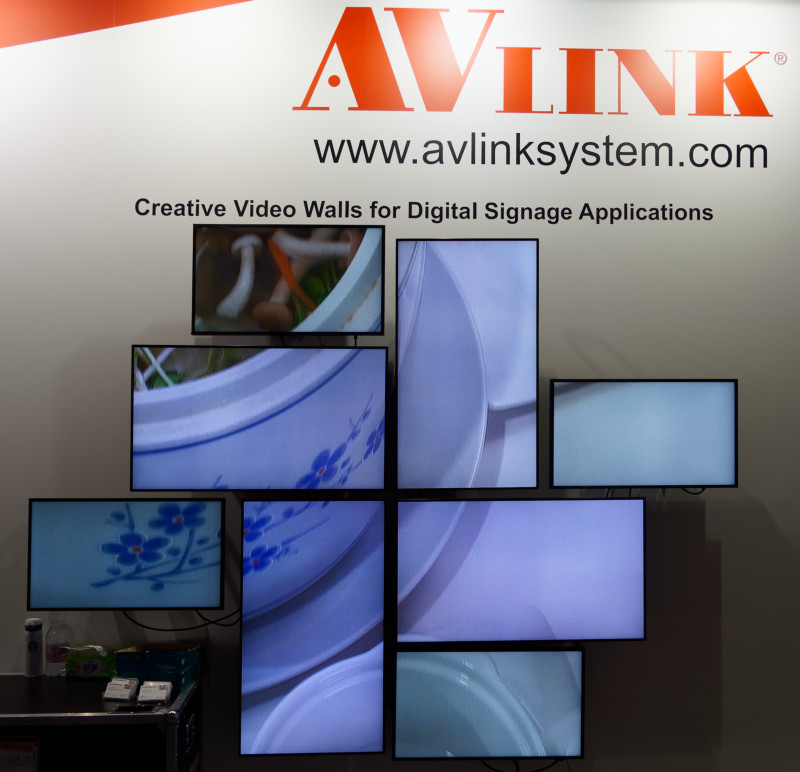 AVLink has upgraded its video wall controller to deal better with bezels and to allow rotation. Image:Meko
CLT is yet another Shenzen-based LED maker, but it is focusing on LED-based totems and what it calls 'commercial displays' (although it can offer indoor or outdoor displays for rental or fixed use). The totems have integrated Android-based media players with up to 6GB of memory. The totems have 1.8mm or 2.5mm pitch and a feature is HDMI loopthrough which helps when multiple totems are used together.
Controllers were also being shown with facilities for mirroring and back up. Images can be scaled and there is an embedded LCD on the controller for monitoring what is being shown. Inputs can be switched automatically (in 0.5 seconds) if there is a signal failure. Other features include diagnostics that can show temperature, and voltage status.
Dicolor gets about 70% of its business from rental and has products down to 2.6mm pitch that can produce 1,200 cd/m² and are intended for indoor use. The cabinets can be configured with 5º curves (concave or convex). The company told us that one of its key technologies is auto calibration which helps renters to get a good image quickly. The company told us that at Infocomm it would have rental products with 1.9mm pitch.
Digital Projection had a small booth of its own and also had an 8K Insight projector on the Etha booth (Etha is a Digital Projection partner in Germany). The projector currently has 16 3G SDI inputs to support the resolution, but will be replaced in the future by four 12G SDI interfaces or four DisplayPort. The company also was showing how images could be blended and warped using Vioso siftware.
Digital Projection is benefiting from the ownership by Delta, which is giving access to a lot of new technology and the company now only has two lamp-based projectors and expects to be completely out of lamps before that long. The firm plans to introduce a red laser projector that is similar in concept to the RB laser phosphor from NEC.

Digital projection showed its 8K projector. Image:Meko
Gloshine is a well established LED supplier in the rental area and showed us its latest ZS product for rental which is already in production and has a design that uses a mesh form to reduce weight and has a 6.94mm LED pitch with brightness from 2,000 to 2,500 cd/m² (with 800 – 1200 as an option). Front rating is IP65 and rear is IP54. The cabinets are available in 500 x 500 mm or 1000 x 500 mm shapes. The larger cabinet weighs just 8kg, so the overall weight is 16kg/m², meaning a light weight and stacked or hung displays can be up to 10 metres high. The cabinets make neat external corners and can be curved.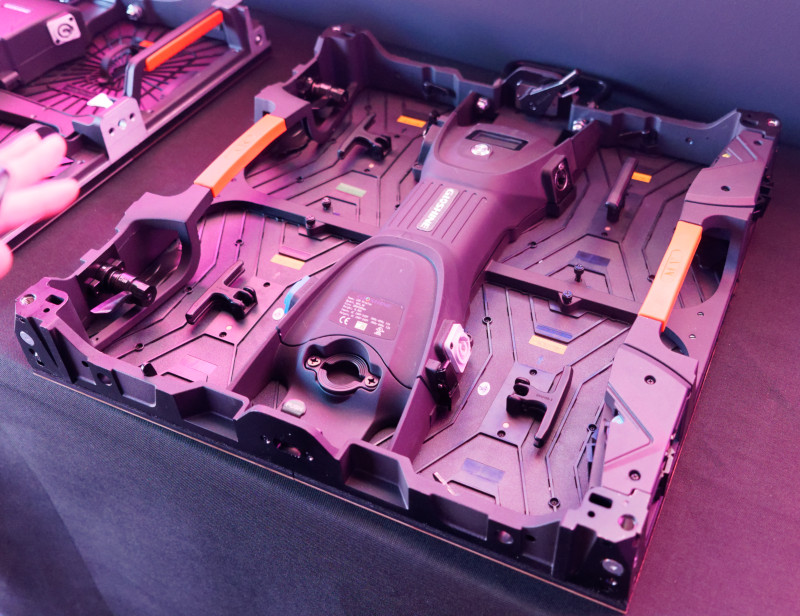 Gloshine's MV Series Image:Meko
Gloshine also showed its MV range which can be supplied in 2.38, 2.6m or 2.97mm pitch with brightness of 1500 – 1800 cd/m² or in lower brightness if preferred. The IP rating is IP30 and the 500 x 500 mm cabinets have 'curve dial locks' which can be used to create consistent curved concave or convex installations. The panels can be front or rear accessed for service. Accessories include a cabinet to take up to eight pieces.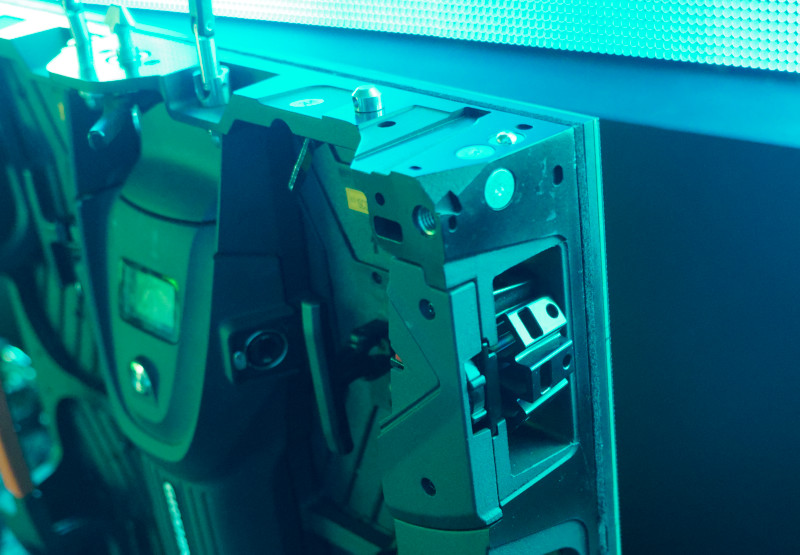 Gloshine's MV Dial can allow accurate adjustment. Image:Meko
Huasuny was a new name to us and is from Foshan City in Guangdong. It makes a range of conventional LEDs, but also has an unusual system that combines a motorised base with a frame that puts LED lights on either side of an LED cabinet with 4.8mm pitch and called the X Rover Pro. The lights are RGBW units with Cree LEDs, so they are programmable for colour. The system needs two separate controller, a Novastar for the LEDs and a DMX500 for the lights and motion controls. That means that the operator needs to understand both systems to ensure that the systems work together. The combination can be made into very impactful displays.
The units cost around $1800 and the LED cabinets can be removed and used as a conventional LED wall, helping rental companies to optimise the use of their inventory.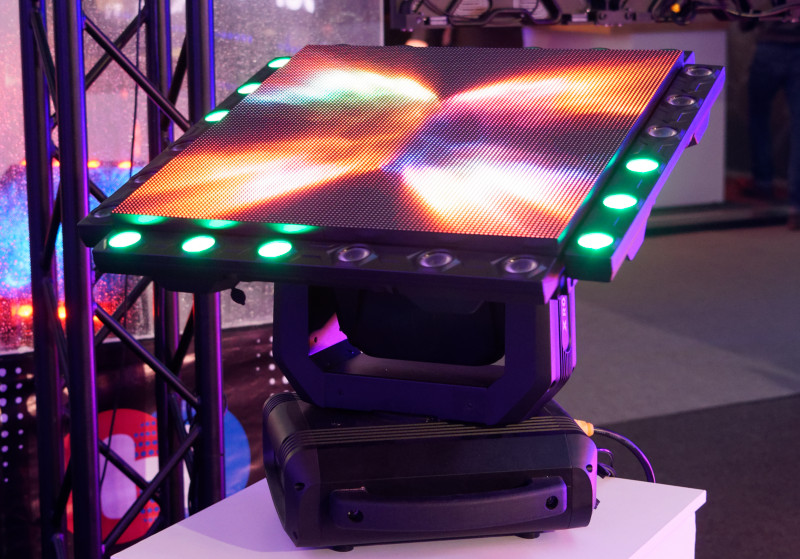 Huasuny is combining LEDs and LED lights on a motorised base. Image:Meko
Infiled is a strong player in the rental market in Europe, partly because of its relationship with Lang, which worked with the company to develop its 1.8mm rental LEDs. The company told us at ISE that PLS would be an important show and it had its new AC (Air Carbon) series which is being introduced in June in 5.35mm pitch. There will be a 3.7mm version later. Brightness is 5,000 cd/m². The system is available in two versions, one with cables to connect the cabinets, the other with no cables.
The cabinet is very large at 600 x 1350 which makes it quicker to install, but they should still be light at around 15 kg/m².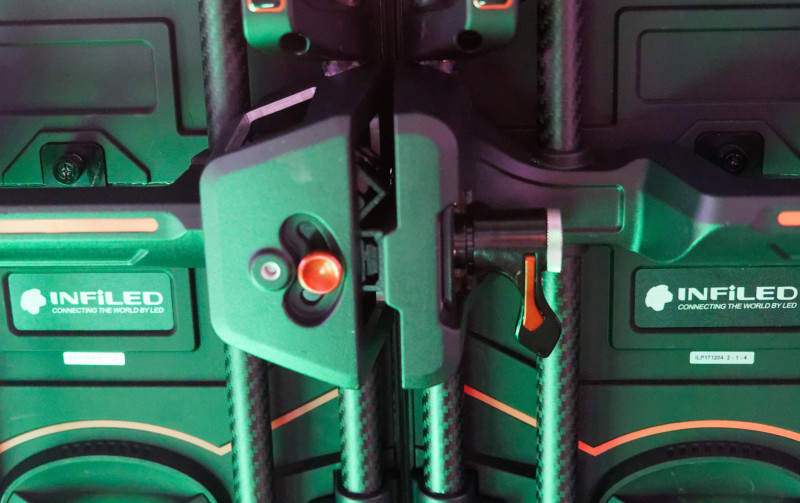 Infiled uses carbon in its cabinets. Image:Meko
Also new is the X Series which is designed for smooth curves and includes a magnetic connection system as well as positioning panels. Special modules are available for external corners and flat and curved units can be used together. The panel is effectively segmented into five parts and can be bent up to 20, allowing a complete circle with 18 cabinets.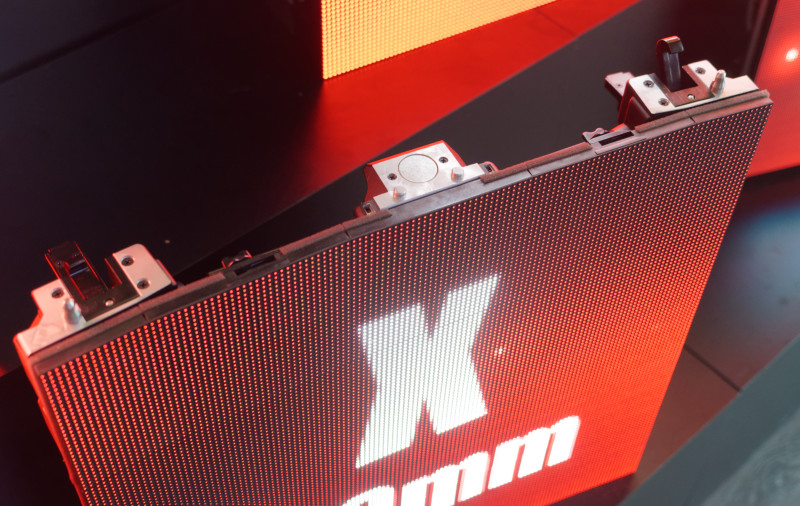 The Infiniled cabinet is segmented. Image:Meko
Kino-mo is a company that we seem to see at a lot of shows (CES and ISE already this year, at least) and has a system of LED displays using spinning LEDs. The content on the displays is switched to exploit the persistence of human vision and to create surprisingly good looking images. As well as multiple LED systems, there was a single version that we managed to get a good photograph of – always a challenge to get the shutter slow enough to capture the full image, but not so slow that the image is blurred! (If you are interested, the image below was take at 1/30 of a second).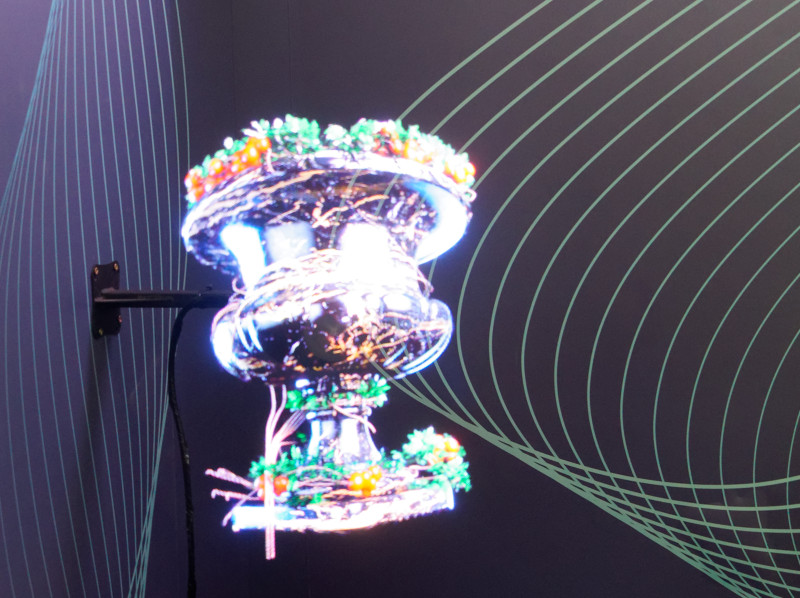 We managed to get a good shot of this rotating LED. Image:Meko
Leyard didn't have much news for us as we recently reported from its Barcelona showroom opening, but had an interesting display of 1.9, 2.6 and 3.9mm which allowed the company to show the size of a FullHD display at each pitch as well as showing the effect of the different pitches. The company told us that the Barcelona location has been very busy since the opening, with visits at least every other day. This was the first time that Leyard had been to ProLight & Sound for five years.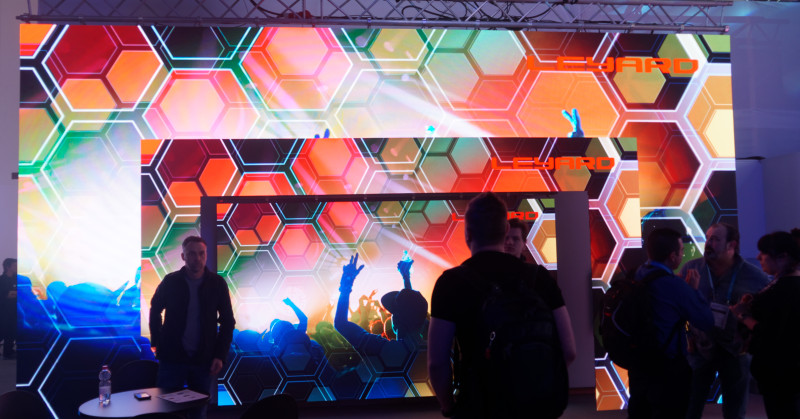 Leyard showed mixed pitches in FullHD. Image:Meko
Leyard also had its lightweight CLO (Carbon Light Outdoor) LEDs in 3.9mm and CLM in 6.9 and 10.4mm.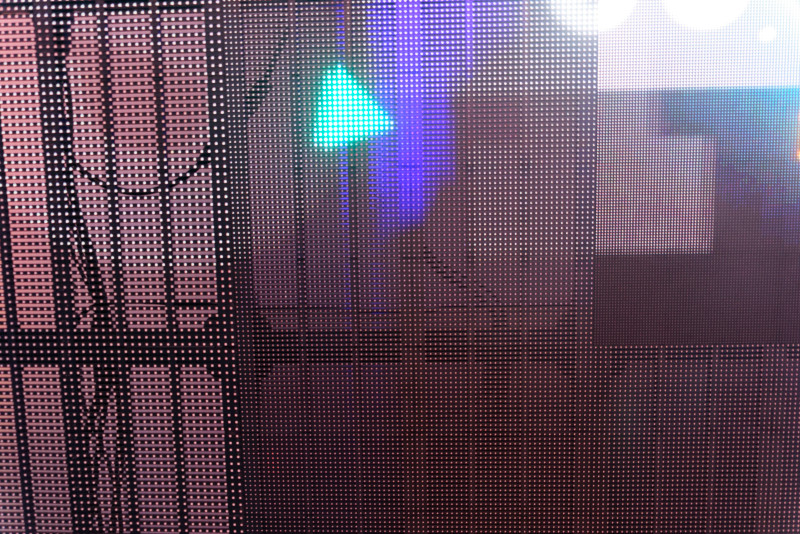 Leyard had three pitches of transparent LEDs. Image:Meko
NovaStar is the main supplier of controller systems for LED displays and introduced the MCTRL4K for UltraHD support last year. At this show, the company told us that it now has support for HDR and this turns out to be the HDR10 technology that is designed to work with LED displays that can meet a 1,000 cd/m² brightness level and the HDR PQ curve is applied for the whole screen only. SDR content can be converted to HDR using tone mapping. The company told us that it plans to support HLG technology later.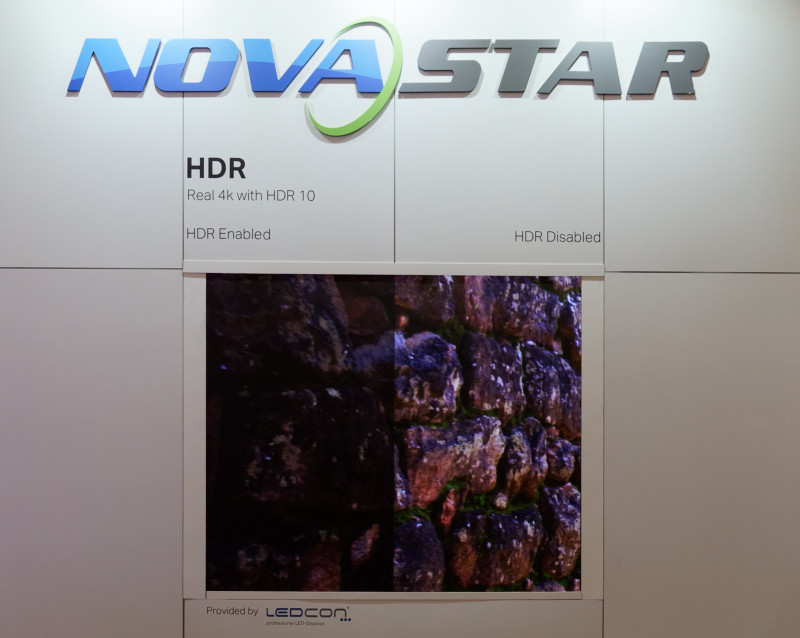 Novastar showed HDR – a new topic for LEDs. Image:Meko
Panasonic did not have any new products since ISE and was highlighting, in a live demonstration, the high speed low latency tracking that it can do to allow the enhancement of live action with projection. The demonstration used a Dynamic Projection Institute programmable mirror to put graphics around the display and two UST projectors on the stage – one producing dyamic backgrounds and another projected onto a transparent fabric screen to appear in front of the performer. Also at the show, the company showed its backlight modulation data system and the single projector dome lens that it showed at ISE.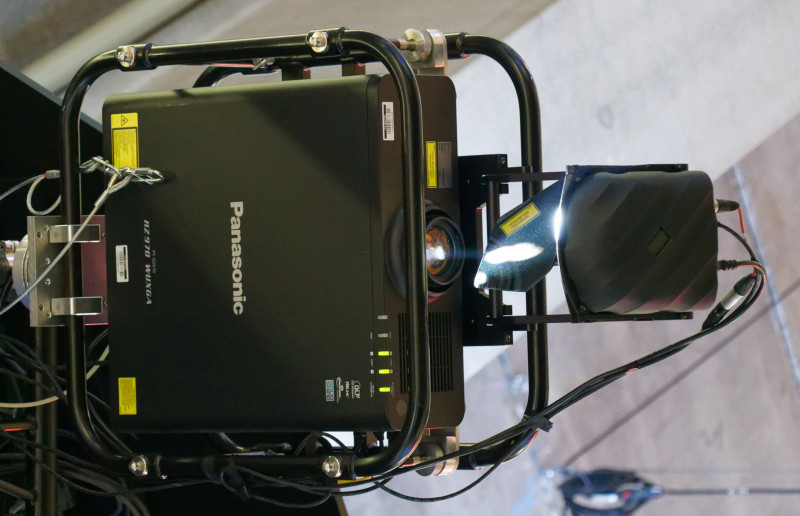 Panasonic used this DPI Mirror to deflect the image from its projector. Image:Meko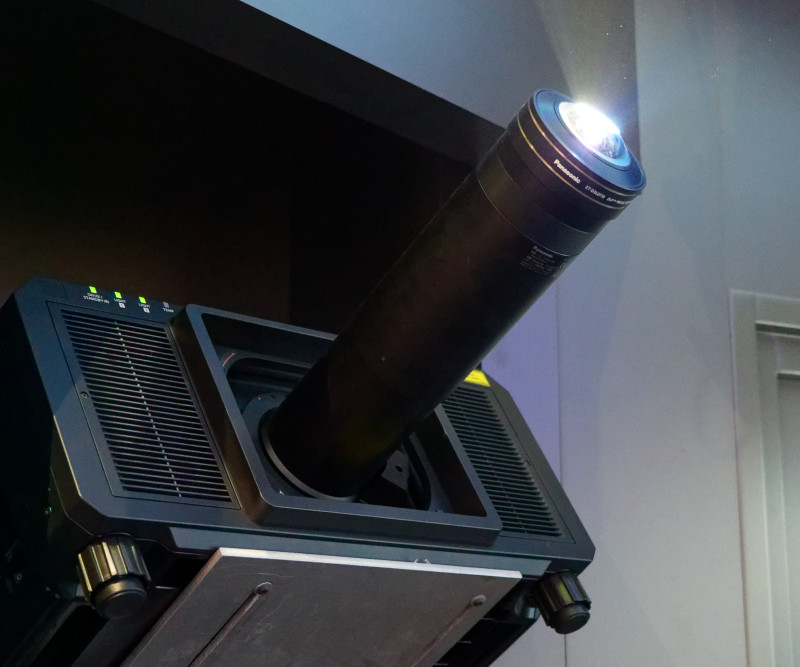 This lens from Panasonic can illuminate a complete dome, from the edge. Image:Meko
Shenzen Apexls is a maker of general LED displays but also has the facility to make 'any shape'. At the show it had a spherical display with 1.2m diameter and using 5mm pitch. Brightness is 1,200 cd/m². The company told us that it has made cubes, cylinders, funnels and diamonds.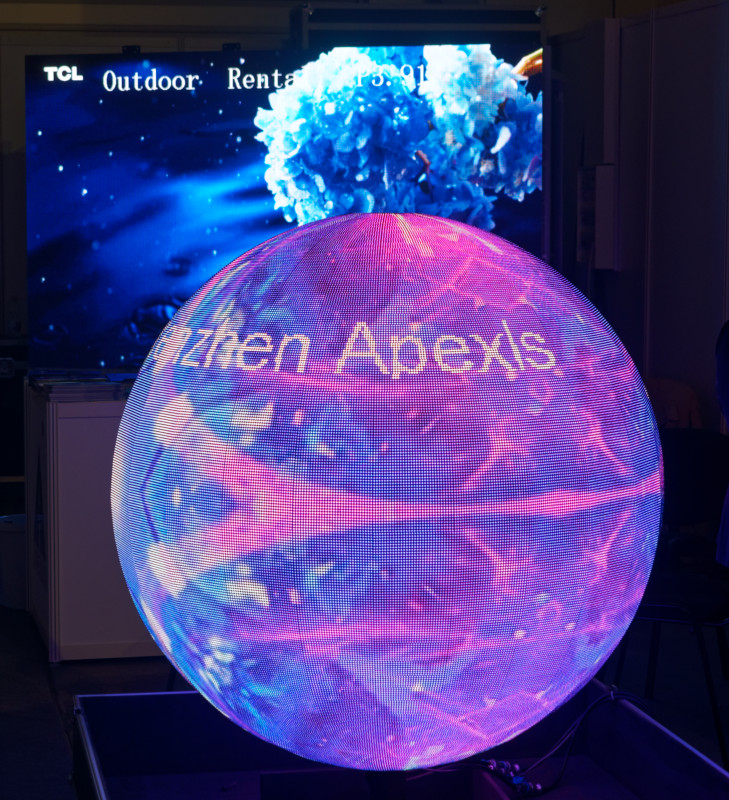 Shenzen Apexls can make any shape LED display. Image:Meko
Transtech was highlighting the LED posters that we reported on from ISE. (Transtech Shows Three New Products) It also had its most recent lightweight rental products. The company was one of those that confirmed the increased demand for finer pitches below the 2.8mm that it previously had as the smallest in its Ranger models, which are available in 500 x 500 and 500 x 1000 sizes (which can be combined in any way). It is developing 1.9mm in this range. Transtech has new driver circuits which can support HDR using the Novastar controllers that we saw at the show.
Uniview did not have anything new since ISE but told us that it is now very heavily committed to rental, with 90% of its European business coming in that segment. It has a showroom in Eindhoven and has 800 m² of LED stock. This can be used for support and for loans while waiting for new orders to be delivered. Unlike others at the show, Uniview doesn't think that pitches below 2.6mm are yet robust enough for rental – they think they are too easily damaged.
Yestech had nothing news since ISE and at the show was trying to differentiate itself by developing new applications including interactive flooring.