PPDS, the exclusive global provider of Philips professional displays and solutions, is excited to announce a new collaboration with leading hardware and computer vision software providers, Intel, Advantech and Navori Labs, for the creation of the PPDS Intelligent Signage Solution for Retail.
Bringing a bundled, trusted and proven solution to system integrators and retailers for easy installation and straightforward integration into stores.
Continuing PPDS' Total Solutions strategy – and its ongoing efforts to support the retail market through world-first innovations – the PPDS Intelligent Signage Solution for Retail is a revolutionary AI-powered digital signage solution that combines Philips digital signage with intelligent context-aware software and camera technologies. Delivering unparalleled data-driven insights to high street retailers for enhanced, more targeted customer experiences resulting in greater return on investment.
Designed to take the customer's omnichannel strategy to the next level and to create an experience unachievable online, the solution enables retailers to make smarter, more informed business decisions, using advanced analytics based on the store's activities throughout the day, week, month or even year.
Artificial intelligence / Personal shopper
Compatible with PPDS's Philips P-Line* 24/7 digital signage range for indoor environments (42"-55"), and connected with the store's choice of on-board ethernet or wi-fi, the solution harnesses Advantech's powerful integrated DS-200 SDM-L Smart Display Module computer platform, powered by Intel vPro technology that can be used to manage the unit remotely. These are brought together with the award-winning Aquaji smart AI-computer vision driven software platform for marketing analytics, and QL CMS software used to manage the display contents, both from Navori Labs.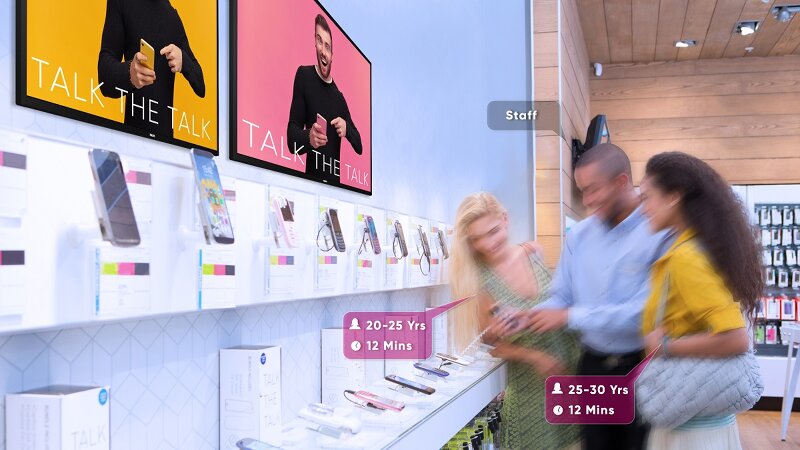 Available as a cloud-based solution (SaaS) or as an on-premises version hosted on your own hardware, the plug and play 'Navori Aquaji' software analyses video feeds from embedded or IP-based cameras strategically placed around the store. These produce anonymous marketing data and comparable metrics based on foot-traffic and people's physical features* (up to 98 per cent accuracy) – including gender – which are delivered on an intuitive and fully featured dashboard assessable on any computer.
The information can be used to deliver unique, bespoke, targeted content and marketing to help drive sales. Alternatively, content can be easily created and scheduled, based on the data analytics, such as during times where a specific demographic, or group, ie. sports fans are historically more prevalent. The solution is GDPR friendly, 100 per cent anonymous and doesn't perform facial recognition. No images or video are ever stored on the system.
Other benefits of the PPDS Intelligent Signage Solution for Retail include:
Know your customers: Measure footfall counts excluding staff and classify each guest based on their attributes (gender and age range).
Time in store and waiting time: Determine the time spent in line and time spent before receiving service. This data is used for queue optimisation.
Attention span: Calculate each shopper's field of vision in relation to any monitored area or digital signage screen for audience assessment and proof-of-performance analytics.
Proactive: Anticipate foot traffic and demand based on comparable data over time.
Staff where and when you need them: Optimise staffing levels to meet peak hour demand.
Store design: Manage shelf layout to ensure an easy flow to the right marketplace and product.
Instant results
The tried and tested Navori Aquaji platform comes with an impressive success record for retailers, with one store reporting a 42 per cent increase in impulse product selling, thanks to a triggered targeted customer promotional offer. Another retailer reported up to a 26 per cent increase in entrance traffic due to the presence of in-store displays, using targeted marketing, while a department store improved customer satisfaction, reducing its waiting time by 35 per cent on weekend peak hours by implanting extra ambulatory cashiers.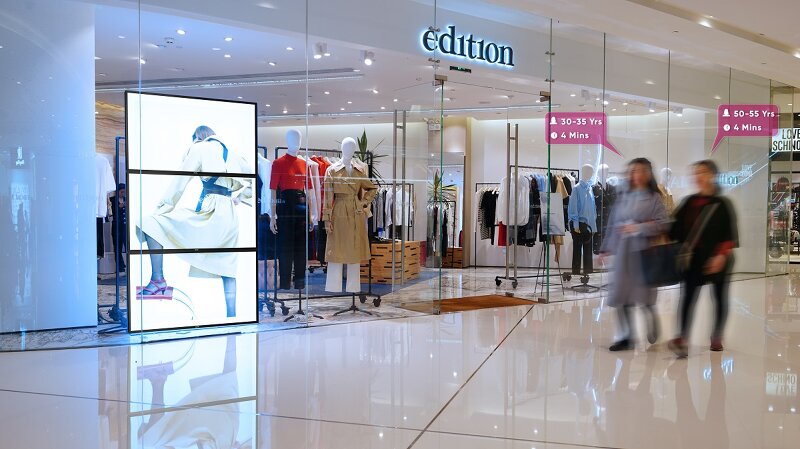 Chris Colpaert, General Manager at PPDS, commented: "There has never been a more important time for retailers to attract customers back to the high street and to seize every sales opportunity. Every store is different and every customer is different, so the marketing that works for one person may not for another. Take into account age and gender, and you're almost certainly alienating a high percentage of the people entering a store. With our advanced Philips digital signage and our industry-leading partnerships with Intel, Advantech and Navori Labs, we're reducing the odds of failure and increasing sales opportunities for retailers, while making the experience for customers a smarter and more tailored one."
He continued: "This solution will bring retailers the tools to improve their customers' journey and experience by analysing the data and implementing the right content to the right person at the right moment and in the right place. This is a game-changer for the retail industry, whether you're a single small corner shop or an international retailer."
Tim de Ruiter, International Business Manager, PPDS, concluded: "This solution is a revolution for retailers, allowing them to manage content confidently, knowing that it's timely, on target and accurate. By selecting the gender and age frame, the retailer can be sure that only one group will see a specific promotion.
"Helping our retail end customers to make their jobs as hassle-free as possible helps our system integrators to differentiate their own service. So, helping them to track whether content receives attention, and to be able to adjust it within the timeframe of the promotion to make it more attractive, is a real bonus. The data helps them to make the right decisions and they can clearly see the impact of their decisions with the results. It's a virtuous loop."
About PPDS
PPDS is a trading name of TP Vision Europe B.V. ("TP Vision") and MMD-Monitors & Displays Nederland B.V. ("MMD"), registered in the Netherlands, with their head offices in Amsterdam. TP Vision and MMD are wholly owned subsidiaries of TPV Technology Limited ("TPV"), the world's largest manufacturer of monitors and a leading provider of display solutions.
PPDS exclusively markets and sells Philips-branded professional displays, covering professional TVs, signage and LED solutions, worldwide under trademark license by Koninklijke Philips N.V.
By combining the Philips brand promise with TPV's manufacturing expertise in displays, PPDS employs a competitive and focused approach to bring innovative products to market – from its 10" touchscreen through to unlimited LED displays. Designing solutions that make a positive impact, both for resellers and for end-customers – at the right time and in the right places.
About Navori Labs
Navori Labs is the world leader in business digital display software, with nearly 25 years' experience, thousands of clients and hundreds of thousands of players worldwide. Well-known for its expertise and innovative technologies, Navori enables large-scale deployment of intelligent dynamic display and traffic analysis solutions based on computer vision.
Navori Labs supports business by optimizing customer experience and facilitating and accelerating decision-making.
About Intel
Intel (Nasdaq: INTC) is an industry leader, creating world-changing technology that enables global progress and enriches lives. Inspired by Moore's Law, we continuously work to advance the design and manufacturing of semiconductors to help address our customers' greatest challenges. By embedding intelligence in the cloud, network, edge and every kind of computing device, we unleash the potential of data to transform business and society for the better. To learn more about Intel's innovations, go to newsroom.intel.com and intel.com.
© Intel Corporation. Intel, the Intel logo and other Intel marks are trademarks of Intel Corporation or its subsidiaries. Other names and brands may be claimed as the property of others.
About Embedded-IoT Group
As the world-market leader in the embedded field, Advantech Embedded-IoT group not only delivers a wide range of embedded products, solutions and design-in services but also develops a series of integrated IoT solutions and services to minimize uncertainty and risk for customers approaching the AIoT market. Advantech integrated IoT Solutions include everything from board-level products to complete systems, sensor nodes, gateways, IoT platform software and much more. Besides the broadest portfolio in the embedded industry Advantech offers a wide range of local customization options (DMS)
About Advantech
Advantech's corporate vision is to enable an intelligent planet. With more than 8000 employees worldwide and a 38 year track record the company is a global leader in the fields of AIoT intelligent systems and embedded platforms. To embrace the trends of AIoT, big data, and artificial intelligence, Advantech provides AIoT hard- and software solutions as building-blocks to assist business partners and clients in connecting their industrial chains. Advantech is also working with business partners to co-create business ecosystems that accelerate the goal of industrial intelligence.