Portrait Displays, global leader in color calibration solutions and advanced display control, has joined forces with other industry leaders to support SMPTE, the home of media professionals, technologists, and engineers, and form the Advisory Group for the On-Set Virtual Production (OSVP) initiative.
This initiative is the first project within SMPTE's new Rapid Industry Solution (RIS) program.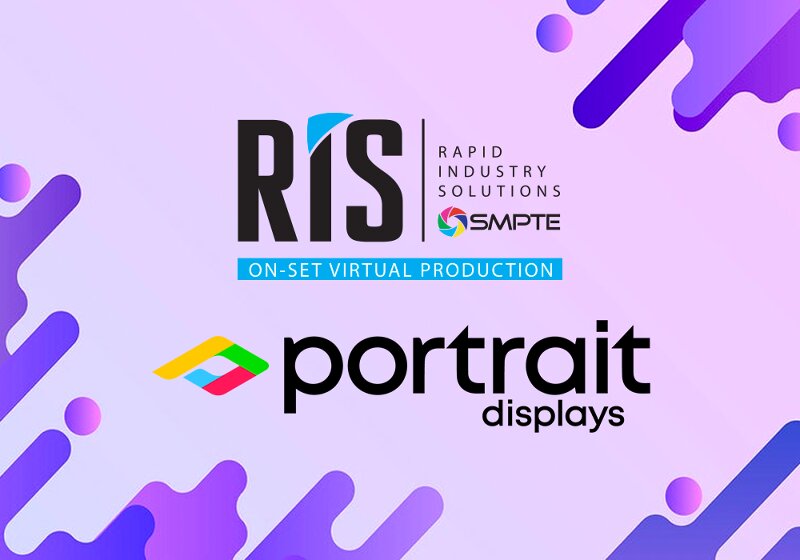 To stay on pace with an ever-evolving landscape, SMPTE will operate with a greater agility in responding to technology challenges, and thus created the Rapid Industry Solution (RIS) program. Portrait Displays proudly backs this program and SMPTE's commitment to providing the tools, standards, and education about these emerging technologies.
The key goal of the RIS OSVP Advisory Group is to establish interoperability, training, workflows, best practices, a unifying common language to smooth collaboration, and building on whichever formats the creative industry chooses to leverage. To identify and pursue these objectives, SMPTE underwent in-depth discussions with groups and individuals in all aspects of the OSVP pipeline to uncover several hurdles preventing many from deploying new content creation technologies.
"The success of the On-Set Virtual Production Initiative hinges upon the expertise and support of a wide range of technology and thought leaders," explained Barbara Lange, executive director at SMPTE. "For this reason, SMPTE has established an Advisory Group drawing from emerging technology companies, traditional production users, manufacturers, educational institutions and professional organizations. We are so thankful to have the best minds in the industry to assess the challenges, establish our goals, and deliver a fast-track response," she continued.
Overall, the Advisory Group's intentions challenge SMPTE's existing process to operate with a faster, more flexible technology review model outside the current standards framework, with all resulting technical work made open and free to the industry. Portrait Displays' participation in the RIS OSVP Advisory Group gives the company a voice at that table to review, recommend, and help guide the outputs from the group on behalf of its constituents.
"The SMPTE RIS OSVP initiative is an important step in normalizing the workflows for OSVP activities. This technology has been shown to save huge amounts of physical effort and money in the production of movies. These savings come in the areas of eliminating the need to move equipment and humans to remote locations and deal with ambient weather issues," commented Tom Lianza, Vice President of Research & Development, Portrait Displays. "Portrait Displays' Calman software and new Aurora Color Engine enables new calibration workflows for this developing technology."
Portrait Displays also plans to assist SMPTE in producing training at all levels. Building on SMPTE's longstanding expertise in technical education, Portrait Displays is eager to help develop unique offerings for general education, professional development, technology training, and business planning and scheduling with an emphasis on applicability to the real world.
About SMPTE
SMPTE is the global society of media professionals, technologists, and engineers working in the digital entertainment industry. The Society fosters a diverse and engaged membership from both the technology and creative communities, delivering vast educational offerings, technical conferences, and exhibitions, the SMPTE Motion Imaging Journal, and access to a rich network of colleagues essential to their career success. As an internationally recognized standards organization, SMPTE also provides a vital technical framework of engineering standards and guidelines that allow the seamless creation, management, and delivery of media for art, entertainment, and education worldwide.
About Portrait Displays
Portrait Displays provides color display solutions that combine the latest in color science with advanced display control. Portrait Displays ensures that color presents beautifully on screens of all sizes – for global device manufacturers, content creators, and content distributors. Only Portrait Displays upholds color quality every step of the way, from the creation of the first frame to its appearance on the screen of any device.
Portrait Displays' Calman color calibration software is the most popular calibration solution utilized by Hollywood's most respected color professionals. Calman color calibration solutions meet the requirements to deliver a superior viewing experience that is just right.
Portrait Displays is headquartered in Pleasanton, CA with an office in Edmonds, WA and a presence across Europe, Taiwan, China, Japan, and Korea. With decades of experience in color science and display technology, Portrait Displays is taking the lead in inventing a more colorful digital future.