A couple of weeks ago, I was in France for the Virtual Laval event and made the journey via Rennes, which has a small and convenient airport. I knew that Technicolor has a large R&D establishment in the city, which developed from the research department that was once part of Thomson (which bought Technicolor some years ago and then adopted the Technicolor name).
I knew also that Technicolor had a lot of interesting projects, from my own experience and from Norbert's report last summer (Technicolor Gives a Glimpse of the Future – subscription needed). I was not disappointed.
These days, the group is strong in a number of video-related industries. It is the second largest supplier of STBs, after the acquisition of Cisco's STB business in November of last year (although #1 in gateways). The company also has a strong business in production services including Visual Effects (VFX) having added "The Mill" in London in September 2015 and Mikros Image in France in April 2015 to its existing MPC VFX ownership and it claims to be #1 in that business, globally, with strength in movies as well as advertising.
Technicolor also makes physical media and continues to have a profitable business in Blu-ray, DVD and CD manufacture and again claims the top global position with a profitable business. It has got out of the digital cinema and digital distribution businesses. The firm has 17,000 employees around the world and facilities in Montreal, Canada and India as well as the US, UK, Germany and France.

I was shown around the Rennes facility by Cristina Gomila, who recently took over as head of R&D as well as CTO for the group. Around 175 of the firm's 250 or so R&D staff are in Rennes, with other facilities around the world, including in Silicon Valley. The staff come from many areas and one recent group had 17 nationalities in a single group of 20.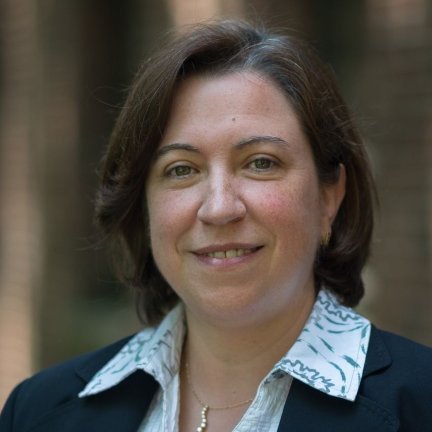 The function of the R&D department is both to help to develop products that can be sold or technologies that can be licensed (around 15% of the firm's income is derived from technology licensing), but also to help groups such as the production services business to be more competitive by having better technology than competitors. There are short term, medium term and long term projects, typically with increasing levels of technical risk as you look further into the future, but every project is intended to be used or exploited by one of the core operational groups at some stage.
The development of technology also has spin-offs. For example, the production services group has to deal with huge amounts of data and with storage, so a lot of expertise has been developed in cloud technology and in the related analytic techniques.
Most of the R&D is in areas such as colour, compression, formats and image processing. For other areas, such as human factors, collaboration with other companies or with academia is often the approach.
The Tour
After the introduction, we had a look at a number of projects that are being pursued in Rennes. First was a group that is looking at helping content creators to work with live actors and help to develop real time interaction between actors to allow more seamless interaction with virtual environments. Almost all productions these days have some virtual or VFX-created content, but it can be hard for a director or actor to get a good sense of how this will look.
Of course, we have written a lot over recent months about Technicolor's work in HDR and its decision to combine with Philips to develop a range of solutions. We have written a lot about this technology, but it was good to see a range of demos. Technicolor has a backwards compatible format that allows single stream content to be transmitted that works well with SDR displays without special processing, but can also support HDR displays that can decode the metadata. Metadata is combined with the video signal only at the compression 'head end' of the broadcaster and this can be done fully automatically, based on the input of 'PQ' (ST2094-based) data from the production.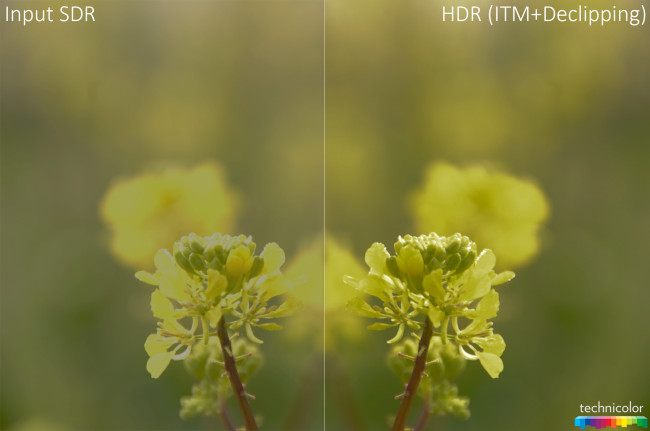 SDR to HDR Conversion – click for higher resolution.Because there will also be plenty of HDR sets in the market that will mainly be displaying SDR content, the company also has technology for STBs or TV sets to expand the dynamic range in a high quality way to ensure that the HDR sets look better, even where true HDR content is not available. This can be done 'blind', without a colour grader and without metadata, and the firm calls the process ITM (Intelligent Tone Management). Success has already been achieved with SoC vendors such as Sigma, Marvell and MStar (with more announcements to come).
Of course, studios are also looking to exploit their existing content catalogues. Some content will be fully graded again for re-release in HDR formats, such as UHD Blu-ray, and we got a sneak preview of a process that will be shown at the forthcoming NAB event. Technicolor has developed special technology that can recover detail that may be in an existing SDR or standard colour gamut signal, but which may not be visible in the original content. Typically, these details may be in the highlight regions of the signal, but could also be in the deep shadows.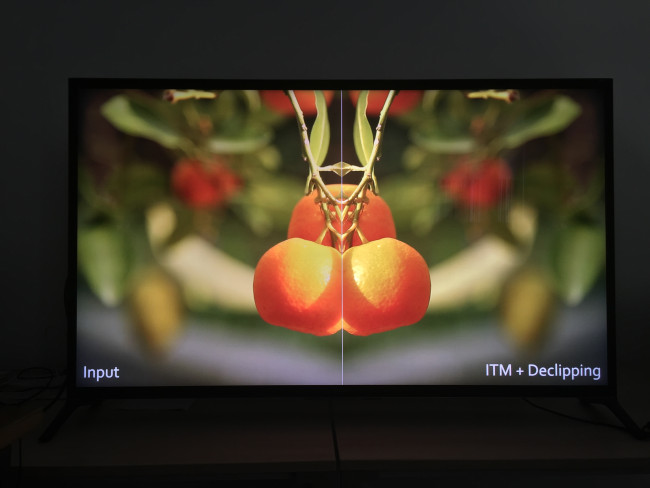 The effect of the declipping is clear on the texture and colour of the orange. Click for higher resolution
The firm has developed plug-ins for Autodesk's Lustre and BlackMagic Design's Resolve that perform this "de-clipping" and told us that the technique can be applied automatically or manually, although there is not usually a need to operate the technique in real time when working on back catalogues. Obviously, using a plug-in allows some element of maintaining the content owner's 'artistic intent' in applying the process.
Of course, in the highlight areas, there may be details that are completely lost by over exposure and there is no data to recover, so the key to the success of the de-clipping is teasing out colour, texture and detail and making visible that which was not visible.
Face Rigging Helps VFX Group
Facerigging takes a lot of time. Click for larger imageFace rigging – or mapping together images of real people onto avatars or 3D models of people is a very time consuming and painstaking process for animators, so in Rennes there is a project to improve the process of transferring expressions to models. The work is also looking at developing techniques to report and analyse the correspondence between the actor and the animation. This particular project is not aiming at creating a licensable product or technology, but at helping Technicolor's own production services group.
VR/AR and Mixed Realities
VR was one of the big themes of our days in France and Technicolor has been working on a number of high quality projects through its production services group. The focus is always on delivering a very high quality experience.
Obviously, there still is a lot to learn in how VR works and in developing the right tools to deliver compelling experiences. MPC worked with Sony to develop a VR experience for the "Goosebumps" movie. The Mill also developed a VR project for Gatorade and another for Google called "Help". At the moment, Rennes is supplying a lot of support to help develop tools and to solve some of the problems that are being discovered as the new medium is explored and developed. Really good post-production tools are not yet available to support 360 degree video and Technicolor told us that it can take two to three days of rendering to create just a three minute experience.
There is a lot to learn about how 360 degree VR works and how it impacts on users, for example there could be long term impacts from 'embodiment', where someone sees themselves in a VR environment. Whether or not you should be able to see yourself is an open question in VR. (At the Laval event, there was an interesting demonstration of how players could really be placed inside a virtual game with tools etc. Judging from the physical (and audible!) reactions from people playing – it is very immersive!).
We got another early look at an augmented reality demonstration that will be shown at NAB. Technicolor has developed a very cool concept using a tablet to both scan an area and act as a display. We saw a really compelling demonstration of virtual objects that are linked to content on a TV screen. Objects can apparently come out of the screen to appear in the room space, as seen through the tablet, and that raises the possibility of tying in very closely the mixed realities of the TV images and the home. We heard that there will be more development in this area that will be shown at NAB.
Finally, we had a look at developments in lightfield cameras, but I want to cover that in more detail, so I'll return to that topic in another article, shortly.
Analyst Comment
There are some days when doing my job feels a real privelege and this was one of those! (BR)