Pixvana, which is developing cloud-based content creation and has a range of playback software for 360º video, has released its "Spin" platform for publishing and streaming. It also said that it plans to release its own field-of-view adaptive streaming (FOVAS) technology will also be released as an open standard to increase video quality and reduce bandwidth for VR video. Pixvana's Spin Player will be available 'soon' as a technology preview and Pixvana SPIN Publisher will be available in early 2017.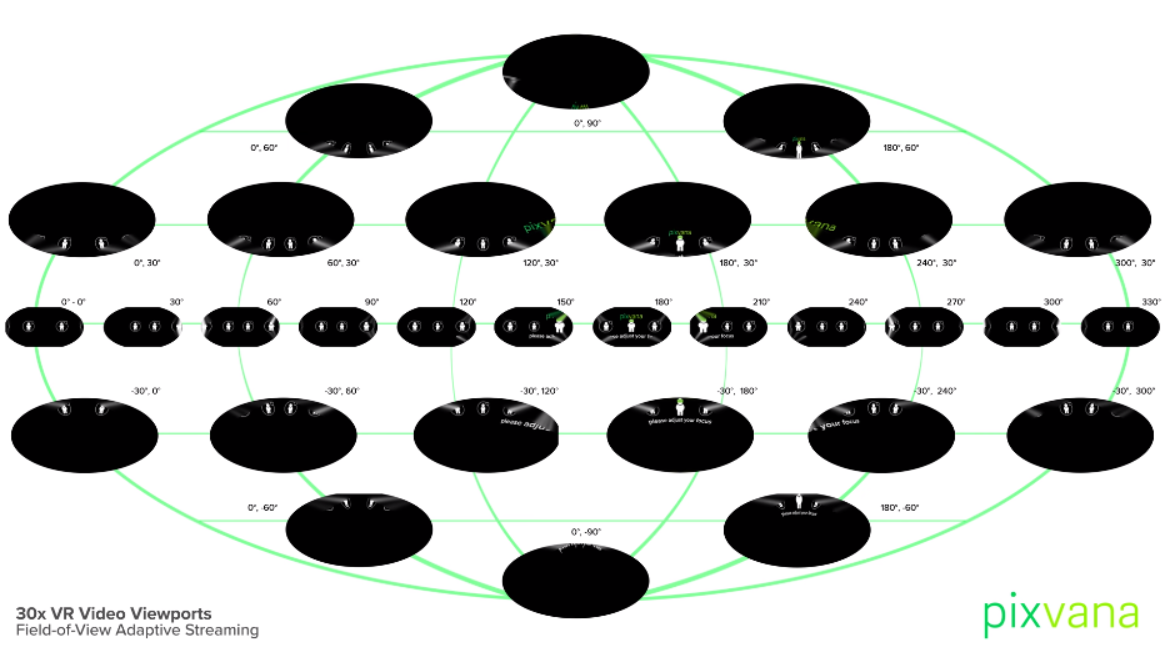 FOVAS divides the 360 degree view into 30 ports and switches between them
The FOVAS technology is endorsed by Steam and Sean Jenkin from the gaming platform said "Pixvana has shown the best-looking VR video we've seen to date. An open standard for 360/FOVAS content which scales to high-quality VR headsets and lets creators of all sizes publish anywhere without requiring proprietary tools or formats is great for consumers and content creators and reflects Valve's commitment to an open VR ecosystem. We look forward to making Pixvana's technology and compatible content available on Steam."
Key features of the Pixvana SPIN Publisher:
Pristine resolution with FOVAS:​ FOVAS can deliver ultra high-resolution (up to 100 megapixel) quality within eyeshot while cutting data delivered by up to 70% overall, lowering bandwidth costs
Pixvana's files conform 100% to the MPEG-DASH format to ensure adaptive streams and low-latency playback to viewers anywhere.
Headset agnostic:​ Users can optimize content for all leading VR headsets, including the Samsung Gear VR, HTC Vive, Google Daydream, and Oculus Rift.
Cloud-based:​ High-performance GPU clusters yield on-demand scalability and real-time interactivity, providing seamless delivery even with ultra high-res content.
Developer-friendly:​ Enterprise customers can build branded applications using Pixvana's reference player source code and a FOVAS-playback plug-in for Unity
For an introduction to the FOVAS system, it's best to check out the video below which shows an animated diagram of the way it works. Basically, the system divides the field of view into 30 possible 'viewports' and as the head moves, the stream is seamlessly switched.