The second of the pre-CES press events, Pepcom/Digital Experience was also the largest this year, with an '80s theme. I felt like Wade Watts stepping inside the room, which was festooned with Rubik's cubes, sweatbands and leg warmers. There were also themed cocktails – if you ever get the chance, try the Flux Capacitor.
The Alliance for Wireless Power has now merged with one of the other wireless power standards bodies, the Power Matters Alliance. The two organisations began working together in February last year (Display Monitor Vol 21 No 9). The A4WP and PMA will work together on standardised products – there may be some using the A4WP's Rezence magnetic resonance technology and the PMA's inductive charging.
Rezence is now powerful enough to charge larger devices, such as tablets and laptops. It can pass up to 20W now, and 50W will be possible this year. Rezence-compatible laptops will be launched in the second half of 2015.
CoolChip Technologies has partnered with Cooler Master to develop a new system for kinetic PC cooling. Compared to fan-based cooling, CoolChip claims a 50% increase in performance and a 2x reduction in size. The device is made of a thermally-conductive material and will be manufactured by Cooler Master starting in late 2015.
Corning's Gorilla glass is available in different thicknesses
Corning was demonstrating the advantages of its latest 0.4mm Gorilla glass 4, which is as strong as previous 0.55 mm Gorilla glass. It did this by breaking glass samples!
A 17″ Alienware laptop was being shown by Dell (also available in 15″), which is a very serious gaming machine. The laptop runs on a Core i7 processor, with up to 100W of graphics power, 16GB of RAM and three HDDs (two in the 15″). It is also compatible with Dell's Graphics Amplifier (Display Monitor Vol 21 No 43) for extra graphics power. Both 15″ and 17″ versions and 1920 x 1080 resolution with touch/non-touch variants, and we heard that the 15″ has an UltraHD option. Prices will start at $1,200 (15″) and $1,800 (17″).
Dell's Alienware Alpha 'living room PC' (a prototype was shown at CES 2014) was also on show, running Windows 8.1. The Alpha was originally designed as a Steam Machine, and although it does not run the SteamOS it does boot instantly to Steam Big Picture Mode, with a skin enabling mouse control from a gamepad. Also nearby was the Venue 8 7000, Dell's first OLED tablet (Display Monitor Vol 21 No 37), which has finally been launched.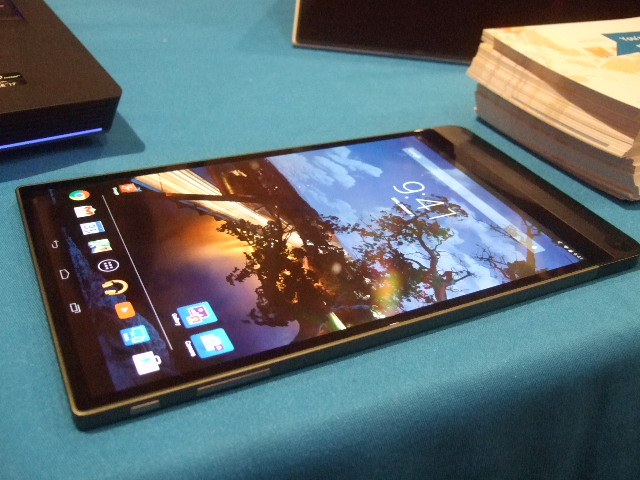 Finally, Dell was showing its new XPS 13 and XPS 15 laptops. The XPS 13 is said to be the smallest 13″ laptop in the world – it has such thin bezels (5.2mm) that it uses the same chassis as last year's XPS 11 (11″). Battery life is up to 15 hours and screen resolution is very high: 3200 x 1800. Intel Broadwell graphics are used. The XPS 15 is similar internally, but has a 15″ display with UltraHD resolution (optional). The XPS 13 is available now, for $800, while the XPS 15 will be launched soon, starting at $2,350 (UltraHD version).
Epson was debuting the Powerlite Home Cinema 600 projector; a 3LCD model with 3,000 lumens of brightness and HDMI connectivity. It will be available at the end of January for $380.
Essilor, under the brand Crizal Prevencia has picked up on the "dangerous blue light" concern and is starting to sell lenses which can block blue and UV light which it believes can be harmful.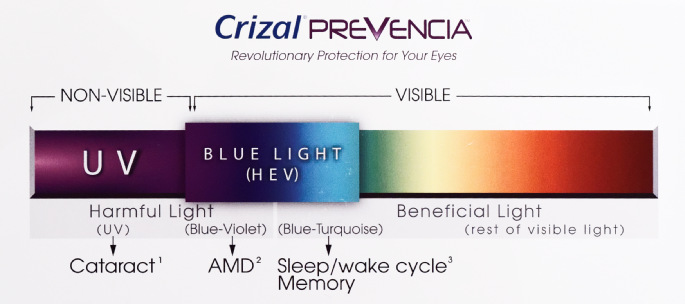 360fly.com was showing a new 360 degree camera that will start shipping in the Spring. The camera uses one sensor and the firm sees a good market in creating content that can be viewed on the Oculus Rift. The video is rendered and stored in MP4 and the company told us that YouTube will have a 360 degree channel "soon".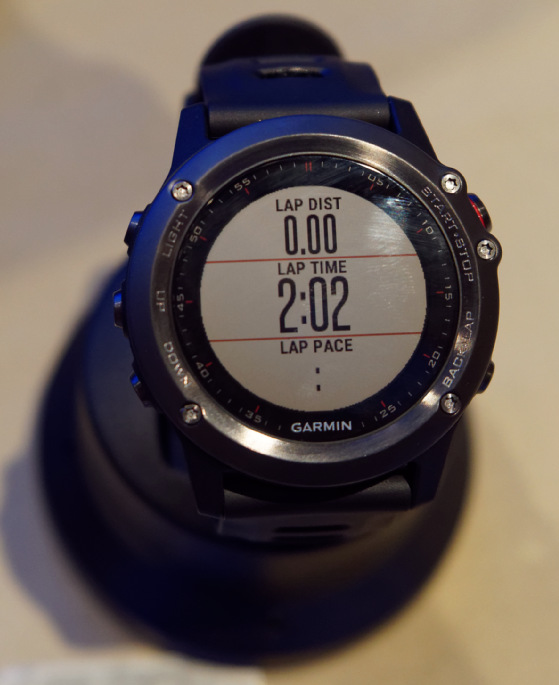 Garmin transflective GPS watchGarmin had wearables for fitness and GPS including a GPS mapping watch with a 1.4″ touch display and a new Vivoactive smartwatch that might actually be popular with sports fans. The Epix rectangular 1.4″ device includes worldwide relief maps and the device includes 8GB of memory to allow more map downloads. Also in the watch are a compass, altimeter, barometer and connectivity to a smartphone. The Fenix 3 does not have the colour graphic screen or maps, but has a round transflective display that we thought looked good. It will cost $499 and will be available towards the end of the quarter. The Vivoactive has GPS and is an "entry level" device and can download golf course maps. It is water resistant down to 50m. Finally, the Vivofit 2 has a simple display but is a fitness band, rather than a GPS device. There are lots of optional straps and designs, highlighting that fitness bands are as much fashion items as functional devices.
HP had one of the largest exhibits of the night, with multiple new products and the Sprout PC computing platform (Display Monitor Vol 21 No 42). We began with the Z27Q, a powerful 27″ 5k display that will be launched in March,for $1,300. It covers 99% of Adobe RGB and 100% sRGB, with 300cd/m² of brightness and an IPS panel. The monitor features dual DisplayPort 1.2 inputs, both of which are required to drive content at 60fps, and USB 3.0 (x2) ports.
The Z27S is a 27″ UltraHD monitor with an IPS panel, but no factory calibration. It features DisplayPort, mini-DisplayPort and MHL-HDMI inputs and costs $750. It was shown alongside a curved (3,000R) 34″ display called the Z34C, which has 3440 x 1440 resolution (21:9) and will be shipped with display partition software. DisplayPort and MHL-HDMI ports are featured on the monitor, which will be shipped in April for $1,000.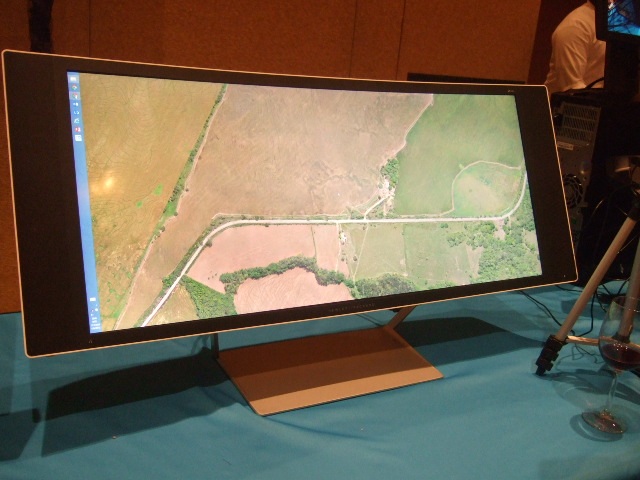 HP's Envy 34″ is very wide as it has speakers on the ends
In addition to the displays were two new mobile workstations, the Z Book 14 and Z Book 15U. These use Intel's Broadwell-U processors and a PCI-e SSD (rather than SATA), which HP calls the Z Turbo Drive. Both have new AMD Firepro graphics (slightly better on the 15″) and IPS panels with 1920 x 1080 resolution. They are shipping today, with prices starting at $1,200.
LG was showing the G Flex 2 smartphone.
Matchstick was originally thought to refer to a Chromecast rival from Mozilla (Display Monitor Vol 21 No 26). While the device does compete with Chromecast, it is actually produced by a different company (also named Matchstick). At Pepcom, Matchstick was promoting an open-source hardware and software platform called Flint; it aims to help manufacturers, content providers, MSOs and others to integrate screen-to-screen streaming and interactivity. AOC and TCL have already signed on to use the platform in products including TVs, monitors and STBs this year.
Microsoft was showing its cheapest-ever internet phone, the Nokia 215. The (feature) phone's main selling point is its long battery life – up to 20 hours of talk time – and low cost. It is on sale for just $30. The Nokia 215 features a 2.4″ display with 160 x 120 resolution. It is not a smartphone, but can still access the internet through the Opera Mini browser. Single- or dual-SIM variants will be available when it is launched in Q1.
Firefox OS products were being promoted by Mozilla, including the Matchstick streaming stick and various smartphones.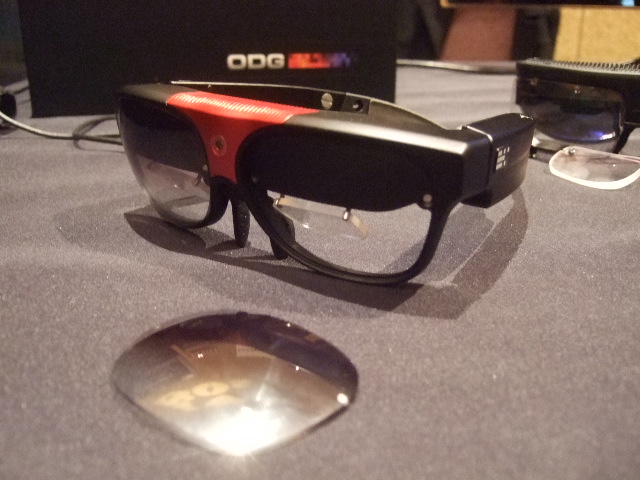 The Osterhout Design Group has a B2B head-mounted VR display on sale now, but this year will be introducing a consumer version. Both versions run Android and produce a virtual 65″ screen using dual microdisplays (1280 x 720). The B2B version is 30% transparent, while the consumer version will be 80% transparent (more like augmented reality) and much lighter, with swappable magnetic shields for the eyepieces. Having used the ODG's original device, making it lighter will be a big step forward – the device felt like it was constantly on the verge of falling off of my face. It felt much like the Oculus Rift, as I used it to watch a 3D film and look around a landscape in 360°. For more on ODG, see Osterhout Design Group Plans Affordable Consumer AR Glasses

While Polaroid had several new displays on the show floor, its table at Pepcom was limited to camera and printing products. As well as the company's own action camera, the Polaroid Cube (we saw this at IFA), dash cams and a portable printer named the Zip were on show. Another camera, the Socialmate, is a digital version of the instant-print cameras that made Polaroid famous; it requires no ink refills and will last for around 13 years!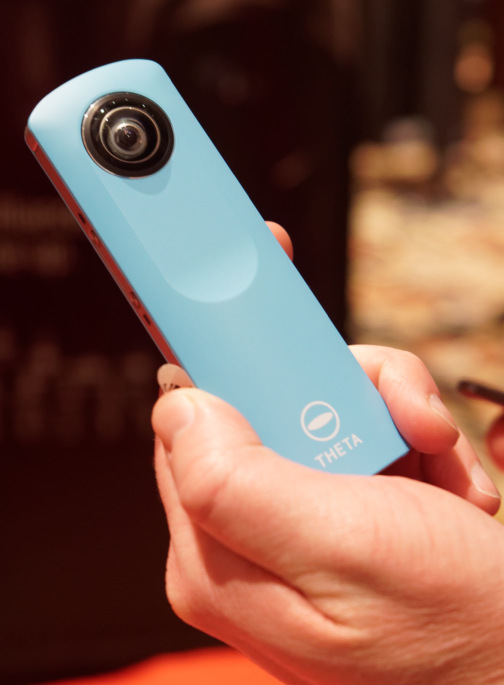 Ricoh Theta 360 cameraThe Ricoh Theta is a 360 degree camera that is designed to be used with a smartphone. There are lenses on each side of the Theta and the smartphone can be used as a remote control or the button on the camera can be used. Videos can be up to 3 minutes long and videos are stored as MP4, while JPEG is supported for still images.
Rovi was showing its new FanTV product, the result of its acquisition of Fanhattan in October (Display Monitor Vol 21 No 44).
Samsung was promoting its new JS9500 SUHD (quantum dot) TV, alongside PC products. In Q1, the company will launch a curved AIO PC called the ATIV 17 Curved, with a 27″ display (1920 x 1080) and 3,000R (a change from Samsung's normal 4,200R curve). The PC uses an IPS panel, with a 1TB HDD and 256GB SSD. It will cost $1,300.
The 2015 edition of Samsung's ATIV Book 9 laptop was also on show, which this year has been refreshed with Intel's Broadwell-M platform. It is a fanless device with a 12.2″ (non-touch) display, 2560 x 1600 resolution (about 247ppi – slightly lower than last year's 15.6″, 275ppi model) and 700cd/m² of brightness. It will be available in two versions: a 128GB SSD/4GB RAM model ($1,200) and a 256GB/8GB RAM model ($1,300). Both will be launched in Q2.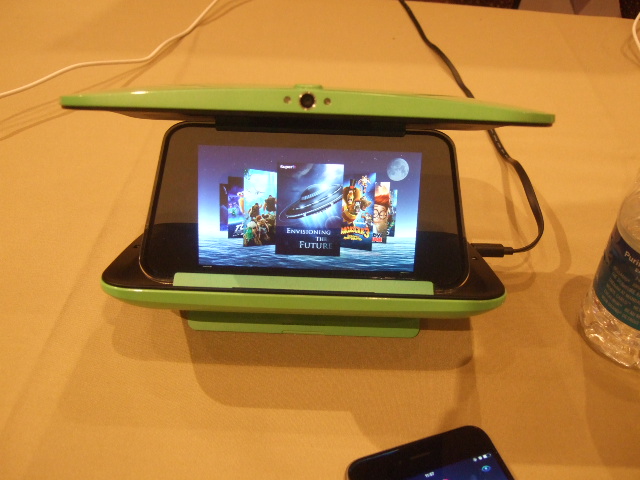 A Chinese company, SuperD, has developed a glasses-free 3D display technology that is being licensed to some big names this year. The technology uses a lenticular lens and eye tracking; it is only intended for use by one person at a time. In the first half of the year, a 5.5″ gaming smartphone from Snail (Snail W) and a 5.5″ smartphone from InFocus (M550) will be launched in the Asia using the technology. Both of these have 1920 x 1080 resolution. A clamshell-type 6″ 3D display concept, which was able to wirelessly mirror a connected device through WiFi or Bluetooth, was also being shown, as were 8″ and 10″ Android and Windows tablets. Although we did not visit the company's hotel suite, SuperD was apparently showing two larger displays there: a 32″ with UltraHD resolution and a 15″ with 2800 x 1620 resolution.
Before the eye tracking had locked on there were some double images and artefacts, but once the display 'found' me I had trouble forcing it to glitch (and a consumer is unlikely to be throwing their head around like I was – TA).
Tivo was showing the latest version of its PVR software which allows searching across multiple content streams so that, for example, films from favourite actors can be easily found wherever they are available from. The company was also proud of a new deal with I Heart Radio.
Toshiba was demonstrating its "best in class" tablet writing experience at Pepcom on its "Excite Write" series tablets. The company has worked with Wacom to produce the Trupen which is said to provide a "pen on paper" feel (which it does, pretty well). The pen can also be used at different angles and is very accurate and responsive. The 10.1″ 2560 x 1600 tablet is designed for high productivity ($395) and there is an 8″ at $349. They include a one year subscription to Office 365 and are Windows-based. The tablet has a wide border around the display.