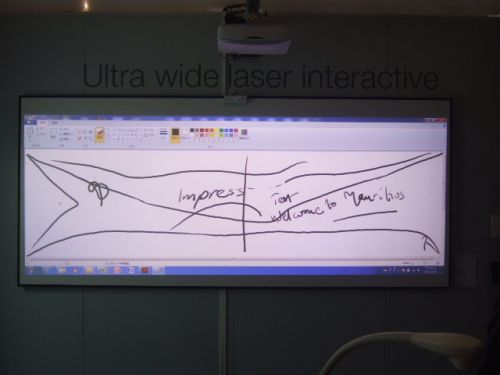 Optoma was not introducing many new display products, but did have an impressive panoramic projector prototype. The unnamed model had an ultra-short throw ratio, pure laser light source and a 21:9 aspect ratio, producing a very wide image. An IR curtain module was used to enable 10-point touch.
Next to the laser projector was the new EH320USTi, an education model. It also uses Optoma's IR curtain, and will be launched in late spring. The projector is lamp-based (260W units), with 4,000 lumens of brightness and 1920 x 1080 resolution. The throw ratio is 0.25:1, producing a 100″ image from 0.55m. The projector also features HDMI (x2), VGA (x2), composite, S-Video, RJ45 and RS232 ports.
The other big news for Optoma was the company's partnership with UK-based Projection Artworks (PA). Optoma now has access to PA's Display Mapper software: a cloud-based 3D projection system. Use of Display Mapper means that displays can react to live events via various factors, including physical triggers, online events, face/gesture recognition and iBeacon input.
Optoma was also demonstrating its new Nuforce audio range.
Analyst comment
Optoma took time to hit back at Epson's unsubtle jabs at DLP technology. Our source close to the company reported that Epson purchased an Optoma projector the week before ISE to use it in the 3LCD vs DLP demonstration. Sadly for Epson, the incredible amount of manipulation it performed on the DLP image (ever seen a grey banana?) drew the ire of other DLP manufacturers, and the company was not being treated with a great deal of friendliness by the end of the show. (TA)