Parks Associates announced today the release of industry reports providing strategic recommendations for service providers, app developers, and platform developers as consumers turn increasingly to OTT and non-linear content options.
The report Under Attack: Assessing New Threats to Pay TV notes that while consumers watch over 30 hours of video per week on average, the number of households planning to cancel their pay-TV service (potential cord-cutters) has also increased, reaching 7% of U.S. broadband households with pay-TV service.
"The pay-TV industry is experiencing a slow crisis in terms of paying customers," said Brett Sappington, Director of Research, Parks Associates. "Content is key to attracting and retaining consumers, and consumers are now looking beyond pay TV for that content. The new deal between Apple and HBO to stream the HBO Now streaming service to Apple devices is just the latest example. At the same time, companies like Google and Amazon are getting into the content creation business, providing a new competitive threat to the traditional ecosystem."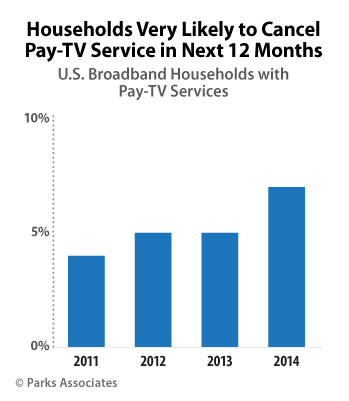 "Consumers have extensive content choices, including live TV, VOD, and OTT streaming, and they are using multiple interfaces to access desired content," said Barbara Kraus, Director of Research, Parks Associates. "For consumers, the lines are blurring between CE makers, operators, and content providers, so they will make their decisions, first and foremost, based on who has the desired content and secondly on who provides the easiest method to find and consume that content."
Parks Associates reports analyze the extent of these new challenges and provide strategic recommendations for companies to adapt to the new video services ecosystem. Recent industry research reports include:
Under Attack: Assessing New Threats to Pay TV examines the current state of pay TV, the economic landscape for video services, and the leading threats to pay-TV providers. The report assesses the future for pay-TV services and provides a forecast for pay-TV subscribers through 2018.
In-app Payments: Consumer and Developer Perspectives examines consumer and developer perspectives and analyzes the pros and cons for different payment options for digital in-app purchases. The report also projects in-app purchase volume and transaction value for the U.S. market.
Modern Broadband: Maximizing Retention and Revenues examines the approaches to subscriber retention and acquisition and the tools and strategies used across markets today to compete successfully. The report also provides a forecast for broadband subscribers worldwide through 2019.
Winning the Consumer: Profiting from Superior User Interfaces details the user experience provided by connected device manufacturers for streaming content. The report also examines pay-TV operator interfaces, personalized user interfaces, unified interfaces, and content discovery.
Parks Associates will present new market and consumer research at CONNECTIONS™: The Premier Connected Home Conference, taking place May 19-21 in San Francisco, CA. The three-day executive conference features keynotes from Comcast's Xfinity Home, Nest, Samsung, and Verizon and focuses on innovative solutions and business strategies for the connected consumer, entertainment services, the smart home, and the Internet of Things.