IDC is forecasting that global shipments of personal computing devices, including tablets, will decline from a total of 435.0 million units in 2016 to 418.2 million units at the end of 2021. This represents a five-year compound annual growth rate of minus 0.8%.
For 2016, commercial notebook shipments grew more than 2% year over year as more Windows 10 trials translated into full deployments. Consumer notebook shipments, however, declined by 1% from Q4 2015.
For tablets, slate shipments declined and detachables also saw a decline in the fourth quarter. The absence of product refreshes for detachables in the last quarter of 2016 saw a year-over-year decline of 26.1%. Despite the decline, IDC expects growth will return to the tablet market over the next five years.
Traditional PC shipments are expected fall to 252 million units in 2021, a five-year CAGR of minus 0.6%. If detachable tablets are taken into account, this would raise 2021 shipments to more than 308 million units with a 2016-2021 CAGR of 1.8%. Notebooks to take a higher share in the overall market, up from 36% of the total in 2016 to being the dominant device by 2021 with nearly 39% share while slate tablet share will decline to 26%. Detachable tablets are also expected to increase going from 4.9% in 2016 to 13.4% by 2021.

Regardless of what marketers are saying, detachable tablets are simply not putting pressure on notebooks yet," said Jitesh Ubrani, senior research analyst, Worldwide Mobile Device Trackers. "Consumers are just starting to graduate from old, consumption-based, slate tablets to a more productive detachable tablet. At the same time, the benefits of having a thin, touch-sensitive, productivity-based machine is shining light on the traditional PC category, causing vendors and consumers to focus on more premium devices in the Convertible and Ultraslim space."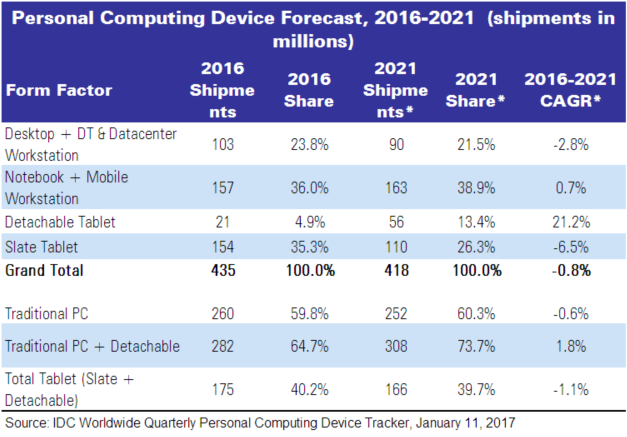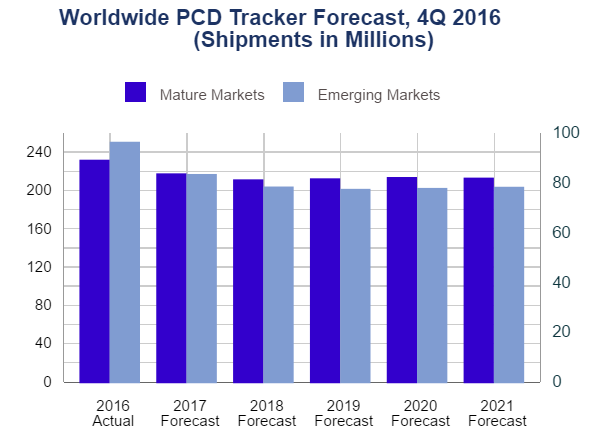 IDC sees different trends in mature vs emerging markets