At Infocomm, Philips announced it's ColorSpark high lumen density (HLD) LED technology. (See the June 17 Display Daily) At the time, Philips said that both Coretronic and Hitachi would produce ColorSpark-based projectors, with the Coretronic appearing under the Optoma brand. Since then, I have learned more about both ColorSpark and the Coretronic/Optoma and Hitachi plans.
Left: ColorSpark light pipe is about 10cm long. Right: Light pipe off from the side and on at low power.
Philips showed me some additional details on the ColorSpark unit. The total length is about 10cm (4") and the one they showed me had 28 blue LEDs. When you looked sideways through the light pipe, you could see it was greenish. They had a sample operating at reduced power with a battery but it still produced a lot of light. According to Philips, there is no filtering needed to produce the good green colorimetry except the normal X-prism that combines the red, green and blue light in an LED projector.

Left: Demo Optoma projector with Coretronic engine, Right: Image produce compared to original on an Apple monitor. Because of ambient light, the front projection is desaturated compared to the direct view image.
The preliminary specifications for the Optoma projector is a single panel DLP projector with FHD resolution (1920 x 1080), 3000 ANSI lumens and a size of 360 mm x 330 mm x 140 mm (14.2″ x 13.0″ x 5.5″). Weight is TBD, but by the standards of 3000 lumen projectors, this isn't particularly small. What you're getting for this size is 20,000 hours of light source life. This is typical of LED projectors but LED projectors have not previously been available with 3000 lumen output.
The projector will have VGA, dual HDMI, component and composite video inputs plus a RS-232 port for control. It will have a USB type A connector for 5V output and a USB type B for firmware upgrades. It will also have a 3D sync output and dual 12V triggers. As can be seen in the photo of the demo projector in the Optoma booth, there is a lot of work to be done before it can be sold commercially, so these specifications should be considered very preliminary. Optoma expects to beat Hitachi to the market and have the first ColorSpark projector commercially available in H1 2016.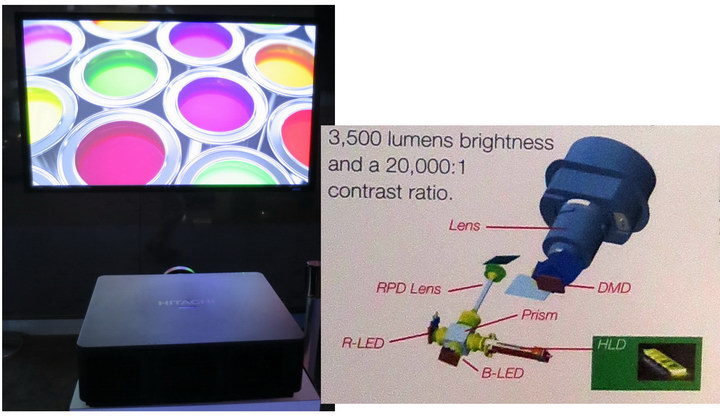 Left: Hitachi ColorSpark projector and image, Right: Layout of Hitachi projector
The Hitachi projector will also be coming in 2016. It will have WUXGA resolution (1920 x 1200) and will be targeted at markets such as education where the long life of the light source is important. One of the features Hitachi mentions is "Superior color reproduction without color break by Crystal based engine with HLD." Note there is no mention of ColorSpark or Philips, although they use the HLD acronym introduced by Philips. –Matthew Brennesholtz