Roku and DoorDash announced a multi-year partnership to build a better TV experience and unlock new ways for consumers to access their favorite restaurants and more.
The partnership includes:
· Complimentary DashPass: New and existing Roku account holders with a linked streaming or smart home device can get six months of complimentary DashPass.** DashPass is DoorDash's membership program that offers members $0 delivery fees on eligible orders from thousands of restaurants, grocery, convenience, and retail stores nationwide.
· Shoppable Ad Offers: For the first year of the partnership, DoorDash will be the exclusive marketplace adsolution partner for DoorDash U.S. restaurants and grocers that buy interactive shoppable ads on Roku. This first-of-its-kind partnership empowers DoorDash merchants to place unique click-to-order offers within their Roku ads. For the first time, restaurant advertisers can partner with DoorDash and Roku to attribute, target, and measure TV streaming ads on Roku.
According to internal Roku research, 1 in 3 Roku users order take-out or food delivery weekly. Furthermore, 36% of Roku users are interested in receiving interactive offers including a scannable QR code or text message.
"Streaming and delivery just go together, which is why we're making it easier than ever for Roku users to order their favorite food right from their TV," said Gidon Katz, President, Consumer Experience, Roku. "Just in time for the Big Game, we're bringing consumers and marketers the same leading scale, data, and tech that have made buying a new device or signing up for a service simple and delightful."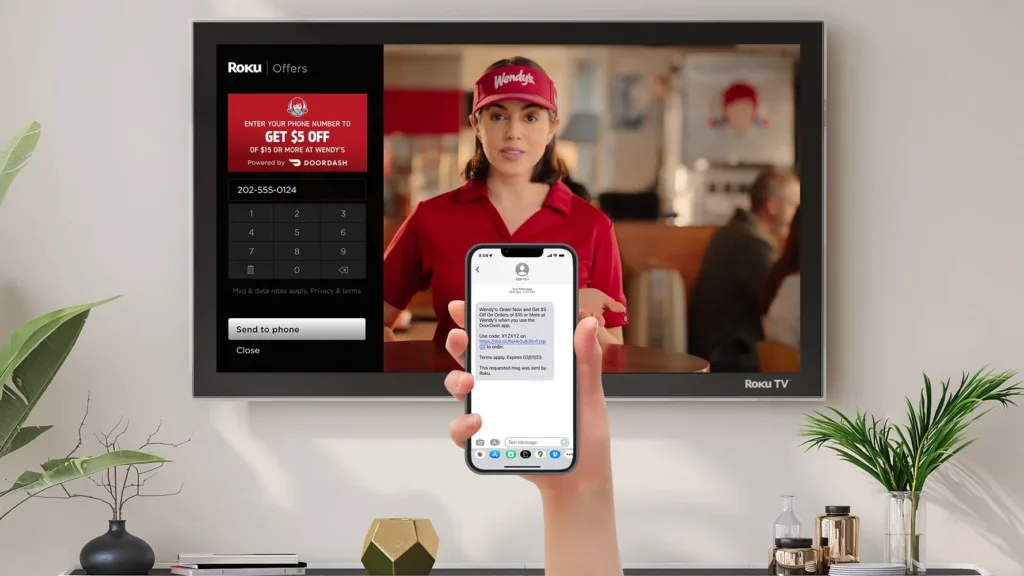 DoorDash merchant partners can run ads directly on Roku. Consumers simply interact with the TV ad offer, receive the promotion through SMS/email, and are led to the storefront directly in the DoorDash app to redeem. With this integration, brands can easily track and measure ROI from beginning to end. Longtime DoorDash partner Wendy's has doubled down on digital acceleration as a strategic priority and is joining forces with DoorDash and Roku to pioneer this new experience, bringing freshly made food to fans with even more convenience. Roku subscribers who see the Wendy's ad will have exclusive access to $5 off with any Wendy's purchase of $15 or more.
"We are thrilled to partner with Roku on this unique partnership," said Rob Edell, GM & Head of Consumer Engagement, DoorDash. "While this offer unlocks DashPass benefits and perks for Roku users everywhere, it also provides our merchant partners with an opportunity to promote DoorDash offers through TV streaming. Consumers can conveniently and affordably get the best of their neighborhood delivered to their door, while brands can reach diners at the right time and drive instant conversion from the comfort of the living room."
"At Wendy's, we're consistently meeting our customers however they choose to engage with us. With increased preferences for mobile ordering and delivery, whenever that craving for a hamburger made with fresh beef or Hot & Crispy Fries hits, we're at our fans' doorstep, meeting and exceeding expectations for quality and convenience," said Carl Loredo, U.S. Chief Marketing Officer for The Wendy's Company. "Partnering with DoorDash and Roku as the first brand to enable shoppable TV offers is an exciting new step towards our goal of being the best in delivery."