The OLED industry is anticipating a noticeable contraction this year, with overall OLED panel revenues expected to dip by 13% year-over-year (YoY) in 2023, reaching an estimated $36.1B. This decrease comes alongside a 5% YoY fall in panel shipments, according to the latest release of the OLED Shipment Report by DSCC.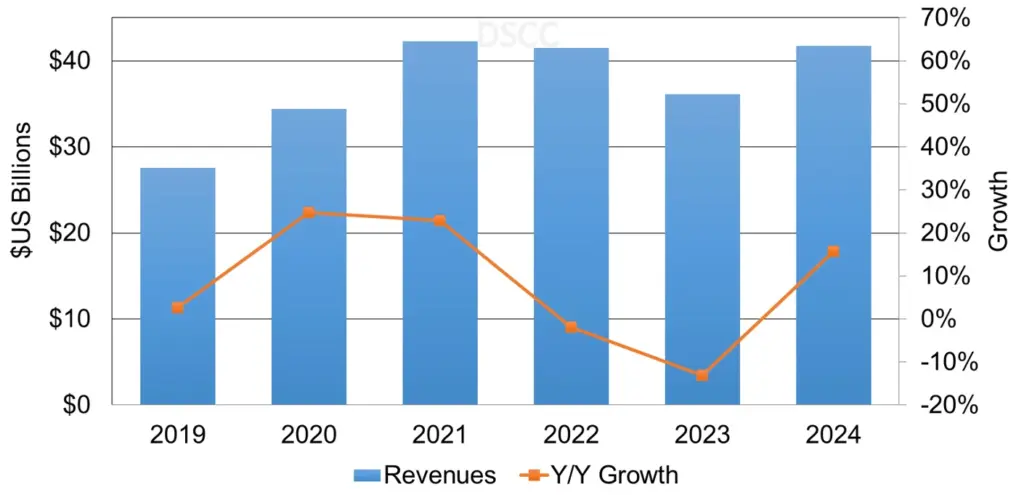 In a breakdown of specific OLED applications:
Smartphone OLEDs: Revenues from OLED smartphone units are forecasted to decrease by 11% YoY, despite unit shipments for flexible OLED smartphones growing by 14% YoY and a 33% YoY increase in shipments for foldable OLED smartphones. The report points to significant average selling price (ASP) declines for flexible OLED smartphone panels as a major factor behind the revenue drop.
OLED TVs: Revenues are expected to see a 28% YoY reduction, with units declining by 31% YoY.
OLED Notebook PCs: A drop of 32% YoY in units and a 38% YoY decrease in revenues is projected. This decline is attributed to the macroeconomic climate, inventory adjustments in the first half of the year, and reduced blended ASPs.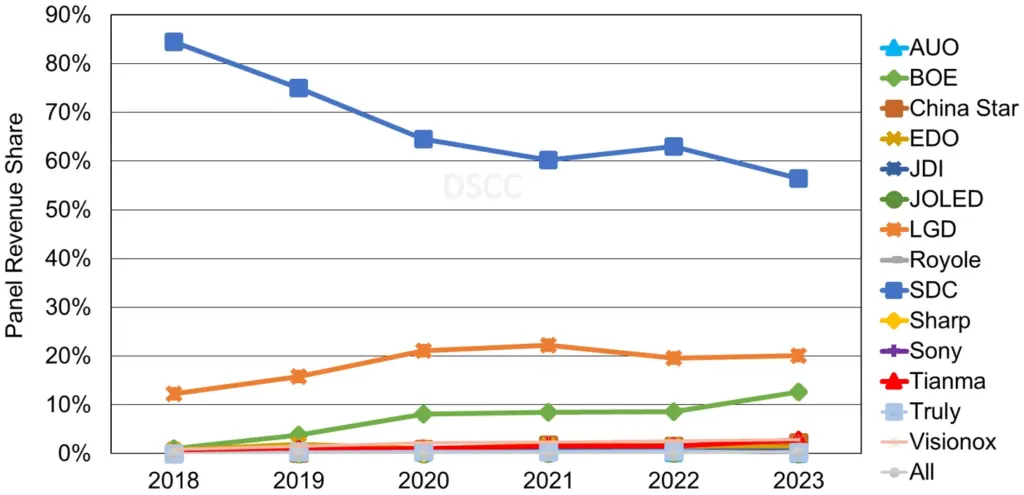 In contrast, other OLED applications, such as AR/VR, automotive, monitors, and tablets, are expected to witness both unit and revenue growth in 2023. By 2024, growth is anticipated across most sectors, notably with triple-digit growth in the tablet category due to Apple's entry into the OLED tablet market. OLED smartphones are also expected to see double-digit YoY growth, driven by increasing demand for flexible and foldable models coupled with lower panel ASPs.
For 2023, smartphones continue to be the leading OLED application, accounting for 80% of the unit and revenue market share. However, OLED smartwatches, the second dominant application, are projected to decline to a 13% unit share and 5% revenue share. By 2027, OLED smartphones are projected to hold a reduced 55% revenue share, with OLED notebook PCs, monitors, tablets, AR/VR, and automotive applications making gains.
On the supplier front:
SDC is set to dominate with the most substantial panel revenue share, driven by rapid growth in the monitor and automotive sectors. With SDC being the sole panel supplier for all four iPhone 15 models this year, it's predicted to control 72% of the iPhone 15 series panel shipments.
LGD is expected to capture 20% of the revenue share, an increase facilitated by supplying LTPO OLED panels for the iPhone 15 Pro and iPhone 15 Pro Max models. For OLED TVs, LGD is predicted to have a commanding 83% unit share and 78% revenue share.
BOE rounds out the top three panel suppliers, forecasted to see its revenue share rise to 13% in 2023, a jump from 9% in the previous year. This growth is attributed to a 39% YoY increase in smartphone units and a surge in automotive applications.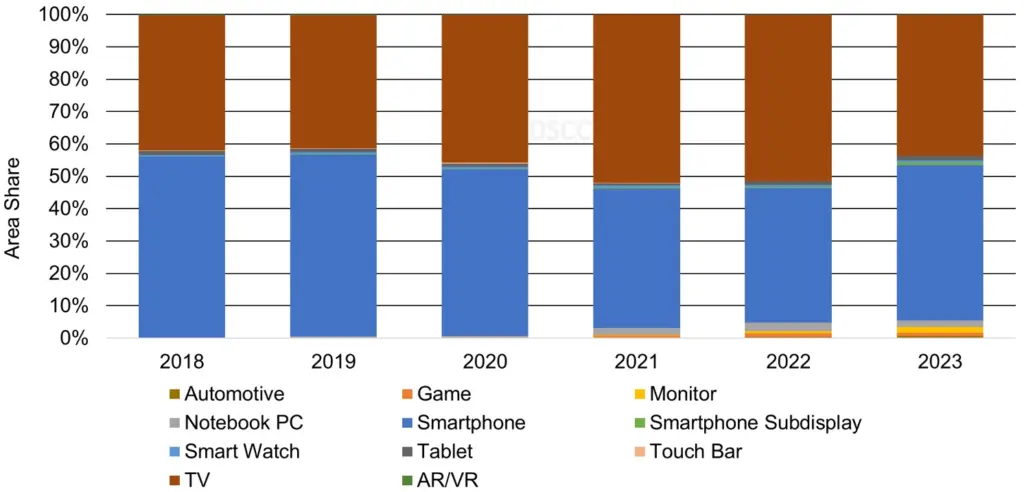 The report also highlighted the shift in OLED demand based on screen size. While OLED TVs are expected to comprise 44% of the market area in 2023, down from 51% in 2022, OLED smartphones are anticipated to grow to 48%, driven mainly by a 29% unit increase for the 6.6" to 8" category.