Oculus VR, owned itself by Facebook, has bought Irish start-up InfiniLed, of Cork, Ireland, (not to be confused with Infiled of China!) which is developing microLEDs. The Irish Times said that this is for the firm's technology to be used in VR headsets. InfiniLed was founded in 2010, based on technology from the Tyndall National Institute (TNI) and is claimed to use 20 to 40 times less power than other flat panel displays as well as enabling high brightness.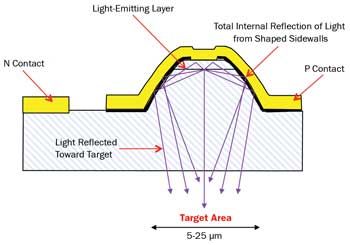 Details of the pricing or other aspects of the deal were not released. Silicon Republic reports that there are currently 20 staff who are being retained and that recruitment is continuing.
Analyst Comment
This might explain why Infiniled didn't turn up at the Business Conference at SID this year, as it was probably already in discussion with Oculus. VR headsets make very strong demands on the display technology in terms of resolution and response times as well as power efficiency. On the one hand, this is a good endorsement of the InfiniLed technology and micro LEDs in general, but also means that the company may slip behind the curtain and give out a bit less information on its technology.