Nikkei xTech reports that Nvidia showed off a set of augmented reality glasses at the Siggraph 2018 expo in Vancouver, Canada, manufactured using proprietary 3D printing technology that enables the company to produce prototype free-form optical parts at a much lower cost than conventional methods.
Image: Nikkei xTech
According to Nikkei, optical devices made of transparent resin are 3D printed, then optical adhesive for refractive index matching is applied and transparent acrylic plates are placed on top, forming a vacuum and smoothing the surface of the adhesive. Ultraviolet light is used to harden the adhesive before the acrylic plate is removed.
Nvidia's 3D-printed AR glasses feature beam combiners and splitters, and they are made with a range of other low-cost parts like compact projectors and Raspberry Pi computers in order to reduce capital expenditure even further.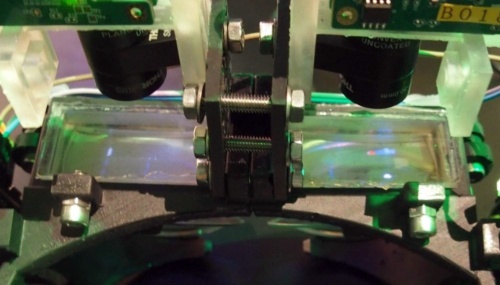 Image: Nikkei xTech
The company says that with this new method, a prototype can be produced in a day at a cost of between $15-20,000, as opposed to the $1-5 million in funds and six to eight weeks of development time required in the past.