NPD held a virtual event around CES to look at a 'big topic' and from a high level – both in B2C and the B2B businesses. The session was introduced by Stephen Baker, a regularly quoted analyst on our site.

He was joined by Ben Arnold – an industry analyst at NPD and Mike Crosby, a B2B industry analyst from the firm.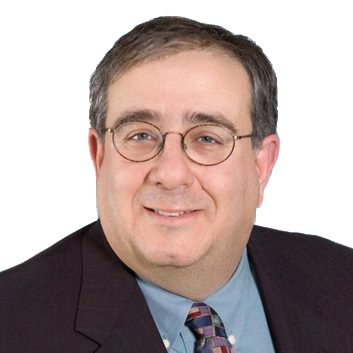 Baker started by saying simply that growth in the US Tech market is going to slow down. After two years of record growth, there is a slowing down. The installed base has got bigger, but devices in use are younger. There is still interest in areas such as remote working and entertainment, but, he said,
"You have to be realistic and recognise that, at least for the near term, we have to expect a bit of stabilisation in growth".
In 2021, the US consumer tech industry grew by 9% in revenue, after 16% in 2020, while before that, growth was around 2% to 3%. Now NPD expects to see a revenue decline of around 5% in 2022 from $127 billion back to around $120 billion – but that's still above the 2020 and far above 2018 and 2019. There could be another decline of 3% to 5% in 2023, but with stability after that. The next 18 months will be the low point in terms of growth.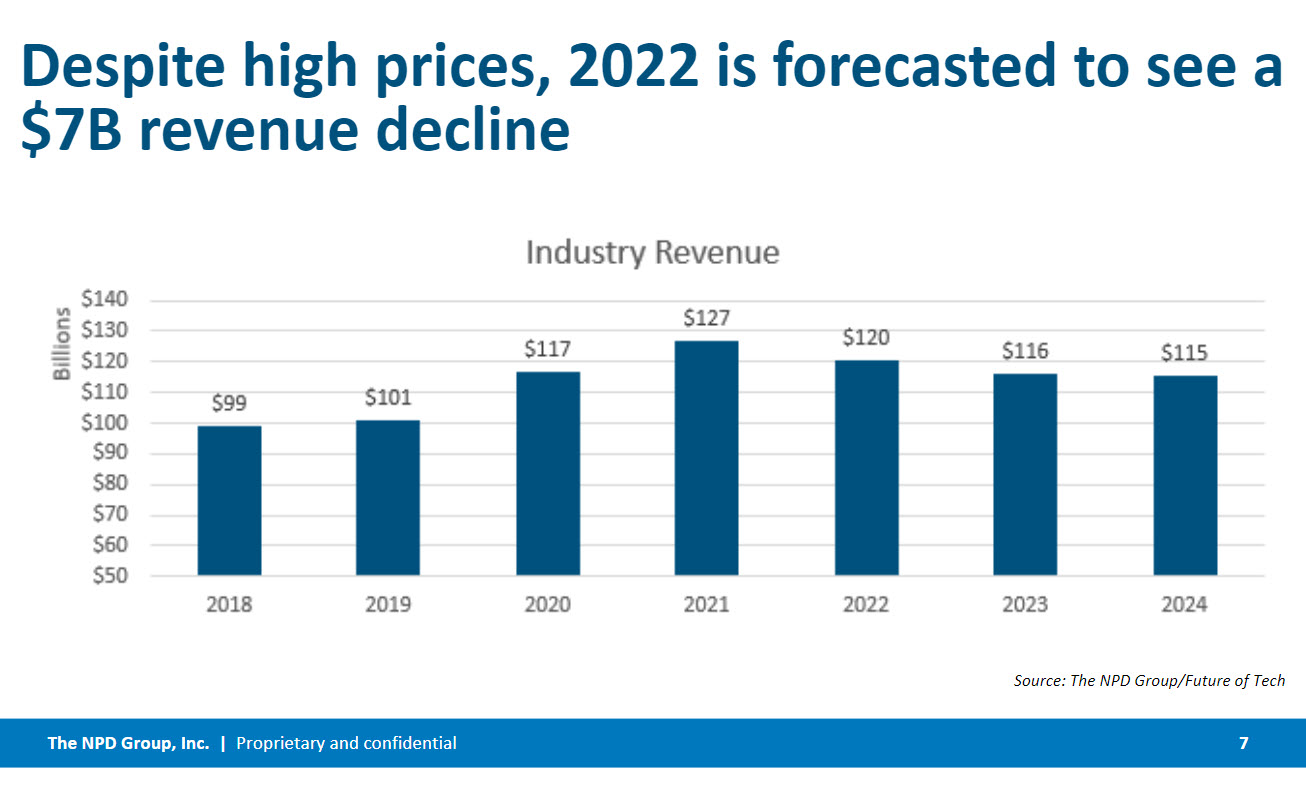 In the near term, higher product prices are likely to impact volume shipments but, of course that will be offset by higher prices when you look at revenues. Gradually, those higher prices should be 'mitigated', Baker said, and that will help volumes recover.
(My own experience as a forecaster has always been that the best way to understand what will happen to market volumes is to understand the revenues. For example, many corporate budgets are set by simply adjusting them from the previous year. Sometimes hardware developers don't pay enough attention to the relatively limited flexibility in revenues – although it could be argued that the last couple of years have proved that, sometimes, there are big swings in revenues!)
TV is a big and mature market and the market is very, very price sensitive, so the conditions for the US market this year are challenging. NPD expects to see a reversion to the kind of market changes that were being seen before the pandemic. Bigger sets and new display technologies will help the market, but still, volumes in the US will be back at 2018 or 2019 levels in 2022. Bigger screen sizes should help to raise ASPs slightly. 65″ and above sets should account for around a third of the market by the end of the forecast in 2024.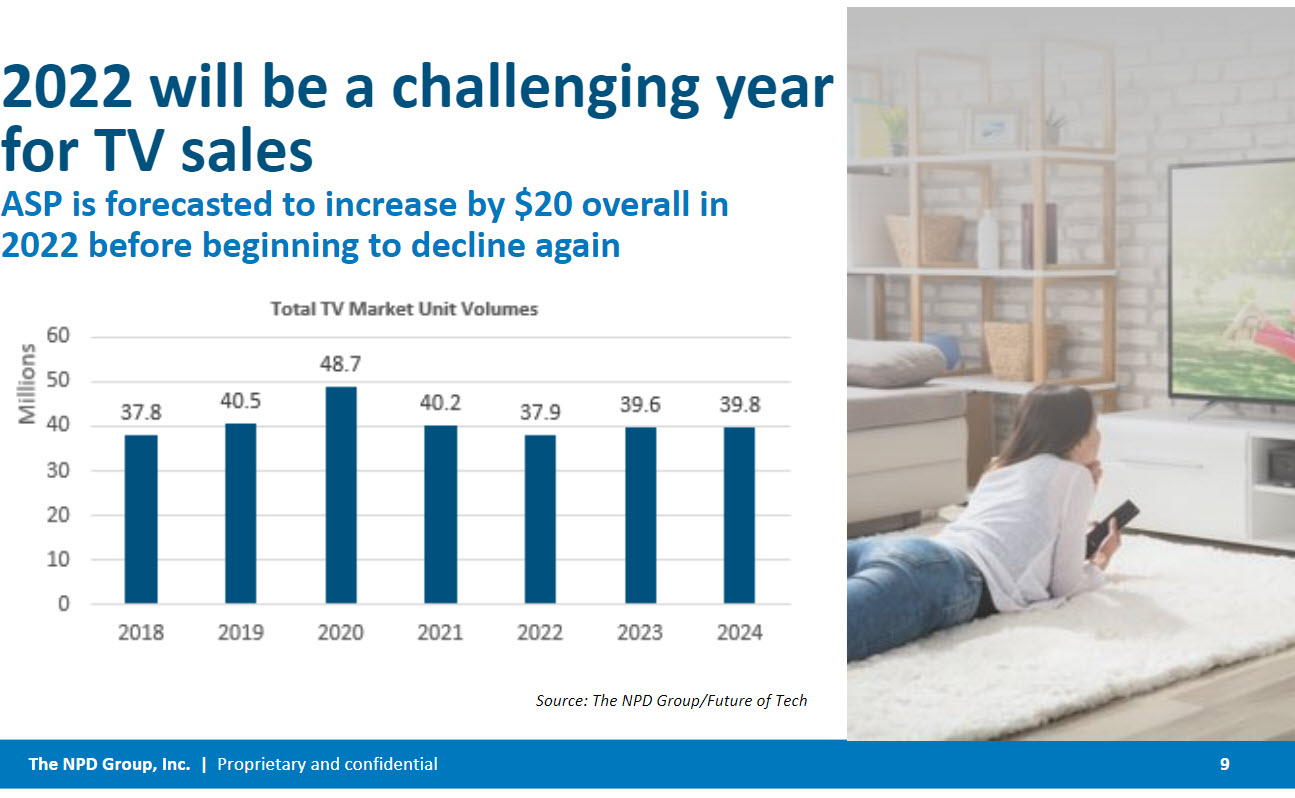 Computers, especially notebooks, are also important. New form factors and designs will help the market in 2022 and there will be some movement in terms of sales by operating system. Chromebooks continue to grow through the forecast and overall the market is expected to stay well above the levels of 2017 to 2019 at around 26 to 28 million compared to 21 million or so earlier.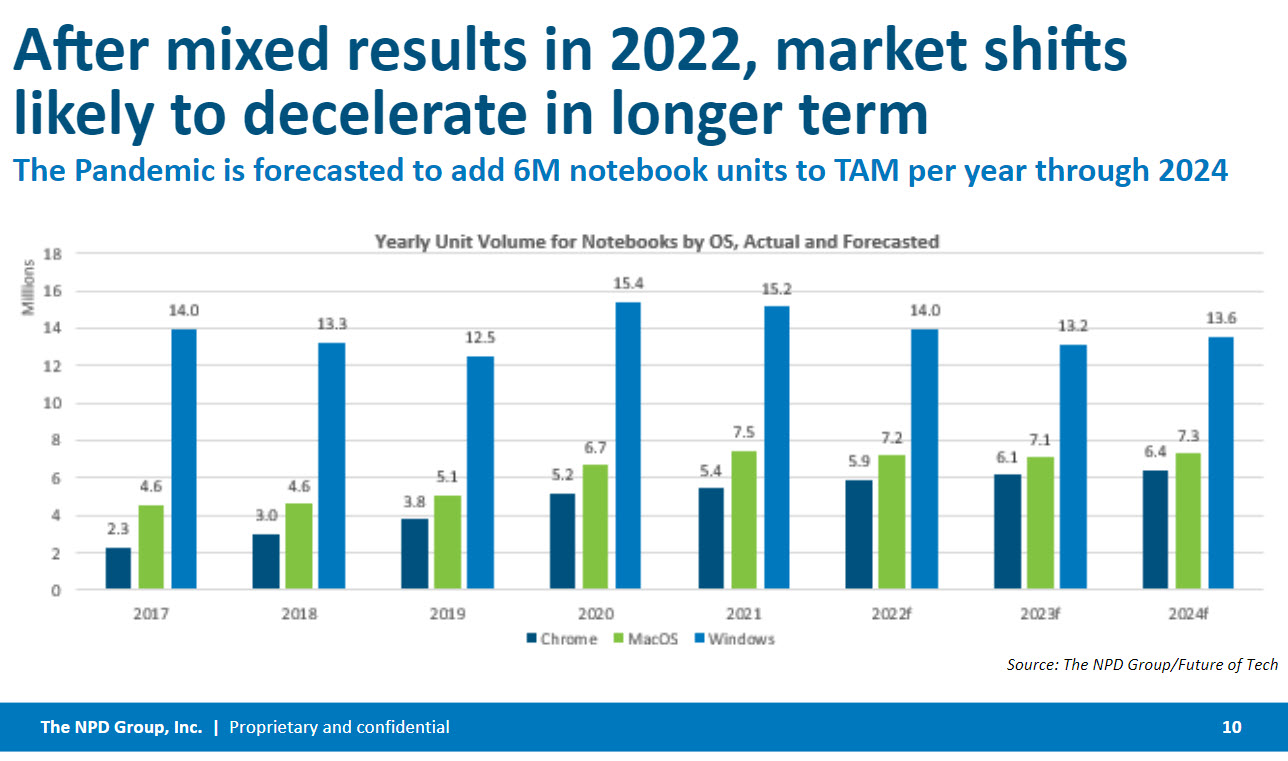 (Baker didn't draw attention to this, but my observation of the data is that pretty well all the additional growth in the market for PCs in the longer term over the 2017-19 period will have been in Mac OS and Chromebooks, with Windows devices 'becalmed' at around 13-14 million – the level in 2017-18)
VR & Home Automation
Baker passed over to Ben Arnold who looked at new and emerging Tech, in particular VR and home automation. Arnold said that important for growth will be new applications that allow VR users to do things they couldn't do another way. Demographics are important and critical may be getting older and non-early adopter users to be interested in VR. There has been a lot of talk about the Metaverse, and it's still a bit of an abstract idea, but there are lot of companies looking at that.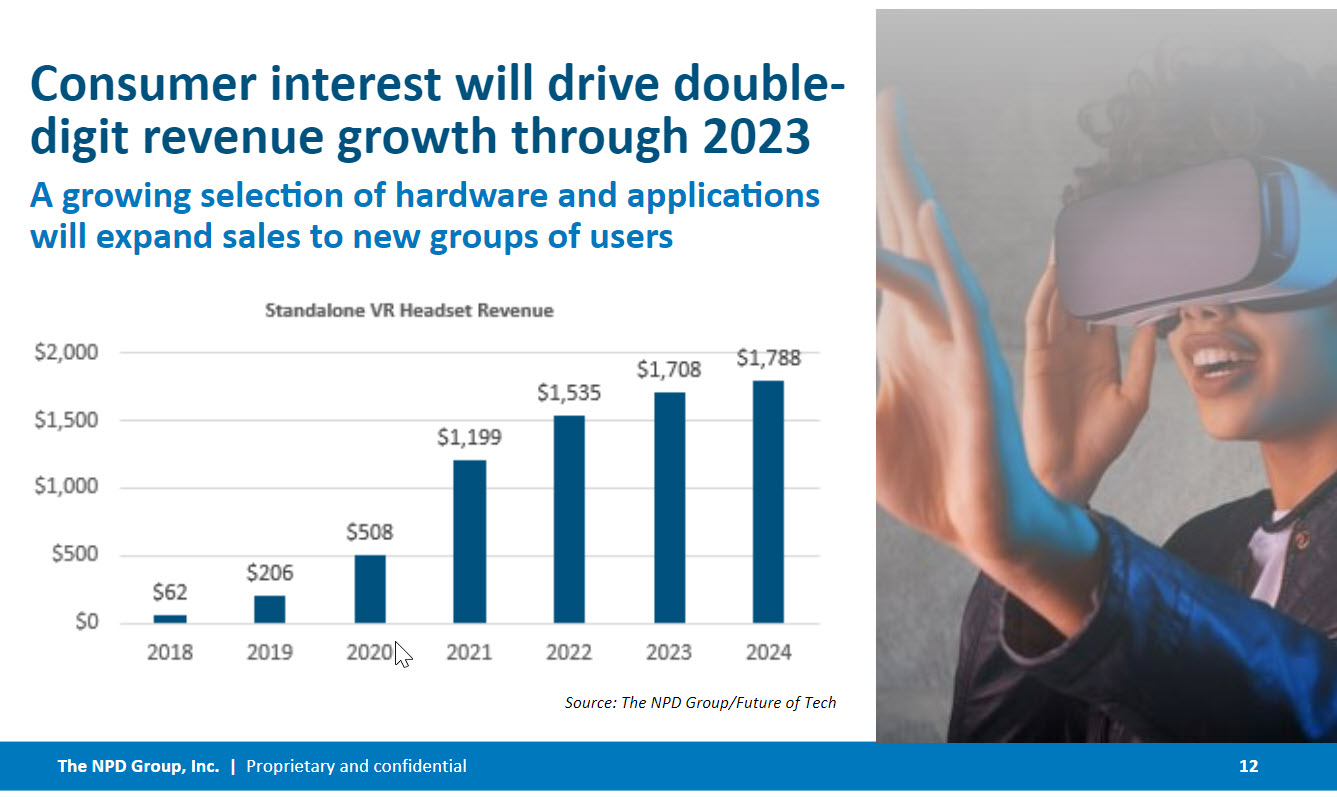 Smart home is 'not as nascent' and Arnold thinks that security and monitoring devices are going to be important with consumers very happy to adopt that kind of technology. Smart lighting and smart power are about convenience and home style.
2021 saw really good growth by the Oculus Quest 2 and 'a sale every second' during the Black Friday period wasn't far off with a lot of promotions. Q4 is a critical time for the sales of VR headsets. However, new devices and content are coming so the market is a bit unpredictable. Still NPD sees revenue growth this year and onwards, but much will depend on compelling content.
B2B To See Chromebook Drop
Mike Crosby went on to the B2B forecast for Tech in the US, a new addition to the NPD Future of Tech service. 2021 revenues grew fairly well in 2021, but there will be a drop in 2022 and the drop will be in education spending with a drop in Chromebook volumes, although there will be growth in software and cloud infrastructure. By 2023, there will be some extra growth because of improved supply chains and with businesses back at full capacity and with further digital transformation.
Small businesses will still be a bit restricted, but mid-sized and enterprise firms will be continuing to invest.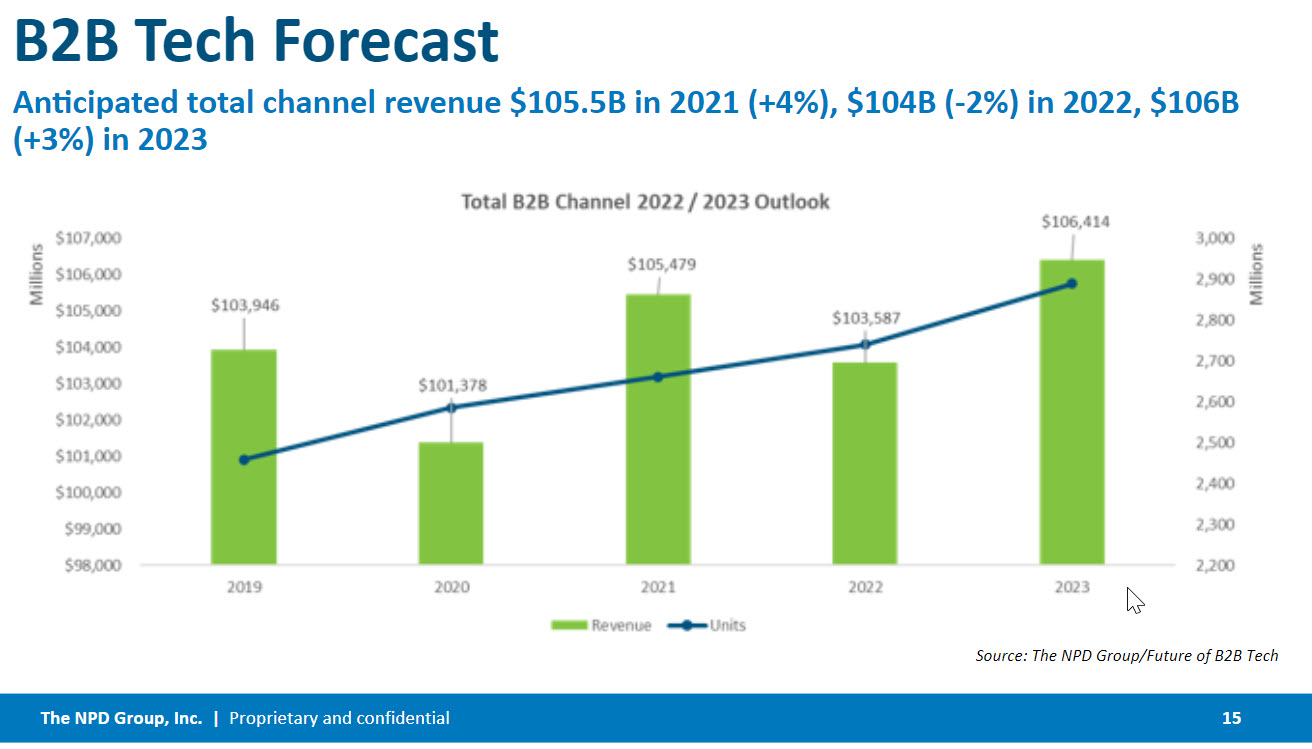 This was a whistlestop tour of 'the big picture' in the US, but I thought there was useful information in it. If you want to check out the details, the registration form for playback was available here at the time of publication. (BR)