The Pacific Northwest Chapter of SID held a webinar last month that featured a talk by Noctiluca, a company that is developing OLED emitter materials and one that I have been intending to write about for a while. That was handy!

I contacted Sam Phenix from the Chapter who gave me access to a recording as it took place at a time that I couldn't attend 'live' – if you talk to her nicely, she could do the same for you. Contact [email protected]
After a brief introduction, Krzysztof Czaplicki, COO of Noctiluca started by pointing out that OLED is starting to dominate smartphones and high end TVs, but he thinks it is time for broader adoption.
The technology needs a fundamental change to continue the growth and penetration of new markets including lighting and that is, and, and this is no surprise to anyone in the display business in the last quarter century, that change is a move to a better blue. The industry still uses an inefficient i-Gan materials for blue. Although the emissive layers are the critical ones for performance, there are lots of other layers needed with sophisticated processes and technologies.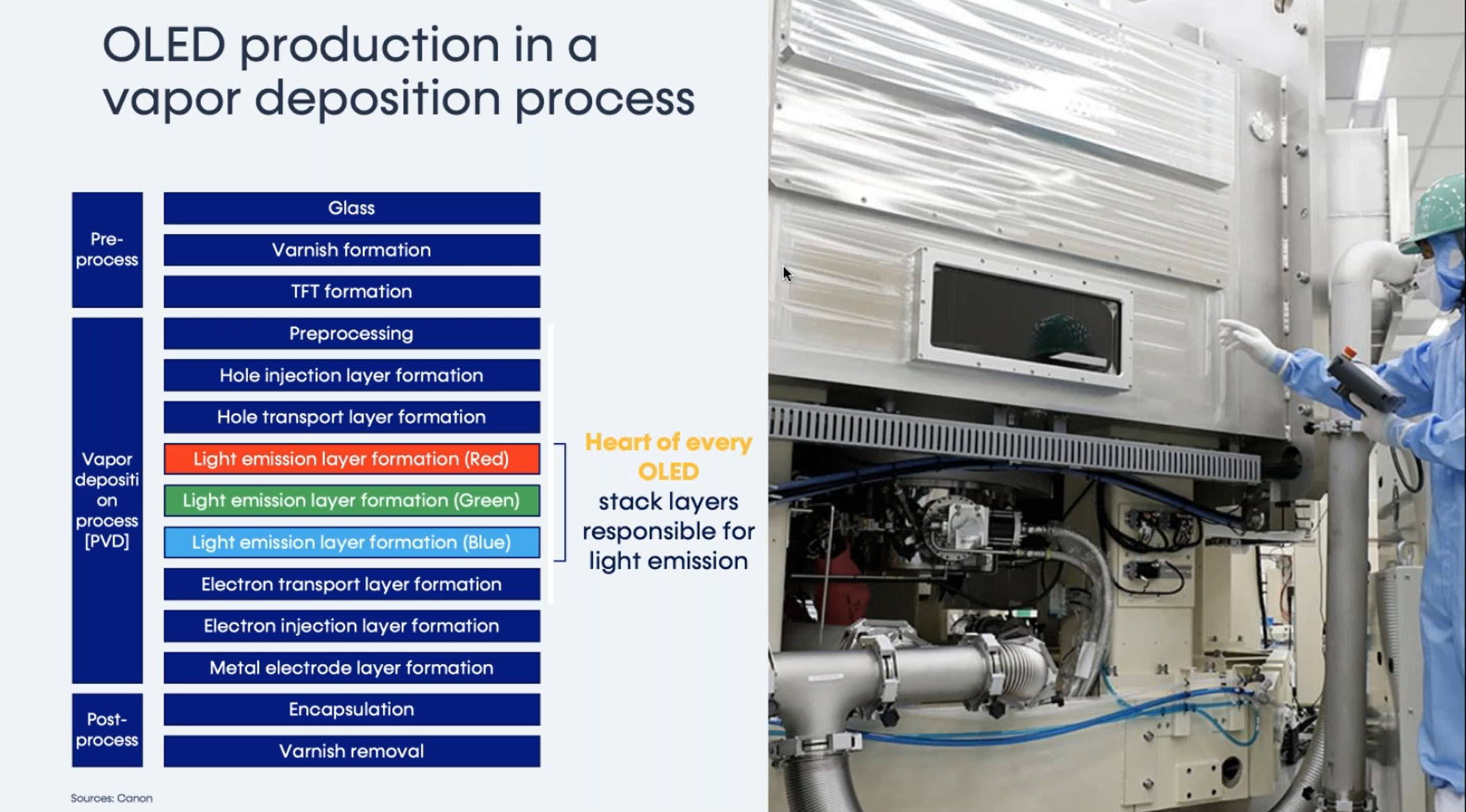 OLED Stack Processing – there are a lot of steps
He then looked at the four generations of OLED materials:
Fluorescent
Phosphorescent
TADF
Hyperfluorescence
The current fluorescent and phosphorescent materials have disadvantages in a lack of good blue emitters, the use of heavy metals, material 'burn in', lower efficiency, lifetime and cost. Companies such as UDC have done a great job despite these issues in building a big industry.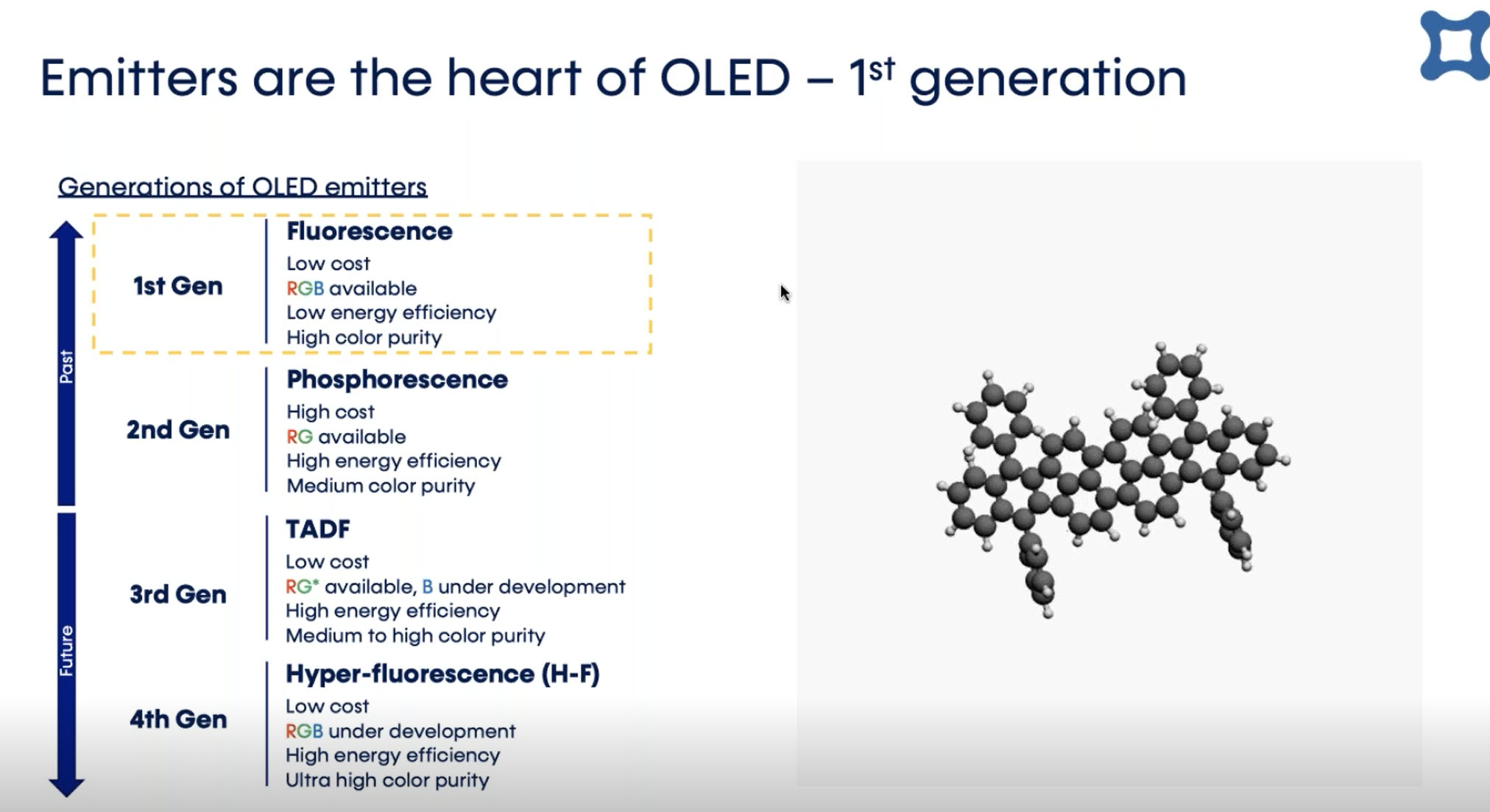 The new emitters based on TADF have a 'clear path to blue', no heavy metals, no burn in, higher efficiency, longer lifetime and lower production cost. In addition, it's relatively easy to implement TADF in existing production and it can also enable printed electronics.
The fourth generation is based on TADF acting as a host for fluorescent materials in hyperfluorescence promises even better colour purity and efficiency.
Turning to the company, Noctiluca is based in Toru?, Poland and focussed on OLED emitters. The firm likes to be more flexible and responsive than large multinationals – the firm's clients find some frustration with the policies of some other suppliers. There are only a few suppliers of TADF and hyperfluorescent materials. It sees a big advantage in being in the EU and with a lot of local technical talent. It has R&D operations in Korea and the US and R&D partners in Taiwan and Korea. It is working with companies in the EU on IJP and PVD OLED deposition.
Czaplicki showed the kind of enquiry that it gets, including the detailed technical requirement and how it was able to respond with advice on emitters and host materials in two months, with a further two month process of refinement of the specification.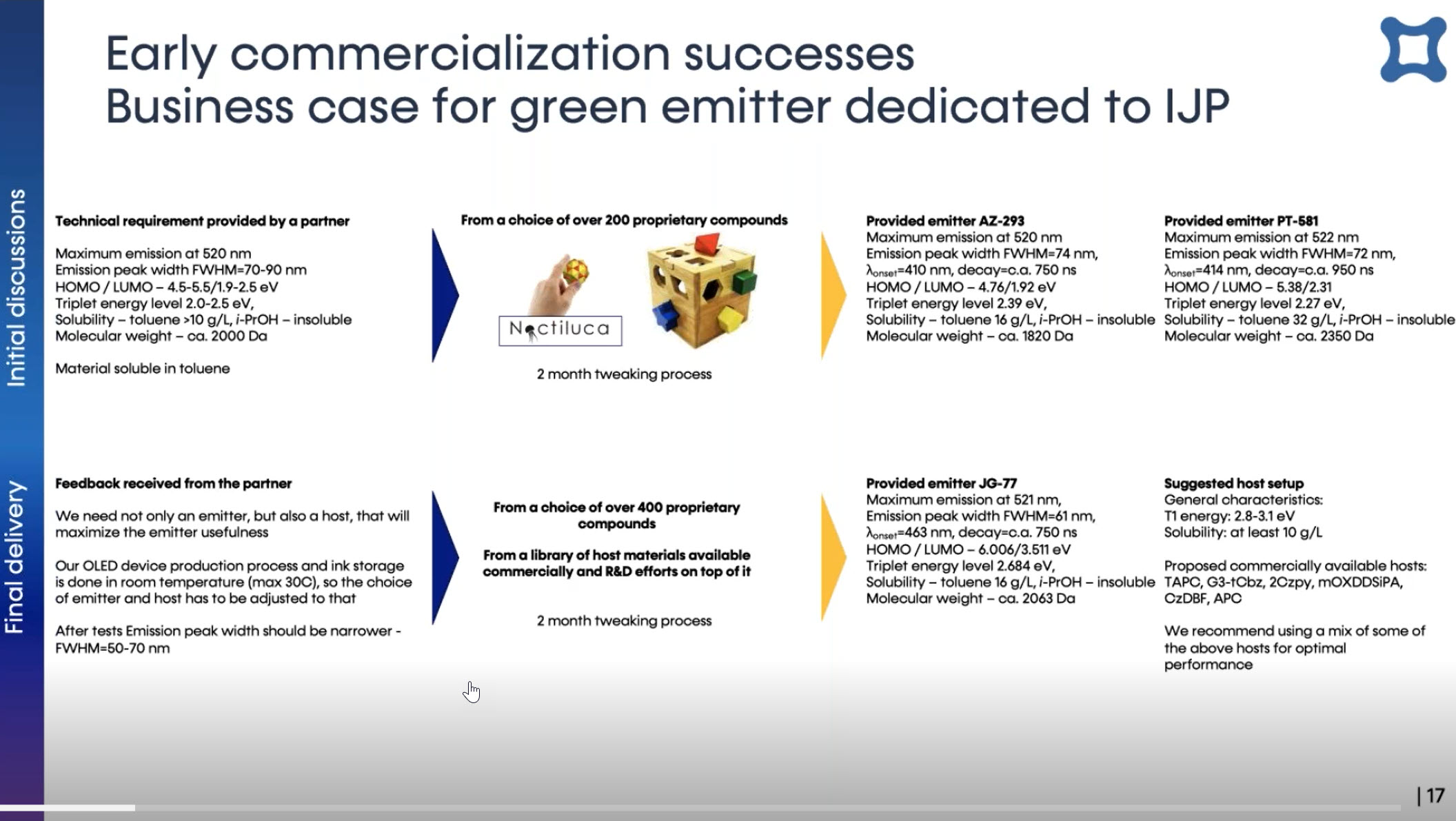 Noctiluca has big plans for this year and has developed a full suite of materials for use by its German Inkjet Printing (IJP) partner, Inuru GmbH with green commercial devices expected in the first half of this year and red during the year and a continued pipeline to blue for 'early' 2023. The company has had a request for a yellow material, too.
There has been interest from a 'global leader in IJP' in Japan in these RGB materials and there have been discussions with potential partners in the US, Japan, Korea and China for deep blue materials for PVD.
The firm is working with the Fraunhofer IAP and the Karlsruhe Institut für Technologie (KIT) to develop a full set of IJP inks for RGB with results expected in May for green, June for blue and July for red. PVD materials are being tested by KHU in Korea and ITRI in Taiwan.
Finally, he summarised the advantages of his firm's approach and technology. He also highlighted that the firm has a lot of equipment and knowledge for production other custom materials including organometallic compounds for ALD and PVD application and dyes for DSSC applications.
The firm has submitted its documentation for an IPO on the Warsaw Stock Exchange and hopes to IPO in Q2 this year.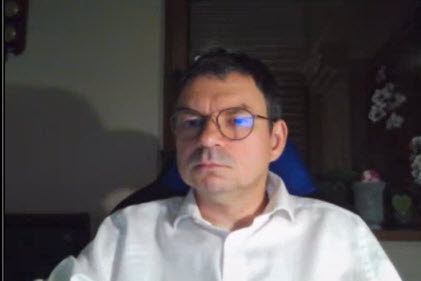 He then passed over to Mariusz Bosiak, the CTO and President, for some more technical slides. He explained how the firm developed a greenish blue material (ca 500nm) with TADF characteristics to match a customer requirement and went through the technical details. He also showed test details of other green emitter materials for IJP.
Question Session
Responding to a question about IJP materials, Bosiak said that there was no difference in the decay time of different colours. He also talked about the advantages of using TADF as blue in QD-OLED configurations.
Czaplicki said in response to a question about inkjet droplet uniformity that the suite of RGB materials will come from the same family which helps with uniformity and Bosiak highlighted that this is really a question for the firm's customers, who are the experts in the printing process.
Responding to a question about lifetimes, Bosiak said that lifetimes are similar to materials prepared by the 'Adashi team' (Kyulux – editor). As it happens, the first commercial customer was not looking for a long lifetime – they were just looking for just 100 hours. Czaplicki said that customer requirements vary hugely in bandwidth, lifetime and molecular structure, so it's hard to generalise.
Next was a question about deep blue. Czaplicki said that the majority of partners are interested in deep blue and Bosiak said that materials are being developed for IJP and PVD and testing is now going on in Taiwan and Korea with materials, which the firm hopes to bring to market next year.
Bosiak said that materials are not especially sensitive to sunlight and the firm's TADF materials have better stability than second generation phosphorescent emitters because they are purely organic. They don't have coordination bonds, he said.
PVD materials have 2X or 3X better brightness than IJP materials, but there is a big advantage to IJP in the lower cost of equpment for manufacture and IJP materials can reach 1,000 cd/m² which is enough for TVs, smartphones and other applications.
Czaplicki responded to a question about the difference between his IP and that of Kyulux and Cynora and he said that he should just say 'it is different'! He said that the world is changing and the IP landscape is changing, so the firm has switched from an 'IP first' strategy to a 'customer first' strategy to help to limit the cost of the patenting process. Noctiluca does not see itself as an academic company, but as an industrial supplier and partner, so its priority is not just to patent as early as possible.
"It's not a sprint", he said.
The firm is trying to get to a space "where competitors cannot work out our approach", Czaplicki remarked.
IJP is very sensitive to viscosity, said a questioner. Are there differences between the R, G and B inks in this parameter? Czaplicki replied that manufacturability is a priority and Bosiak added that the viscosity depends on the ratio of host:emitter in the ink and that often depends on customer needs. The firm can make a wide range of inks and can meet the requirements. Sometimes there are request to use a specific solvent and that can influence the materials recommended. That can be because in low volume device making, where IJP is used, there is a need to often change the production. Czaplicki said that the PVD molecules are lighter (or smaller) than the IJP molecules. Often, however, the full stack structure of OLEDs is often unknown to Noctiluca as it is proprietary to the display maker.
Thanks to the SID Pacific Northwestern Chapter for giving us access to this interesting event. (BR)
Analyst Comment
The firm didn't mention it at this event, but in mid-February, we reported in our Display Insider subscription service that it had signed a deal for material evaluation with LG Display. (LG Display Collaborates with Noctiluca to Develop OLED Materials subscription required) (BR)
This article was independently prepared and produced by Display Daily, but was moved outside our paywall by Noctiluca – thanks to them. It will not count towards one of your two free articles if you do not have a subscription.