A story published March 9 at Forbes illustrates how the video streaming landscape continues to shift dramatically. What started out largely as a science experiment 18 years ago with YouTube has now become the dominant platform for the distribution and consumption of movies and television shows in the US.
It's upended the cable TV industry, has forced all premium cable channels to start their own streaming services, and has become more important to the corporate media giants than their traditional broadcast networks and "owned and operated' (O&O) TV stations.
The Forbes story details how Wall Street investors are questioning if some streaming business models are financially viable, now that subscriber growth is slowing. Just as we saw with cable TV, consumers are adding up all their monthly subscription costs and discovering that they're not saving much money (if at all) by "cutting the cord" and moving exclusively to streaming services.
Consider that Netflix is now charging $20/month for their 4K streaming product. Amazon Prime will cost you $15/month, as will HBO Max. That's $50 per month on top of whatever an Internet service provider charges for fast broadband (typically close to $100/month in my area). Add in Disney's popular streaming service for $8/month – or their Hulu bundle, which includes ESPN, for $14 – and consumers are basically forking over what they previously spent on a digital cable package.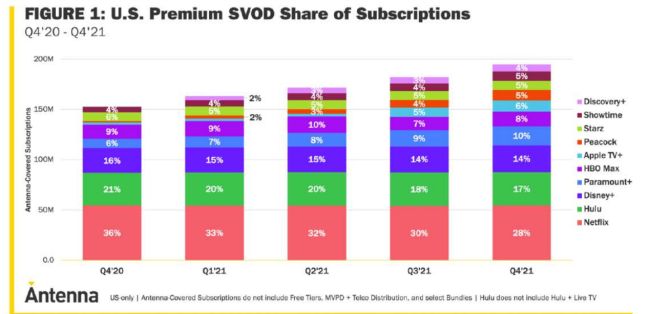 More Changes Coming
There are more changes coming. The latest content delivery service is advertiser-supported video on demand (AVOD), which can be had for free via Fox's Tubi and Paramount's Pluto platforms. Disney+ has also announced an advertiser-supported steaming service to launch later in 2022, joining Peacock, HBO Max, Paramount+, Discovery+ and Hulu. (and that's before you include services from TV brands, like Samsung TV Plus – editor)
In an ironic twist, AVOD works the same way traditional linear TV did decades ago. Half-hour or hour-long programs are broken up by commercials, and while you can fast-forward and rewind the actual programs, you can't skip through the ads. A story last month on the TV Tech site details how AVOD is the fastest-growing streaming delivery system, with Fox Entertainment's Tubi service claiming "…3.6 billion hours streamed in 2021, a 40% YoY increase in total viewing time (TVT) across its largest-in-streaming library of more than 40,000 titles."
The report from Fox Entertainment also predicted
"…Free streaming's audience will grow larger than paid streaming by mid-2022, noting that AVOD audiences grew twice as fast (+16%) as SVOD (+8%) in 2021…The report also found that free streaming viewership is expanding rapidly among educated and higher-income earners and becoming more reflective of national audience averages. AVOD adoption was led by the young (who still over-index vs. general population), but mature, educated and affluent audiences are growing rapidly, the researchers said."
Over at Paramount (the new name for Viacom/CBS, which shows you just how much emphasis has been placed on branding), AVOD is growing exponentially, too. Last month, the CordCutters site reported that Paramount+ (an ad-free streaming service) added 7.3 million subscribers to reach 32.8 million by the end of the quarter. Respectable numbers, given that Paramount+ is not even a year old.
However, Paramount's Pluto TV AVOD streaming service blew by it, adding 10 million monthly active users (MAUs) to reach an impressive 65 million MAUs by the end of the quarter, and the company projects Pluto TV to generate over $1 billion in revenue in 2022, up from $70 million in 2018.
ESPN Important for Disney
Disney, which owns the ABC television network, several O&O TV stations, plus Pixar, Marvel, and Lucasfilm, also is the parent company of ESPN. The latter was once a cash cow for Disney, getting an eye-popping $5 to $7 per subscriber on cable, as it was part of every digital tier. But with increasing numbers of viewers dropping expensive sports channel packages – or dumping cable altogether – Disney saw revenue dropping for its flagship sports network and finally acquiesced to starting an ESPN streaming service a few years ago. Now, it's forcing Hulu subscribers to take ESPN as part of a bundle with Disney+.
A reversion to near-linear TV viewing, interspersed with commercials, isn't the only 'what's old is new again' trend. To minimize subscriber churn, Forbes reports that
"Amazon and Netflix are experimenting with staggering the release date for programs instead of all at once (binge viewing). This strategy can build viewer anticipation, lengthen social media buzz, extend the life of a program and could minimize cancellation (churn) rates."
For instance, individual episodes from the current fourth season of The Marvelous Mrs. Maisel are now being released on Prime over a four-week period.
The strong growth trends in AVOD viewing show that tens of millions of OTT TV viewers are willing to tolerate commercial interruptions as a trade-off for avoiding monthly subscription fees. How this delivery method will impact conventional free, terrestrial broadcast television remains to be seen, given the latter's slow adoption of the next-generation ATSC 3.0 DTV system.
A former senior executive at one of the major TV networks told me recently that all bonuses and incentives in the corporate parent are now based solely on how well that company's streaming service does, and that its O&O TV stations are now relentlessly promoting their individual apps to increase viewership.
Meanwhile; during a recent trip to Palm Springs to attend the annual HPA Tech Retreat, my family stayed in an AirBnB that had TVs in just about every room – but connected only through Roku to streaming services. I brought along a small amplified loop antenna and we were soon able to watch all the local terrestrial TV stations, something that amazed the house's owners. They were unaware they could get those channels, and that they were free. Plans are in the works now to add antennas to many of the TVs to complement the Roku streaming channels.
Everything old is new again! – PP
Just after we finalised this article, Pete spotted an interesting report that Apple TV Plus is experiencing a 'churn rate' of nearly 10.4%, as much as five times bigger than Netflix, which is at 2.2%, down from 2.5%. The figures are from Antenna's annual report. (Editor)