Display panels and component suppliers pushed, stretched, folded, and expanded the limits of display features and performance, showcasing next gen products at DisplayWeek 2017.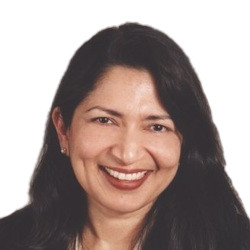 In general, technology prototypes take years to be commercialized. Some products never even get a chance for mass production. But, in recent years, display application market growth-rates have been slowing down. The battle for survival and dominance between LCD and OLED technology has been heating up. Next generation product innovation has become a necessity for survival.
Samsung stretching the limit of flexibility with 9.1-inch OLED stretchable display:
Flexible OLED is considered to be the top display technology trend for the next generation market as it can bring design differentiation. This is very important for the smartphone market to drive replacement demand. Samsung's flexible OLED display has already achieved success with its Galaxy series smartphone products and Apple's up coming iPhone 8 product is expected to use flexible OLED display.
At DisplayWeek 2017, Samsung Display took flexible display to the next level by unveiling a prototype of a 9.1″ AMOLED stretchable touchscreen display, which received a "Display of the year" award from SID. The screen can stretch by 12mm concave or convex, stretching in both directions instead of on just one side like a "conventional" flexible display. Combined with printable OLED manufacturing capabilities it has the potential to enable lower cost, flexible, stretchable displays in future although it is not clear when it will be commercialized.
But rubber-like stretchable electronics can bring innovative design solutions to application such as the IOT, wearables, health meters, auto, and many others. This helped Samsung to show OLED technology advancement in the small and medium market. Flexible OLED is expected to gain market share in the smartphone market due to its innovative design differentiation.
LG bringing differentiated design with 65-inch slimmer, thinner, lighter wall paper OLED TV
LG has been the only supplier of OLED TV panels with mass production. OLED TVs generally have superior visual performance due to the deeper black level and higher contrast ratio. The 65″ UHD wallpaper OLED TV has a slimmer (only 3.9mm or less than 0.2! thick) and lighter (just 7.4 kg or 16 lbs.) form factor that allows the TV to fit right against the wall, like wallpaper. This product also received "Display of the Year" award from SID.
OLED TV has gained rave reviews for superior display performance but the adoption rate has been limited due to lower yield rates and higher manufacturing costs with low volume production. LG Display also showcased its crystal sound OLED TV, where the speaker is, effectively, embedded in the screen, giving direct sound and differentiated design. With design differentiation LG expects OLED TV to have a strong presence in the higher end market.
Nanosys Hyperion Quantum Dots bringing >90% BT 2020 color gamut to LCD TV
Hyperion quantum dots from Nanosys received a "Component of the year" award from the SID. It will enable displays to meet BT 2020 UHD color gamut standard without requiring exemption to RoHS .The Hyperion quantum dots combine a Cd-free (cadmium free) red quantum dot with a green quantum dot whose Cd content and emission spectrum are both very low.
Nanosys has partnered with Hitachi Chemical to begin immediate production of QDEF with Hyperion quantum dots. Quantum dot technology has really helped LCD TV to reinvent itself and improve performance, black level, and achieve super high peak luminance with low power. Samsung is licensing Quantum dot technology from Nanosys for its cd-free QLED film-based TV. Quantum dots costs are coming down, more TV brands are adopting the technology and production is increasing.
Second generation quantum dot products will replace color filter arrays with sub pixel patterned QDs and 100% of blue light energy from the backlight can be converted to the desired output.
The third generation product is expected to be a quantum dot "emissive display", with similar properties to OLEDs but with higher color gamut and made using a solution printed manufacturing process which may lead to lower cost in the future. With increased demand for 4K UHD large size TV and continued innovations in the technology, quantum dot will help LCD to reinvent itself and keep its dominance in the TV market.
BOE expanding LCD high-resolution capabilities to the next level
BOE technology group won an award in the large exhibit category at DisplayWeek 2017 for its 82″ 10K display. The company also won in large exhibit category last year for its 8K display. BOE's 10K display was in the 21:9 format with 10240 x 4320 pixel resolutions and was created to showcase BOE's high resolution cutting edge technology for next gen products. It was a-Si panel with a direct-lit LED backlight. BOE is planning to set up the world's first Gen 10.5 fab, which is efficient for 60-inch and above size TV panel production.
Foldable displays gearing up to serve smartphone market
OLED is increasingly being adopted by mobile devices especially smartphones due to its design flexibility. Displays are shifting more towards thin and edge folded types. Foldable phones are expected to come in the near future. Many suppliers were showing foldable smartphone panels at Display Week 2017. Samsung Display has been in the forefront of mobile flexible OLED but many other suppliers are entering the market especially from China. BOE, Tianma, and many others were showcasing flexible OLEDs for smartphone at the conference. JDI was showing 5.5″ FullHD flexible OLED with 401 ppi with SBS-OLED. Tianma showed a 5.5″ flexible AMOLED display with an ultra narrow border and ultra thin thickness that folded inwards at R3mm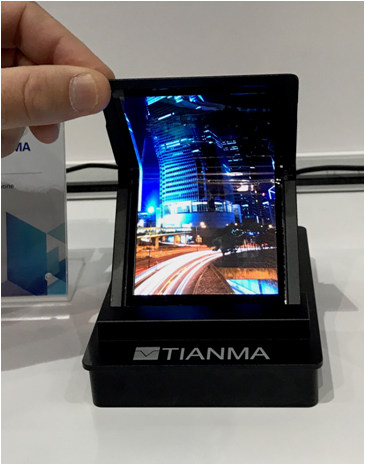 Tianma's flexible OLED – Image:Dash-Insights
JDI pushing the limit of LTPS LCD technology to meet next gen display requirements
As OLED, especially flexible OLED, is gaining momentum in the smartphone market, LTPS is in defensive mode. JDI, the top supplier for LTPS LCD smartphone panels, is pushing the limit of LTPS LCDs to meet next gen requirements. Design differentiation is a top requirement for the smartphone market. JDI showcased full active screen 5.5″ FullHD LCD with 401 ppi, and with 4 edge free design, which was realized by pursuing a high-density layout, process and bonding technology. It is expected to bring new value through product design and users' interface freedom. It may enable a wide range of new applications.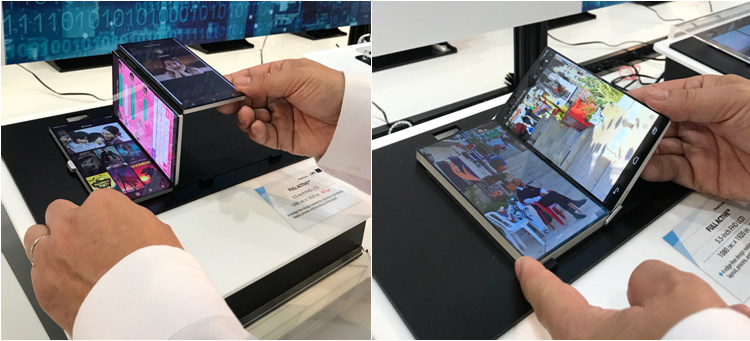 Toshiba's "edge free" design – Image:Dash Insights
AUO pushing LCD panel performance to meet auto market requirements
AUO showcased 3.5″ plastic flexible transmissive LCDs, using a colorless Polyimide (PI) plastic substrate. It is a bendable, unbreakable, conformable display designed for the instrument cluster auto market. The company also showed an 8.9″ free form LCD display for rearview mirrors and a 9-" curved LCD for CIDs (center information display). LCD panels are adopting curved form factors to meet future auto display requirements. The mirror-less systems in autos require real time images, fast response, curved surface design, sun light readability, power saving, high brightness, and no motion blur. Panel suppliers have improved LCD performance to meet these requirements.
Samsung expanding LCD display to extreme high resolutions for AR/VR market
Display suppliers generally are expanding the resolutions of OLED panel to meet AR/VR requirements. Samsung showed a prototype 1.96″ transmissive LTPS LCD with (4K x 2K) HD with 2250 ppi – as the highest resolution transmissive LCD for AR/VR and holographic display applications.
JDI demonstrated a highly transparent color LCD
JDI showcased a highly transparent color LCD prototype with 4″ 300 x 360 resolution, 117 ppi and 80% transmittance. JDI achieved it by new technology where they remove the usual color filter and polarizer. High transmittance allows viewers to see the background image and foreground image clearly. It received the "Best in show DisplayWeek 2017" award.
OLED competition pushing LCD with relentless innovations
OLED is gaining market share in the mobile smartphone, wearable and AR/VR markets. While OLED excels in terms of flexibility, LCD struggles. But companies such as JDI, AUO, and others are starting to show prototypes of flexible LCDs. Still LCD's inherent nature will make it very challenging to achieve true flexibility. As OLED competition heats up, LCD is reinventing itself to maintain its dominance and stop market-share loss. Innovation is a necessity for LCD survival. – Sweta Dash
Sweta Dash is the founding president of Dash-Insights, a market research and consulting company specializing in the display industry. For more information, contact [email protected] or visit www.dash-insight.com