On Thursday April 27th Acer had its annual Next@Acer product introduction and technology event at the AMC Loews IMax Theater at Broadway and 67th in New York. This was not just an Acer USA event but attracted journalists from around the world. This IMax theater has the largest screen of any IMax theater in the world and is driven by a 6P laser projection system from Barco. Bill Beck at Barco told me "The projector is an IMax design with technology provided by Barco and Kodak." IMax had acquired the Kodak laser cinema IP and hired the people who generated the IP. Since this screen was used to show the graphics during the press conference, none of the 400 or so attendees had any problem seeing the images used for product introductions.
Jason Chen, CEO of Acer, hosted the hour-long presentation of the new products. He was joined by others from Acer plus representatives from Microsoft, Starbreeze, Intel and IMax. After the formal presentation, everyone went outside on the terrace for the product demonstrations and lunch. This was a brave decision at Acer, since New York has had a fairly wet spring. Fortunately, the sun shone on the event.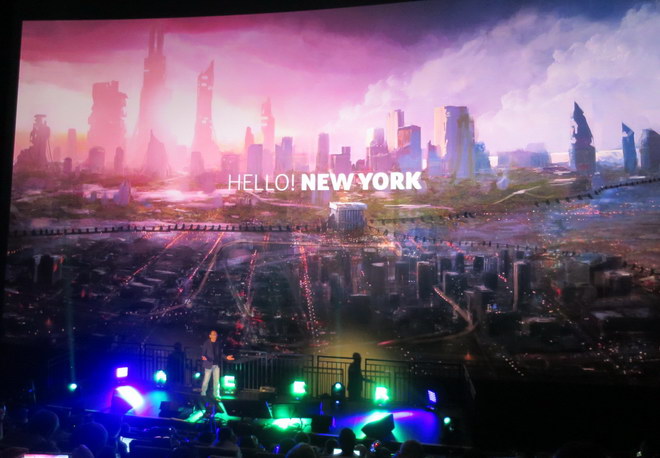 Acer's CEO Jason Chen opens Next@Acer in front of the giant IMax screen with a 6P laser projection system. (Photo: M. Brennesholtz)
In my Display Daily for May 3rd, I discussed all the VR, AR and MR products demonstrated at Next@Acer. This article will focus on the other new products introduced and demonstrated, with a focus on products incorporating cutting-edge displays.
Predator Gaming Systems
Gaming is big business and Acer has done well with its Predator products that target the gaming market. According to Chen, the Predator line has had a 64% year over year (YoY) growth for Acer. The Predator product line includes monitors, laptops, desktops and projectors, all specifically designed to give gamers an edge. One thing gamers consistently demand is high speed displays, including both high frame rate and short LC response times – they don't want to waste milliseconds waiting for their opponents to show up on their screens.
Acer divides the gaming market into three categories, casual gaming; core and hardcore gaming; and high-end gaming and makes products that target all three categories. Chen used Jon Peddie Research data to show that the casual gaming market is growing and now represents 43% of the market. Some of the general-purpose laptops introduced by Acer have features specifically designed to appeal to this casual gaming market.
Acer is the official sponsor and monitor partner of the League of Legends Championship Series for professional gamers. As I said, gaming is big business – the 2016 Championship series was viewed by 46 million people, more than the Superbowl! Acer will be supplying the 24" Predator XB241H monitor to all teams in the championship so none will have an advantage by having a better monitor. This monitor can be over-clocked to 180 Hz frame rate and has 1mS response time. Of course, Acer doesn't mind that all aspiring gamers want to use this monitor so if they make the championships, they won't be using an unfamiliar monitor.
Perhaps the most impressive new product shown at Next@Acer was the 27" Predator X27 HDR monitor. High-end gamers demand high end products and the X27 is 1) not only high-end, but 2) is specifically dedicated to gaming applications. It's not a television, it isn't a color grading monitor, it isn't a general-purpose computer monitor – it's dedicated to high end gaming. It uses quantum dots to produce a wide color gamut (WCG), with a gamut of 99% Adobe RGB, 100% sRGB and 96% DCI-P3. The unit is HDR with 384 backlight zones and 10-bit drive. The panel is IPS and the maximum peak brightness is 1000 nits. With local dimming, Acer claims a 100 Million:1 contrast ratio, whatever that means!
The X27 has full UHD (3840 x 2160) resolution. It refreshes that UHD image at a full 144Hz with a 4mS LC response time and uses Nvidia G-Sync technology, a system specifically designed for high-frame rate gaming that will prevent tearing and other artifacts in the image. It also has Tobii eye-tracking capabilities to allow the gamer to select things with his eye and allows the CPU/GPU to tell what the gamer is focusing on. According to Acer, there are about 100 games with eye-tracking enabled. The unit has one HDMI 2.0 plus two DisplayPort (v1.4) inputs. Relatively small monitors such as 24" and 27" are the most popular for dedicated gaming – don't waste those precious milliseconds glancing from one edge of the monitor to the other.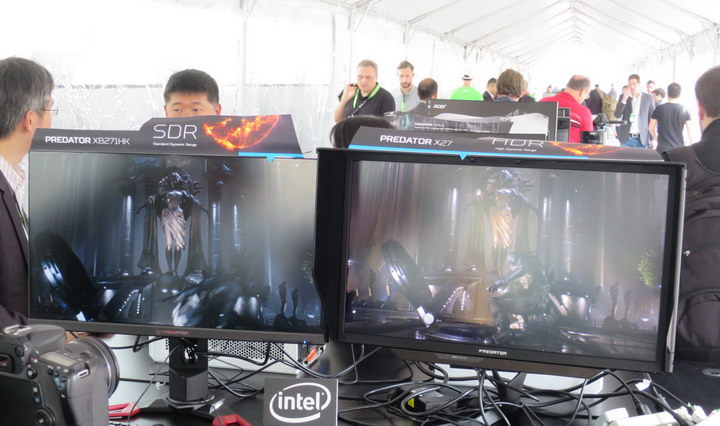 HDR Predator X27 (right) compared to a SDR Predator XB271HK (left) monitor. Due to the high ambient light in the demo area, the difference between the SDR and HDR monitor was lost. In fact, the images were largely lost on both monitors. (Photo: M. Brennesholtz)
Unfortunately, since the Acer demonstrations were outside (they provided a white tent to protect the demos), there was very high ambient light. This, of course, obviated any benefits of HDR. But gamers don't use their displays outside so that was only a problem with the demo, not the monitor. The X27 monitor is scheduled to be available in July. Price was not discussed.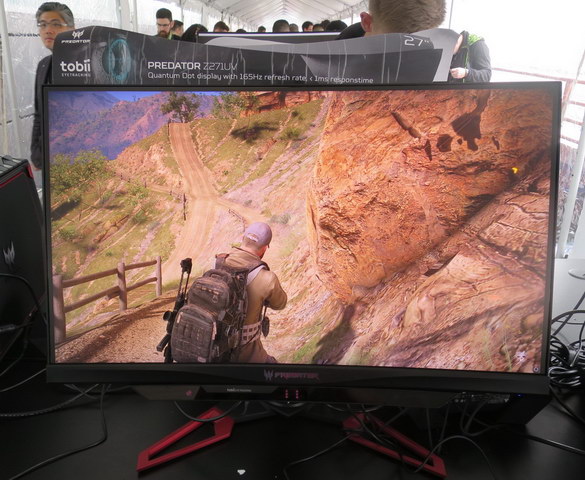 Predator Z271UV monitor with Tobii eye tracking (Photo: M. Brennesholtz)
Acer also introduced a second 27" gaming monitor, the Predator Z271UV. This monitor had 2560 x 1440 resolution and a curved (1800R) TN panel. Color gamut is said to be 130% sRGB or 95% DCI-P3 – almost as good as the X27, and contrast is said to be 1000:1 Some gamers might prefer this monitor over the X27 because it has a refresh rate of 165 Hz and a 1mS grey-to-grey response time. In high-end gaming, speed is everything. This monitor had HDMI, DisplayPort (v1.2) and a built-in USB 3.0 Hub (1 up, 4 down) plus audio out. This is said to be the first curved monitor to incorporate Tobii eye tracking. Price and availability for the Z271UV are not available.
Acer also showed its Predator 21X laptop, said to be the world's first curved laptop. This was not newly announced since it was shown at IFA last September. Calling it a "laptop" is a bit of a misnomer, as you can see in the image. Weight of the unit is 18.74 pounds (8.52 Kg).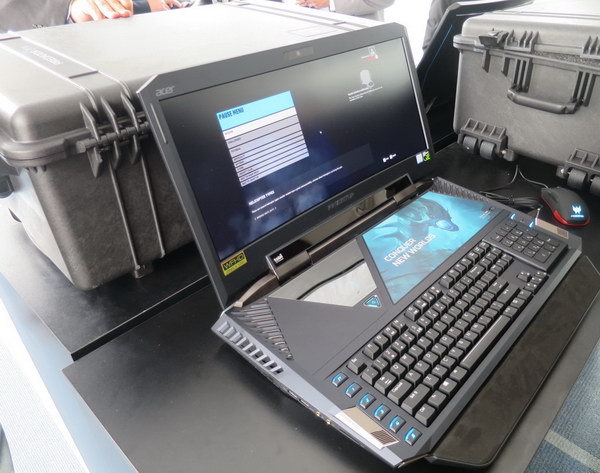 Acer Predator 21X sitting in front of its laptop case. (Photo: M. Brennesholtz)
The Predator 21X has a curved 21" WFHD (2560 x 1080) IPS display with an aspect ratio of 21:9. Refresh rate and response time are not given. While it has an internal 6000 mAh lithium ion battery, the unit consumes up to 330W so I suspect most people run it off of the AC adaptor. Starting price is $9,000 and it's available now.
Two New Predator Notebooks
Acer did introduce two new Predator gaming laptops at the event, the Triton 700 and the Helios 300. These two laptops are a lot less extreme than the 21X and a laptop user who is also a gamer could consider them for both uses.
The Triton 700 notebook is said to be the first in the Triton series and comes with a 15.6" FHD (1920 x 1080) IPS screen and is only available with a solid state drive. The thickness is 18.9mm and the weight is 2.6Kg. Acer confirms the dual use of this as a general purpose/gaming laptop by saying "Skype for Business Certification ensures conversations are clear and lag-free." A large Corning Gorilla Glass plate above the keyboard serves as a window into the notebook's cooling system, showcasing the AeroBlade 3D Fan and five heat pipes, and also functions as a touchpad. The second generation of the AeroBlade 3D fan is said to provide 35% more airflow than a conventional fan in the same size package. This, in turn, is said to provide the ultimate in thermal performance, which allows Acer to pack massive computing power inside an ultrathin form factor without compromise. The Predator Triton 700 gaming notebook will be available in North America in August starting at $2,999 and in EMEA in August starting at €3,399.
The Helios 300 is also a dual-purpose laptop that represents the first in the Helios series and will come with either a 15.6" or 17.3" FHD IPS display. It is available with either a solid state or hard disk drive. In addition to gaming and business uses, it is said to be ideal for movie watching. With the 15.6" display it weights 2.7Kg and with the 17.3" display, 3.0Kg. The Helios 300 is "housed in a classic but tasteful gaming chassis with an iron red backlit keyboard, selected models include a metal top cover and keyboard area for added strength and rigidity"
The Predator Helios 300 gaming notebooks with a 15.6-inch display will be available in North America in July starting at $1,299; in EMEA in August starting at €1,199; and in China in June starting at ¥9,999. The Predator Helios 300 gaming notebooks with a 17.3-inch display will be available in North America in July starting at $1,399; in EMEA in August starting at €1,199; and in China in July starting at ¥9,999.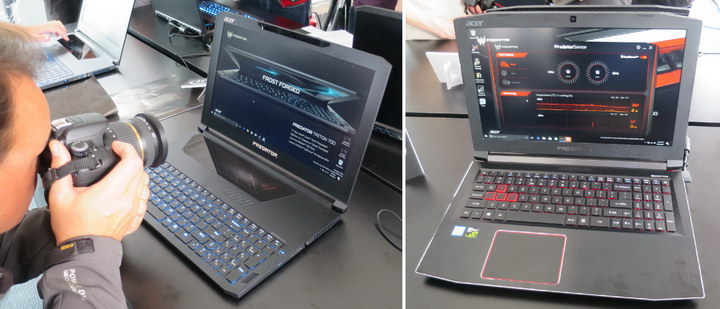 Predator Triton 700 (left) and Helios 300 (Right). Note the unusual keyboard arrangement on the Triton with the touch pad above the keyboard rather than below it. (Photo: M. Brenneshltz)
Jason Chen also announced the Nitro 5 laptop at Next@Acer without providing any detains – it wasn't in the press materials and it wasn't on display. While it was discussed with the other gaming laptops, it isn't even clear if Acer considers this a part of its Predator line.

All that is publicly known about the Acer Nitro 5. (Photo: M. Brennesholtz)
Acer Computers Introduced
In addition to its gaming computers, Acer introduced an almost bewildering array of laptop and desktop computers for more general applications. These include the new Aspire series which includes two All-In-Ones along with four Aspire series laptops, two Chromebooks, two new members of the Switch series and two new members of the Swift series.
The Aspire series includes the Aspire 1, 3, 5 and 7 laptops and the U27 and Z24 all-in-ones. The U27 and Z24 are similar and both have FHD 10-point touch 27" displays. The U27 is slightly higher end with its i7 or i5 processor, upgraded sound and an IR webcam ready for Windows Hello 3D facial recognition. The Z24 can be bought with a i7, i5 or i3 processor and has a conventional webcam.
The Acer Aspire U27 will be available in North America in July starting at $1,099; and in EMEA in May starting at €1,299. The Acer Aspire Z24 will be available in North America in July starting at $899; in EMEA in June starting at €749; and in China in June starting at ¥4,999.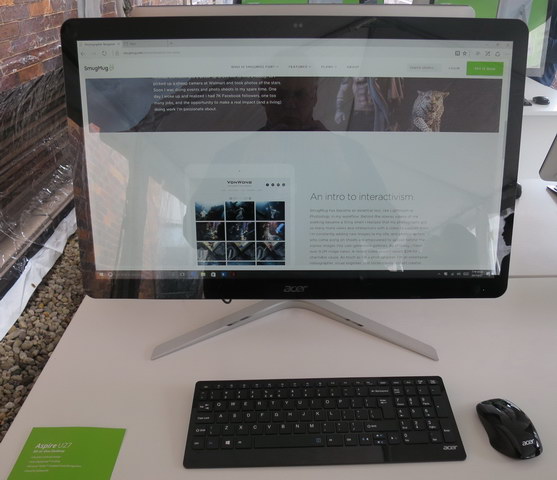 The Aspire U27 All-in-One (Photo: M. Brennesholtz)
The Aspire laptop series starts with the Aspire 1, which targets users mainly interested in a notebook for family sharing and web browsing or as a second device. It includes a one-year subscription to Microsoft Office 365 Personal. The added features of the Aspire 3 allow the laptop to target everyday computing and intensive media consumption.
According to Acer, the added features of the Aspire 5 make it "a workhorse that stands out from the crowd" that can be used by anyone needing to create and share, including photo-editing and online publishing. The Aspire 7 is said to be a "powerhouse performance for creators." This is a professional laptop and can be used by professionals such as designers and anyone who needs power and performance to match their professional ambitions.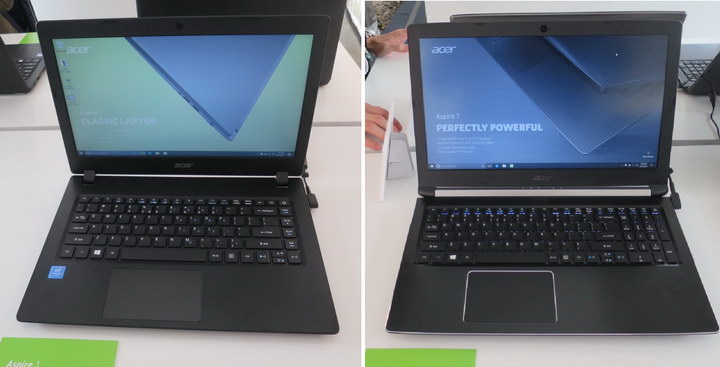 Left: Acer's Aspire 1 with an Intel Celeron processor and a 14" HD (1366 x 768) screen. Right: the Aspire 7 with a 15" or 17" FHD (1920 x 1080) screen and an Intel i7 or i5 processor. (Photo: M. Brennesholtz)
The Aspire 1 will be available in North America in June starting at $219; and in EMEA in June starting at €249. The Aspire 3 will be available in North America in June starting at $299; in EMEA in June starting at €399; and in China in April starting at ¥2,799. The Aspire 5 will be available in North America in June starting at $449; in EMEA in June starting at €549; and in China in April starting at ¥3,999. The Aspire 7 will be available in North America in June starting at $799; in EMEA in July starting at €899; and in China in May starting at ¥5,999.
The leading member of the Swift family is the Swift 7 and, according to Mr. Chen, at 0.39" (9.9mm), it is still the thinnest laptop in the world. He added that the Swift family has had a 11% YoY growth rate. At Next@Acer, the company introduced two lower-end members of the Swift series, the Swift 1 and Swift 3. The Swift 1 comes with a 13.3" FHD display and the Swift 3 comes with either a 14" or 15.6" FHD display. All displays are IPS. These new introductions carry on the lightweight tradition of the Swift 7 and Swift 5. The Swift 1 and the Swift 3 with the 14" display both weigh 1.8Kg while the Swift 3 with the 15.6" display will weight 2.2Kg. All members of the Swift family come with metal cases in a variety of colors.

Left: The Swift 1 in two different colors. Right: A Swift 3 in a third color. (Photo: M. Brennesholtz)
The Acer Switch family computers are 2-in-1 laptops and are essentially touch-screen tablets with detachable keyboards. The two new members of the family are the Switch 3 and Switch 5. Both are fanless and use Acer's LiquidLoop cooling technology. The Swift 3 uses a 12.2" FHD (1920 x 1200) IPS display and the Switch 5 has a 12.0" 2160 x 1440 IPS display. Both displays are touch displays and both also have 2MP front webcams and 5MP rear webcams. There is an optional USB Type-C docking station for the Swift 5.
The Switch 5 will be available in North America in June starting at $799; in EMEA in June starting at €1,099; and in China in July starting at ¥7,499. The Switch 3 will be available in North America in June starting at $399; in EMEA in June starting at €499; and in China in July starting at ¥4,999.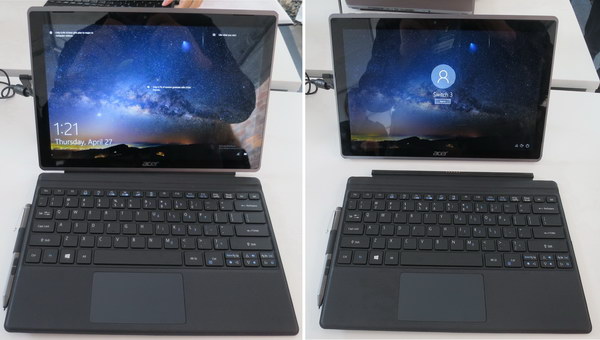 Acer Switch 3 with the keyboard magnetically attached (left) and detached (right). (Photo: M. Brennesholtz)
Acer also introduced two Chromebooks, the Spin 11 and the Spin 11 N7. Both have 11.6" 1366 x 768 displays. In the Spin 11, the display is IPS and has a touch screen. In the Spin 11 N7, the display options are IPS with or without touch screen or TN. The units also have different processors and webcams. The Spin 11 N7 also doesn't have the 360° hinge used in the Spin 11 and shown in the image. The reduced features of the Spin 11 N7 give it a longer battery life (12 vs 10 hours) and a slightly lower weight (1.35Kg vs 1.4Kg). Price and availability are not available for either unit.

The Spin 11 has a full 360° hinge. (Image: Acer)
Other New Products at Next@Acer
Acer introduced one new non-gaming computer monitor, the ProDesigner PE320QK. This is a 31.5" UHD (3840 x 2160) IPS monitor with a 60 Hz refresh rate and a 4mS response time. While it only has 550 nits peak brightness and 8-bit drive, Acer called it a HDR monitor. Well, maybe. HDR-compatible, at least. It has a color gamut of 130% sRGB or 95% DCI-P3 and a variety of interfaces including HDMI and DisplayPort 1.2 plus the unit serves as a USB 3.1 Hub. Color accuracy of ΔE <1 is claimed for the monitor and the system targets photographers, video editors and others working in creative industries. Price and availability were not announced.
The Acer ProDesigner PE320QX targets photographers and video editors. (Photo: M. Brennesholtz)
Acer also introduced two 4K projectors at the show, although neither was mentioned by Chen in his talk nor were they on display. They are nearly-identical single panel DLP UHD projectors with TI pixel shifting XPR technology. The only difference between the two is the V7850 has 2,100 ANSI lumens while the H7850 has 3000 ANSI Lumens. The difference appears to be the V7850 has a RGBRGB color wheel to produce accurate colors while the H7850 has a white segment to increase the brightness. Both projectors include Acer's ExtremeECO power-saving feature that can reduce power consumption by up to 70% and extend lamp life by up to 15,000 hours.
Acer introduced the Leap Ware sports watch with a 1.1" color touchscreen transflective LCD. In addition to various fitness functions, it can be used to control your music. It uses the MediaTek MT2523 chipset and MT2511 bio-sensing chip; has a 3 – 5 day battery life; and is compatible with iOS 8+ and Android 5+ smartphones.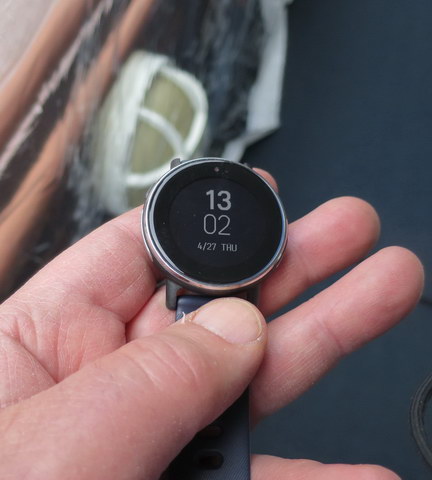 The Leap Ware Sports Watch (Photo: M. Brennesholtz)
The Holo 360 camera is another newly introduced product that Mr. Chen talked about but was not included in the press materials nor was it on display. It is an Android-based camera dedicated to making 360° still and moving images and then uploading these images via LTE or Wi-Fi without the need of a companion cell phone or computer. In fact, Mr. Chen said you can even make a phone call on the unit. Details such as the resolution of the camera are not available, nor is there information on price or availability. I believe the unit has front and back cameras that are identical and each with a 180°+ FOV with an internal function to merge the images into a single 360° image, but even that isn't certain.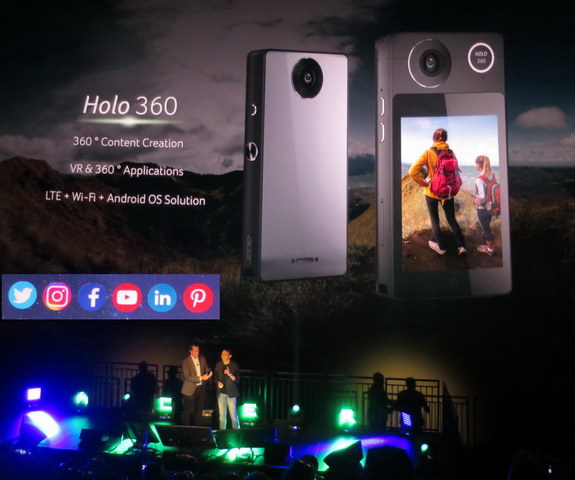 Jason Chen introducing the Holo 360 Camera. Insert: some of the Apps the unit will work with. (Photo: M. Brennesholtz)
For those interested in watching it, Acer has posted the complete one hour Next@Acer keynote session hosted by Jason Chen on YouTube. Acer has also put the complete Press Kit online. – Matthew Brennesholtz