We don't normally bring out a Display Daily at the weekend, but we thought you'd appreciate a 'heads up' on a big story that's causing a buzz among those 'in the loop' at IFA.
You may have seen the news that Hanjin Shipping of Korea went into bankruptcy a couple of days ago. So what is that to do with displays? Well, the company is around the sixth largest shipper in the world, with about 2.9% of the world shipping market and 7.8% of the trade into the US across the Pacific. As nobody knows if they will get paid for unloading the ships it has control of, they have been impounding the ships and cargos. A previous problem of this sort, for a much smaller shipping line in 2001, took six months to sort out, according to the WSJ.

So what? Well, according to asian analysts, Hanjin accounts for 50% of Samsung's shipments to the US and 25% of LG Electronics shipments. We've heard numbers of 40% for Europe for Samsung and 20% for LG and at this time of the year that means that a lot of TVs and other products that were due to be on retailers shelves for Christmas may be stuck in containers for an indefinite period as the dust settles and everything gets sorted out. One estimate we heard at IFA suggested a shortfall of 500,000 sets in Europe over the Christmas period.
The market was already tight because of panel supply constraints. Panel makers have been switching to lower yield processes (which reduces effective capacity) and squeezing supply at the commodity end of the market to push up prices, which have been falling for a long time. As a result, one major supplier of entry level products told us, even before this news, that "We might not have needed to be at IFA. If we get more orders, we can't supply them, anyway!"
Of course, other vendors will also be affected as even those that assemble sets locally will be dependent on panel and cell supplies to feed their manufacturing. When I first started analysing the TV market around 12 years ago, a TV retailer said to me "In TV, inventory is a real asset". Having come from the world of PCs, where inventory of products with falling prices such as memory or LCDs could be a killer, that surprised me, but if that person still has that view, this year, he might be right"
On top of the global recall for the Note 7 by Samsung this week, it hasn't been the best week for the Korean giant, but no doubt this will just be a glitch – there were few signs of panic at the CityCube in Berlin! (BR)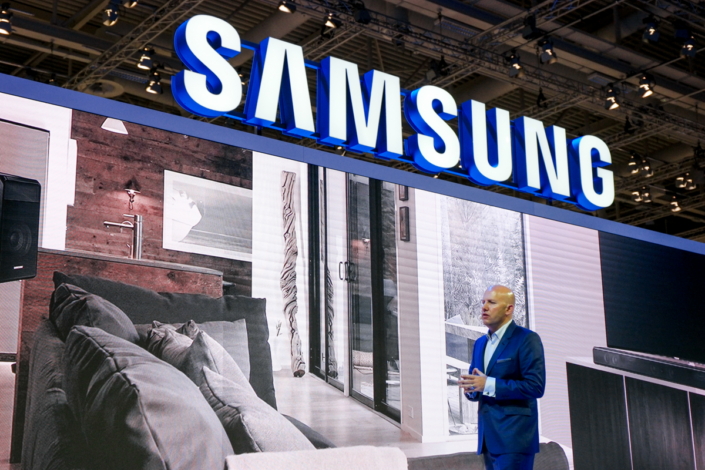 Samsung's European TV head, Michael Zoeller at the IFA 2016 Press Conference. Image:Samsung