We had a chance to do a booth tour with Rich McPherson, Senior Product Manager of Projectors at NEC Display Solution at InfoComm 2015 and learn of their new projection products and plans.
The first items demonstrated on the tour were two blended projector solutions. There were many of these in the booth representing a theme or multi-projector for solution – all using Scalable blending software. In a recent article, "Internet of Display" …Are you Viewing Your Information Through a Straw?, which discussed this trend toward wider field of view, multi-megapixel canvases. McPherson agreed that there is not a good name for this category of display. Do you have a good name?
One solution featured two side-by-side 4K laser phosphor projectors (PH1201QL) edge blended. They support 4K/30 now, but a board upgrade is coming to support 4K/60. Inputs are dual DVI or dual SDI. It is based on a cinema platform and supports the P3 color space, although doing so decreases the light output. A second projector in this series will offer 1080p resolution (PH1202HL) with 12,000 lumens from the laser phosphor engine. Contrast is rated at 2,000:1 for the 4K model and 10,000:1 for the 1080p model (which probably means dynamic contrast with an adjustable iris).
Near this was a four-projector rig that showed two things simultaneously: stacking for brightness doubling and edge blending to increase the image canvas.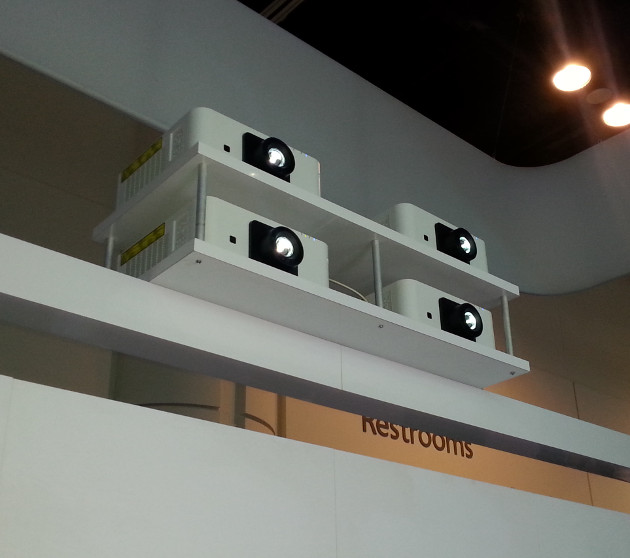 The 1080p PH1202HL projector includes an OPS (Open Pluggable Specification) option slot, the first industry-wide standard to simplify installation, use and maintenance while offering input flexibility for HD/SD-SDI and OPS accessory cards. The projectors can operate in a 24×7 environment, which opens up a number of new applications in digital signage, simulation, training facilities, control rooms and high-traffic environments, giving professional installers new opportunities.
Among the other benefits of the two 12K lumen laser phosphor projectors:
Quick Start capabilities
Extensive input panel, including HDMI, DisplayPort and HDBaseT (PH1202HL)
Tilt-Free (360°) and Portrait Mode capabilities
3D – HDMI
Adjustable Light Source
Stacking Correction Tool (PH1202HL)
Geometric correction
Hardware and Software Edge Blending
Interchangeable bayonet lenses
Power lens controls
The PH1201QL and PH1202HL projectors are available now with a 3-year limited parts and labor warranty at a minimum advertised price of $149,999 and $59,999, respectively.
Coming this July will be the LP-P502HL, which is a 5,000 lumen, 1080p laser-phosphor model. Next January will come an 8,000 lumen, WUXGA laser-phosphor offering that will use the same lenses as the PX series. At that point, NEC should be offering laser-phosphor models in 5, 6, 8 and 12K lumens.
McPherson also noted that projection mapping is an expanding application they want to help facilitate as well. To illustrate this, they were projecting an image onto the top of a projector to show the capabilities. This was supposed to show a video of the inside of the projector, which would have been very cool, but they had a problem with the video file. Someone must have sent a memo to the industry on this type of demo as I later saw two other companies doing exactly the same thing.
The blended projector theme was also illustrated in the education section with a 3-projector short throw blend on a white board. This also featured pen input using IR tracking. Other stations also showed blended solutions.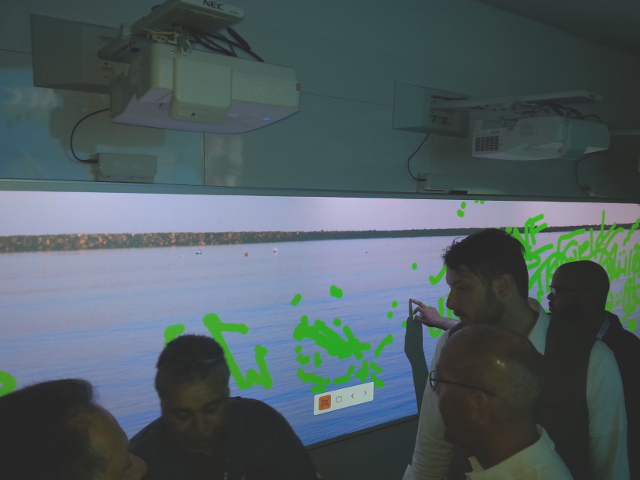 For coverage of the NEC FPD presence at Infocomm, see NEC Organises Around Applications.