Several companies focused on face recognition at the show, but I was particularly impressed by NEC's offering, which is called Field Analyst for Signage. The full version is in use in Japanese airports, and is capable of scanning for and recognising specific faces; think passport control, lost children and security work. However, this kind of application requires agreement from the domestic government, which is not in place in Europe yet.
This massive videowall, of 15 X46UN units, was appropriately named the SkytowerRather than the full face-recognition package, NEC was demonstrating the software's ability to measure audience metrics. For example, it is capable of tracking dwell time, gender and approximate age – it got mine precisely! It can also be used to control content, playing a different advert when a woman looks at the display than when a man does, for example.
The Hiperwall software was also on show and is already in use in airport control rooms worldwide. We also saw the 2mm pixel pitch LED display that NEC introduced at ISE. NEC believes that LED technology is the future of outdoor displays, as the prices keep coming down. Last year a high-resolution unit like this one would have cost €45,000 per m², but is now more like €35,000. By contrast, an outdoor cabinet for an 85″ display costs around €12,000.
The most interesting and unique unit that we saw on NEC's stand, though, was a mobile screen developed by Parity Aviation. This company is UK-based and originated from parent company Parity Computers, which was involved in PC retail, service and repair. When a PC World store opened near to its home location, the company changed and launched Parity Medical, which supplies and services mobile computer cards, wall mounts and LFDs for the NHS.
Thanks to its work in the medical space, Parity became acquainted with NEC and the two were natural partners with the launch of Parity Aviation, which created the Mobile Display Unit using an NEC P553 screen. It is a totem of sorts, that is capable of extending (via hydraulics) to 3.2m tall. Once extended, the screen will automatically turn on.
Mobility is achieved through the trolley that the totem is mounted on; it can be locked into place or made mobile. The trolley also holds four large batteries, providing up to 36 hours of battery life to the display, and a PC.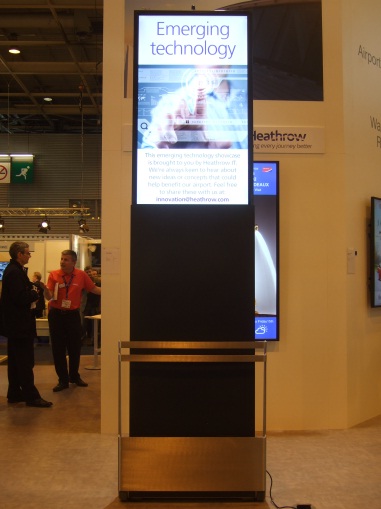 The use-case behind the unit is airport emergencies and high queue times, such as delayed or cancelled flights; its height ensures that everyone can see it, and it doesn't need to be plugged into a wall socket to operate. Data is managed over Wi-Fi, while a tablet application controls the display – and provides metrics such as temperature and remaining battery – via Bluetooth.
Heathrow Airport in the UK has been trialing a unit, and has ordered 14, which are being built now. Through its own CMS, Heathrow can track and control each MDU remotely, from a control room.