The next speaker was Jason Hartlove, CEO of Nanosys, a competitor to QDVision. Nanosys was founded in 2001 and Hartlove said that it has produced 4 tonnes (enough for more than 1 million TVs) of materials (Competitors we spoke to on the show floor wondered where all this material has gone, as shipments of QD-based products have been limited so far – Man. Ed.) Nanosys focuses on materials, and does not make components. The company has "significant" revenue, cash and profits.
Looking at research papers, there has been a huge growth in the number of papers, which is around 20,000 per year now, so it's no longer a niche research topic. QDs have won awards each year for the last four at the SID Display Week.
Hartlove quoted a forecast from Touch Research that suggests a market of more than $6 billion by 2020 and Hartlove believes his firm can take 25% of that.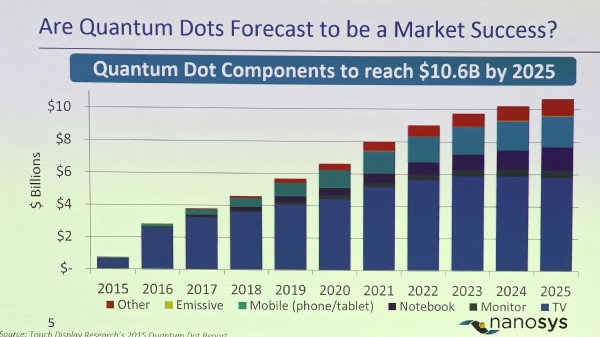 Nanosys was in seven of the eight QD TV announcements at CES this year, so is gaining momentum and experience. Hartlove quoted data from 3M's Display Quality Score (DQS) research that suggests that at higher resolutions, viewers prefer colour improvements more than higher resolutions.
What does commercial success look like, he asked? Nanosys saw revenues of $29.4m and with operating income of 11% last year. Six of the last seven quarters have been profitable and the company expects strong growth this year. The biggest partner for Nanosys is 3M, but the company has other partners throughout Asia (including LMS in Korea and which was on the show floor).
IP licensing can give a good margin, but it can be hard to develop large enough revenues to meet the desires of investors, whereas moving to specialty chemicals allows higher revenues, at the expense of margins and with more capex.
Nanosys technology is in a number of product categories including some monitors, TVs, notebooks and is used in the Samsung SUHD TVs that are the flagship products (in films supplied by Hansol of Korea, we heard at the show – Man. Ed.).
Putting the QDs on the LED is a good idea, but there are big challenges in life time because of heat. Edge-based approaches can have challenges in achieving good colour uniformity. Nanosys used to offer edge-based concepts when it started, but is now focusing on film-based and emissive QD technologies.
What the company is learning in making films is really important in driving R&D that will be useful for the future in emissive films.
IHS is forecasting a switch to films away from "rail" type implementations, with a forecast of 95% in 2015, falling to 90% in 2020 as chip-based solutions emerge. In 2017 and 2018 there will be a challenge to making QDs on LEDs because of the dropping of heavy metals.
Last year 10% of revenues came from non-cadmium materials and that is rising to 30% next year. Nanosys has a licence to make 20 tonnes per year of materials from the US government
There is a performance hit to dropping cadmium and more research is needed to clarify the true picture.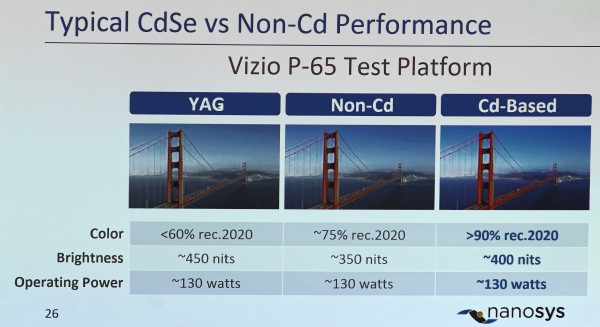 Hartlove said that QDs are to UltraHD as LED was to FullHD so the company thinks the market value will be over $10 billion dollars by 2025.
Learning and know-how is important and Nanosys claims to have made 10 times the volume of all other suppliers combined. That is helping to drive IP and know-how development.