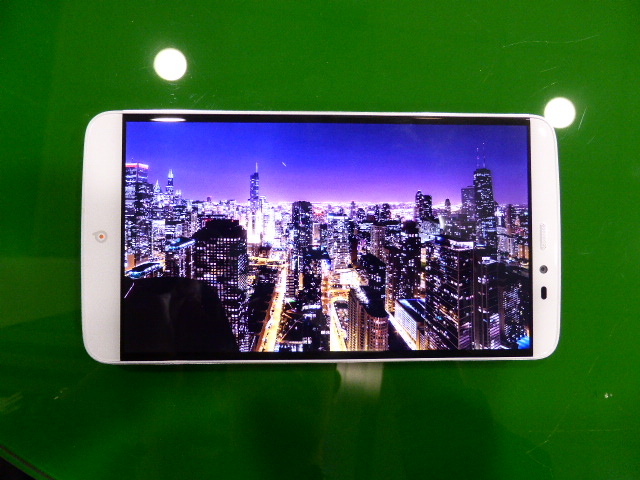 France's Archos was showing two new smartphones: the Diamond 2+ and Diamond 2 Note. The former has a 5.5″ (1920 x 1080) display, while the latter is 6″ (2560 x 1440). The 2+ has an octa-core processor, 4GB of RAM, 64GB of ROM and 3,000mAh; the 2 Note has a 64-bit processor, 3GB of RAM and 16GB of ROM, as well as a 3,600mAh battery. The Note model also features UltraHD recording. Archos will launch the 2+ in May or June, for €250, and the 2 Notte in May for €350.
China Mobile had a concept connected car solution, with Audi. It is an on-board diagnostics box, which will show statistics about the car on an app, such as engine temperature, battery level, fuel consumption, where the car has been driven and any problems detected. The box will also act as a 4G hotspot.
Creative Factory was on a Korean technology booth and was showing its NeoPop "wearables for pets". The NeoPop band is based on LEDs and is chargeable in 2 hours for a 20 hour display. The aim is to make pets visible at night.
Exalos is an LED developer that is based in Zurich and is developing superluminescent LEDs for pico projection and other display applications based on technology developed at the University of Lausanne and built around gallium nitride. The company said that LEDs of enough efficiency are better than lasers because the broader spectrum emitted means "little or no" speckle. The firm has blue-green and red LEDs and has got as far as "proof of concept" devices. It can support both matrix-based display imagers, like DLP or LCOS, or scanned systems. It can make LEDs of a few microns – 2-3μ is possible and we heard that it can achieve 5% to 10% EQE without any "tricks" such as reflection or special light extraction.
DisplayLink was mainly showing the dual UltraHD 60P display support that it announced based on its new chip at CES. It also had the Pixel C Google tablet running into an HP Type C dock which can support notebook charging. At MWC, it had a new feature to support Android. Normally, Android can support multiple displays, but only in a 'clone' mode, where the same content is shown The company has developed a new launcher for Android that can detect when a mobile device is using multiple displays with DisplayLink driver support. When applications are run, the user can select which display is used for each application. At MWC, the company was showing an Android tablet running different productivity applications on the different displays. At the moment, this is just a "technology demo" and not a shipping system. DisplayLink pointed out that at the moment, the Continuum Windows system only allows a single display, disabling the one on the host phone/tablet. That is planned to be changed, with both being supported in the future.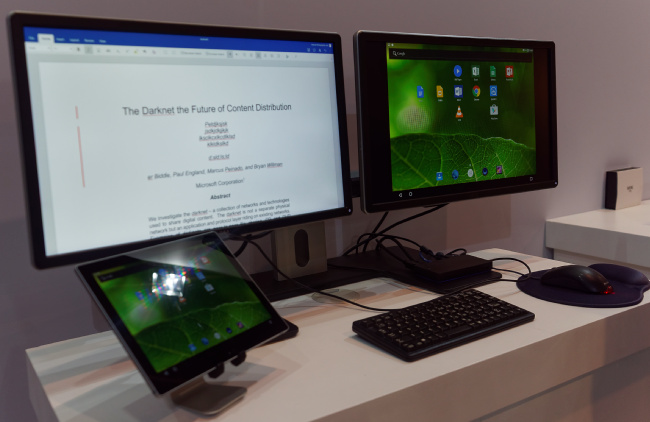 DisplayLink has a launcher to support multi displays on android
A fingerprint reader that can be placed under glass was shown by Sweden's Fingerprint Cards. The card is placed in a cavity under the screen, with "zero" added cost, we were told. Fingerprint Cards said that the card does not turn the whole screen into a fingerprint reader; although detection is possible, resolution would be too low. Instead, a specific area of the display detects fingerprints. (Synaptics also had under-glass fingerprint recognition Synaptics Developing Integrated Touch & Drivers)
A demonstration of HEVC encoding for mobile web streaming was on show by Fraunhofer HHI. The technology group was showing UltraHD, HDR video at 50Hz encoded using HEVC and transferred to a display with Millimetre Wave (mmW) technology. The mmW technology was being handled by another division of HHI; it was used to send the content wirelessly using a 20Mbps connection. mmW can reach 1Gbps, although it requires line-of-sight between the transmitter and receiver. Fraunhofer's SDK can be used for live encode and decode. UltraHD was only being used as a demonstration on a large display – it cannot be sent to mobile devices at the moment.
HP was showing the Elite X3, an Intel Atom-based Windows smartphone that can use wireless technologies or USB Type-C to connect to a dock or monitor and run productivity applications on a large screen. Of course, the relatively limited processor power in a phone means that not all applications run, so HP is working on "Workspace" virtual machine technology (previously known as Microsoft Office Groove) to support virtual desktops so that any application can be accessed. The Elite X3 is a "tech demo" and due for a summer release.
Staff from HP told us that although it had previously developed Android-based phones, there was "no interest from businesses" in Android, which is why the focus is back on Windows, despite the small market share of the OS in smartphones. Also on show was the company's latest Thunderbolt 3 Dock which also provides power for notebook charging. It has two DisplayPort outputs and a USB Type-C which also includes DisplayPort Alt-mode to allow three displays to be connected.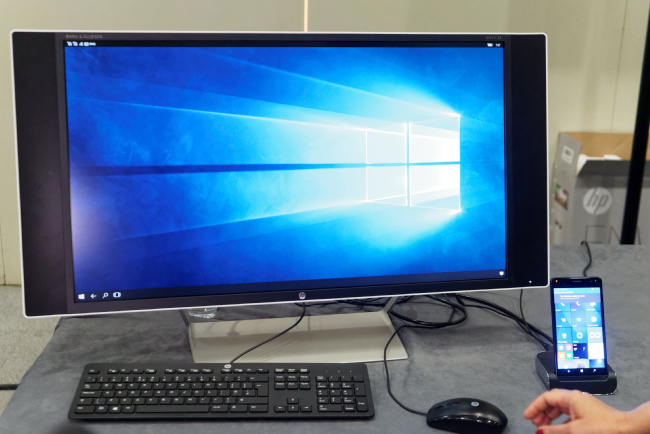 HP's Elite X3 will deliver a smartphone-based workspace
HP also had a keyboard/display/battery system that is designed to plug into the Elite X3 and turn it into a "clamshell" form factor device. We have previously seen this kind of concept from Acer, Korea Telecom and Andromium. We heard at MWC that Remix OS has a good version of Android that adds desktop features to the OS and can boot from a USB key, without installation.
Intel has been working on making its mobile processors usable for productivity. While the approach with a Windows-based phone, using Continuum, is fairly well developed, this is not the case with Android, which is not really designed for keyboard and mouse operations. Linux, on the other hand, does have good desktops and applications such as LibreOffice. Intel has implemented on its Atom X3 (with 2GB of RAM), simultaneous dual O/S support with Debian Linux and Android. On a monitor, the smartphone display is shown on on side, while the rest of the display shows Linux. At the moment, the display on the phone is turned off while the monitor is operating, but later the system will work with both displays live.
Intel and Qualcomm were both talking about and showing how their different chips supporting Wi-Fi 802.11ad could interoperate to allow very fast data transfer.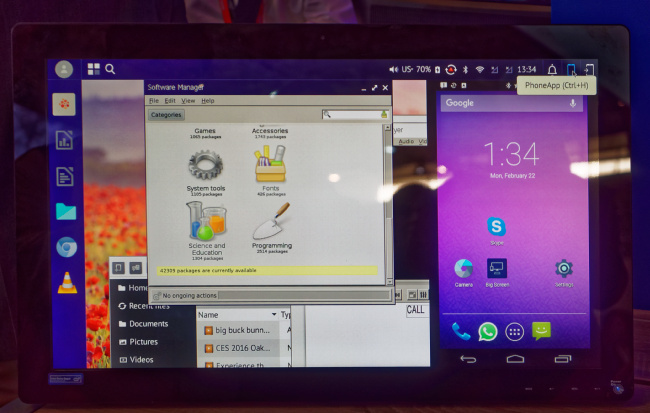 Intel showed an Atom X3 phone running Linux on the left and Android on the right on an external monitor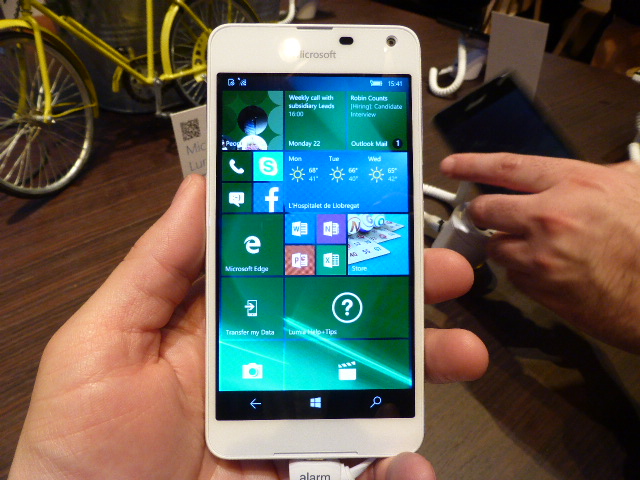 Microsoft's focus was more on the IoT and software platforms than devices, although the company did have a single new handset: the Lumia 650 smartphone (MWC is Here!). It features a 5″ 1280 x 720 AMOLED display, with Gorilla Glass. The phone runs Windows, with 16GB of ROM and 8MP (rear) and 5MP (front) cameras. It is available in the UK, France, Germany and Italy now, for $200. Microsoft was also showing the Surface Hub and demonstrating Continuum.
The focus of NEC's stand was the movement of technology to the cloud. Most of the company's demonstrations were based around infrastructure developments, such as Massive MIMO. NEC Display Solutions was not represented.
Japan's NTT Docomo was showing 'Linking'; an IoT platform to connect Bluetooth 4.0 devices and phone apps. An example could be a device that lights up or vibrates in response to an app.
US company Obi Worldphone launched the MV1 smartphone, aimed at young professionals worldwide. Designed by San Francisco-based Ammunition, the phone features an elevated screen (5″, in-cell touch) using Gorilla Glass, palm-fitting body and 4G connectivity. It has a quad-core 1.3GHz Qualcomm Snapdragon 212 processor running Android 5.1 and Cyanogen OS. The phone will cost $140 for the 1GB RAM model, or $150 for the 2GB RAM model. Both have 16GB of ROM.
The Wherecom K3 is Omate's first 3G smartwwatch, designed especially for children. It is a wearable GPS device, running Android on a dual-core 1GHz Mediatek processor. It has a 1.54″ colour LCD display (320 x 320). Parents can use the watch to locate their child and communicate with them.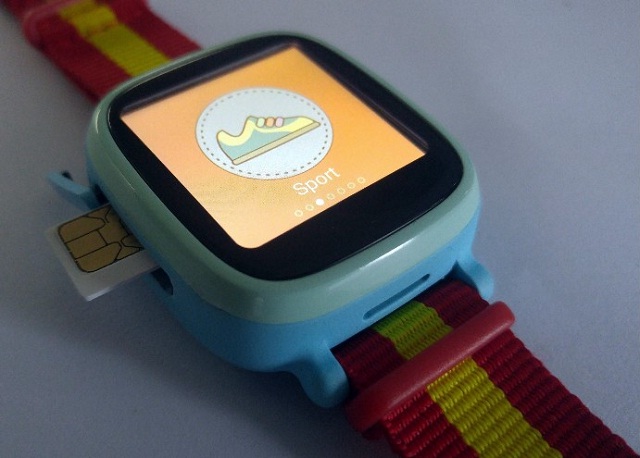 Oledcomm was promoting its its LiFi technology and had a UART to allow easier use of LiFi, especially for developers looking to build support into development systems such as Arduinos and Raspberry Pi.
Skyworth had a small stand and was showing its existing tablets and smartphones. The only new device was a prototype headset. Much like Royole's (Royole Makes Bold Claims About Home Theatre Device), it is a virtual cinema experience rather than true virtual reality – and, also like Royole's, we could not see pixels. Royole uses a high-dot-density OLED microdisplay, and we asked Skyworth if it was using something similar, but staff would not tell us (or didn't know!). The experience of using the headset was marred by a large smeary spot in the middle of the display, however; it looked as if the optics were not merging the microdisplays correctly, with the result that half of the 'screen' was unviewable! Skyworth plans to launch the headset within three months, for around $600 (TBC).
We spoke to Peraso about its WiGIG technology at last year's show (when we reported on the use in data backhaul) and at CES about its dongle for 802.11ad. At MWC this year, it was talking about the backhaul system which is now in production.
Qualcomm was showing its latest Andreno 530 GPU, which was "pre-released" last summer and is in the Snapdragon 820 (used in the Samsung S7 and S7 Edge). The chip is said to support "console class" graphics and includes 14 bit image processing. At the show, Qualcomm announced support for the Vulkan low level API that the Khronos group has developed. Qualcomm said that it would follow up with support for its Adreno 4XX GPUs. The firm told us that the improved multi-threading in the new GPU would be particularly helpful in VR applications. Qualcomm was also showing depth mapping using structured near infrared (NIR) light on the Snapdragon 820.
RNWare of Korea was on the Korean booth in Hall 1 and was showing its latest AnySync collaboration software and Wi-Fi system that is aimed at education. The software can support up to 200 users and the company has dongles that can talk to the main system that is attached to a display and the firm told us that the cost of dongles is $69 for quantities of 1,000 and up. The company has a neat looking storage system for dongles that also charges them.

RNWare was showing its Wi-fi collaboration dongles and the storage and charging system (right)
Corporate software vendor, SAP, had a videowall with an extremely high resolution image system that could be zoomed and investigated and that it called a "gigapixel wall". The idea of the display was just to illustrate to visitors the kind of impact that "big data" can have and was not really being promoted as an SAP product.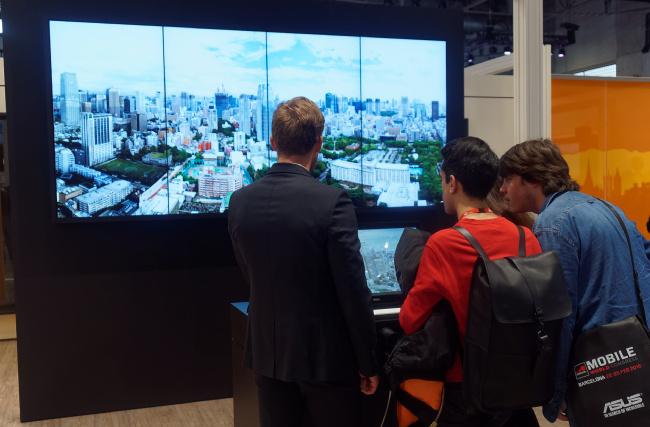 V3D was promoting EQual One, a platform for mobile operators. It is a way for operators to manage the quality of experience from the subscriber's perspective, combining a mobile app and a server, interacting over-the-air. The app can be pre-installed on devices, and gathers big data on network quality, app and network usage, dropped calls, service blackspots and more. This information is available to the operator and the customer.
We could not get anyone to talk to us at Vestel – the stand staff had apparently been told not to talk to press!
Vuzix was demonstrating the M300 and iWear headsets. The M300 is due to be launched "in a couple of months," we were told, for about $1,500. Omnivision announced at the show that its OVP2200 LCoS display was being used in the iWear.
French company Wiko was enjoying its fifth year at MWC, and was promoting the launch of its products in Africa. The firm was also showing a new phone called the Fever Special Edition, which has a slightly unusual feature: the phone captures sunlight in a material on its edges, releasing it in the dark – never lose your phone again! The glow is not bright enough to disturb sleep.
Wiko's phone has a 5.2″ display (1920 x 1080), with 2.5D glass, and an octa-core 1.3GHz processor with 3GB of RAM and 32GB of ROM. A 'Super Battery Saving' mode limits the phone to only calls and text messages, but extends battery life "significantly" we were told.