Once again, MWC claimed a success with 107,000 attendees (including exhibitors, contractors and media) from 205 countries. The organisers said that 7,700 visitors were CEOs, up from 6,100 in 2017. There were 2,400 exhibiting companies across 120,000 m2 of exhibition space. The media and analyst presence was 3,500 (and the organisers kept up with the demand for coffee and cookies – I wonder how many were consumed in the press office?)
Looking back at last year's MWC report, it was headed '2017 MWC Not Great for Handsets'. This year was a bit better, with Samsung bringing the Galaxy S9 launch to the event, but still there wasn't much innovation in displays. We have hundreds of photos of Android phones with 5″ – 6″ displays in 18:9 format that all look, pretty well, identical. Further, there have been problems for people promoting customised interfaces and features on top of Android, so there has been a move back towards more standardisation. That's great for usability, but not for differentiation.
We saw the first phones beyond the iPhone X to have 'notches' to allow the use of 18.5:9, but it was noticeable that there was less talk of HDR and other video quality aspects, this year. LG seems to have dropped support for Dolby Vision, which it was highlighting last year, and Sony has added HLG support, but otherwise, there was little discussion of display quality, and no change in resolution, except in detail. The speed that the industry has switched to 18:9 is amazing and highlights how fierce the competition is.
Frankly, the most interesting display developments may have been in automotive, with the new Mercedes A Class being a particular highlight for the way that the display design really changes the ambience of the cabin. Audi, BMW and Aston Martin (for whom, Eizo makes some special displays) also had cars at the event. There was also a range of concept vehicles including one developed with Sony that had a big display.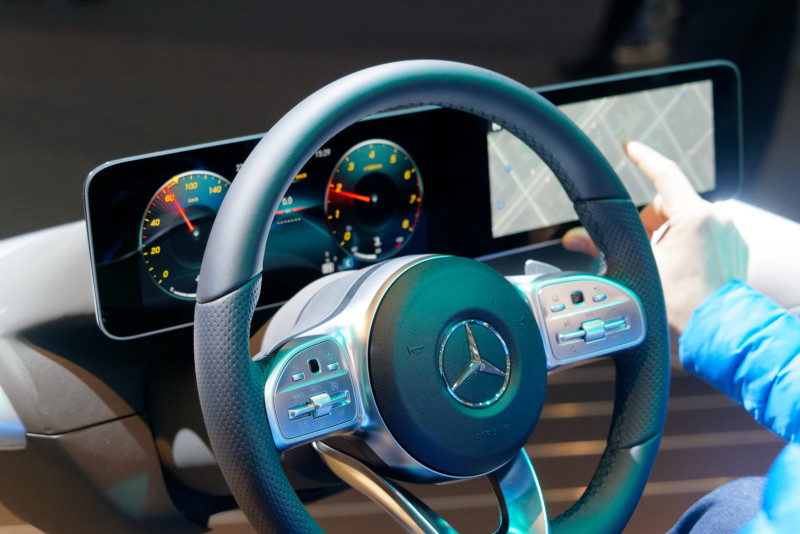 The new Daimler A Class has an interesting display. Image:Meko
The big topic at the event, overall, was 5G as the equipment industry really wants the carriers and operators to invest in the new infrastructure. Among the hype of how wonderful it is going to be, there is real concern that the business models to support the level of investment needed to build the infrastructure do not exist. 5G is not a single standard, but a range of technologies that will deliver high bandwidth of beyond a gigabit with peaks up to, perhaps, 20 gigabits, and very low latency. The low latency is a critical improvement, compared to 4G, as it will enable a range of new applications, such as support for wireless VR headsets, but also the kind of performance needed for autonomous vehicles. However, even 4G is capable of a lot of improvement and there were demos of more than a Gigabit using the latest mobile chips from Qualcomm with 4G.
VR and AR saw some interesting developments, but not a lot compared to CES which was only recent.
MWC also includes an intriguing event for start-ups 'Four Years from Now' (4YFN) which is always fun to look around for a couple of hours. Most of what is shown is in software or cloud-based services, but there are always a few interesting hardware items and we tracked some down for you! The organisers said that more than 20,000 visitors attended the event and there were 274 speakers. 600 companies were at 4YFN from 45 countries.
Next year, the event will take place from the 25th to the 28th of February.