CES has come and gone again, leaving memories and sore feet in its wake. While there were several interesting display developments, some products were only noticeable through their absence.
Before we get onto products, we should discuss the elephant in the room: attendance. This year's show felt much quieter than recent editions (although I don't have the numbers to back that up – actually, there are some claims that it was up – Man. Ed.) – even excluding the 2014 conference, when many attendees were stuck in Chicago due to snow storms. In fact, I suspect that this may have been a factor in some decisions not to attend this year, as people have realised that they can get along without CES. Anecdotally, I was able to get breakfast and lunch in the press room every day, well after they started serving, without having to queue – unheard of in the past! (It also probably reflects tough times in the media business – Man. Ed.)
About those missing products…I'm mostly referring to mobiles here, as many brands were saving their announcements for MWC in February. The only tier one brand that springs to mind as having introduced a new smartphone is LG, with the G Flex 2 – smaller but with higher resolution than the original model (Display Monitor Vol 20 No 39). LG was also showing its new ColorPrime TVs; these have their colour enhanced by one of two technologies, either quantum dots or a proprietary software-based system called WCG (Wide Colour Gamut). In typically cagey fashion, LG wasn't sharing anything else about the technology!
Oculus VR has dominated the consumer virtual reality space for several years, but a new company rose to the challenge at CES 2015: gaming peripheral brand Razer. The company launched an open-source ecosystem called OSVR, with partners including Bosch and Leapmotion. The OSVR Hacker Dev Kit is an early prototype headset using a 5.5″ display (1920 x 1080) as its output. Clarity and resolution were not impressive, but the combination of the headset with the Leapmotion gesture controller – attached to the front of the unit – was something else entirely. I was throwing fireballs with my own hands – which I could see on-screen – in my test, which was much more natural than the control inputs used by other headsets. (For more, see OSVR Virtual Hardware and Software Project)
After trying the OSVR Hacker headset, I got the opportunity to take photos of unsuspecting wearers.
Returning to missing products, it was a bit of a shock to walk onto Samsung's stand and not be greeted by walls of new TV ranges. The company announced one new model at its press conference, the 'SUHD' (an UltraHD TV with quantum dots) JS9500, but more traditional devices were missing. I was assured that Samsung would introduce new TVs this year, but the lack of any announcements at CES was a very strange move, which some thought that dealers are unlikely to be happy about! (On the other hand, they may prefer a later launch to reduce the problems of buyers waiting for the new ranges – Man. Ed.)
Samsung did, however, move into a new product category at CES, which is LED matrix displays. A new tile with a 1.4mm pixel pitch, for indoor use, was on show and more will be coming. Watch this space! We interviewed the company about the development and will report in full next week.
One of Sharp's two eye-catching products was a 60.1″ LCD display that wrapped around a pillar, with a 150° convex arc. Developed with Saikai Display Products Corporation(the G10 fab, part owned by Foxconn), the screen is only a concept at this point. The second product was Sharp's Free Form Display (Display Monitor Vol 21 No 25), which features gate drivers in the pixels to enable a non-rectangular shape. Several different types were on display – including one that was wholly circular – with automotive applications being the main focus. Mass production is scheduled for 2017.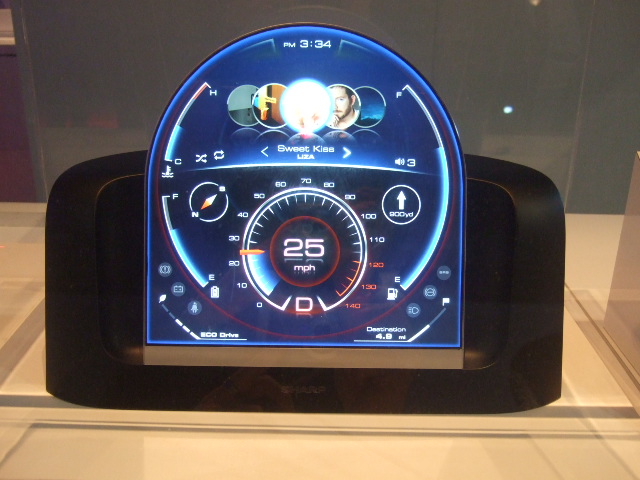 An advance in the wave guide technology used by Vuzix has enabled a reduction in the size of the company's smart glasses, with a new model set to be launched this year. The new system utilises a 0.22″ LCD panel, with images projected between the sheets that make up the lens of the glasses before being beamed directly into a wearer's eye. To accompany this change, Vuzix has decided to move most of the associated electronics from the glasses to a dedicated smartphone. The company's main application area is B2B, but VP of business development Dan Cui feels that consumers will also be interested (I'm doubtful that consumers will want to change their smartphone, or carry another handset around with them, simply to use a pair of smart glasses, especially when they need to be tethered to a battery pack. I can see the use in business applications, however – TA).
Display Daily Comment
I was struck that on the last day, when crowds were very thin, and just five minutes after the show had opened, there was already a queue around three sides of the Oculus booth, waiting for a demo! In suites, we saw some wonderful and very flexible OLEDs which will transform the tablet and smartphone markets. See my editorial. (BR)