Unlike other tier one companies, Acer had taken a suite in The Cosmopolitan, with no presence on the show floor at all. We visited on Sunday, two days before CES officially began. Mobility was the obvious focus, with two brand new smartphones and a Chromebook, as well as updates to the V17, R13 and S7 notebooks.
We covered the Liquid Jade S when it was announced last year (Display Monitor Vol 21 No 49), but we took this opportunity to get up close and personal. The Jade S is a 5″ model with 1280 x 720 resolution. As with most mobile products, however, the display is not the phone's main selling point.
Acer has ensured that its newest flagship device is thin (7.78mm at its thickest point) and light (116g), with few straight lines anywhere on the body; even the display has a bevelled edge, using Gorilla Glass 3. There are also several interesting camera features (13MP rear/5MP front). The cameras can be voice-controlled, with commands such as 'selfie', 'main camera', 'HDR' and 'cheese!'. Users can set the exposure point so it is separate from the focus point – a useful feature when, for example, there is video in the background.
Gesture commands are supported through 'Quick Touch'; users can draw shapes to unlock the phone, access the dialler or camera, and more. 
Unlike last year's Liquid Jade (Display Monitor Vol 21 No 23), the Jade S has 4G connectivity. The processor is an octa-core, 64-bit 1.5GHz chip from MediaTek (6752M), using Cortex-A53 CPU cores. The GPU is a Mali T760 device. Users have the option of using dual SIM cards, or a single SIM and a micro-SD card.
Acer will launch the Jade S, with Android 4.4, in February; an update to 5.0 will be rolled out in Q2. The phone will cost €250.
Next to look at was the Z410, an entry-level 4G model which also uses a 64-bit processor – a quad-core 1.3GHz device (6732M) – and a Mali 760 GPU. It also shares the Quick Touch feature. An uncommon design choice is the use of a front-facing speaker (the only other phones with this that spring to mind are HTC's One series).
While the same camera voice-control commands are built into the Z410, the cameras are of significantly lower quality (5MP and 2MP). The display is also less impressive, at 4.5″ and 960 x 540. The Z410 will go on sale in February, for €110.
Acer claims to have the first 15.6″ Chromebook (the imaginatively-named Chromebook 15), which will begin at €225 in February. It is based on Broadwell-U (we hear that Dell is developing a model with similar specifications). Both 1920 x 1080 and 1366 x 768 (both non-glare) resolution displays can be chosen as options, with either IPS or TN panels (at these price levels, people are more price- than feature-critical, so we would expect some TN models to be sold – TA). Other options include 16GB/32GB SSDs – as a Chromebook, the majority of storage is online – and 2GB/4GB of RAM.
The Chromebook 15 is an addition to the current 11″ and 13.3″ Chromebooks offered by Acer. The 13.3″ model is now offered with a touchscreen.
A small form factor PC called the Revo One RL85 was being shown, which is intended to act as an entertainment centre for a whole household. Able to drive two displays at once, with UltraHD resolution (on a single screen), the PC uses 802.11ac wireless connectivity and supports Acer's Build Your Own Cloud, to access files stored in a user's personal cloud.
The Revo One uses Core i3 or i5 processors and three HDDs (two removeable) with up to 2TB of storage each. Two SATA ports are also featured for additional storage. The HDDs can be mounted in RAID 0/1/5 configurations. As well as the SATA ports, mini-DisplayPort, HDMI, USB 2.0 (x2) and USB 3.0 (x2) ports are featured.
Users can control the Revo One through a bundled remote control or using a smartphone app (which also enables content streaming). The product will be launched this month, starting at €225.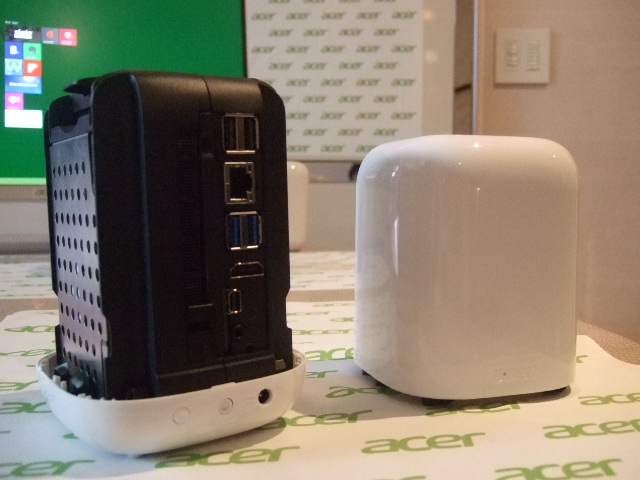 As well as the mobile products, Acer had a short-throw projector with a hidden wireless adaptor, enabling users to leverage their own wireless dongles (such as the Chromecast) to project data from a smartphone, PC or Chromebook wirelessly. The H7550ST is said to be the world's first projector with this capability. Audio can also be streamed to a wireless speaker from the unit.
Colorsafe II technology reduces brightness decay and colour shift, while the six-segment colour wheel boosts the projector's colour output. 2D content can be converted to 3D, and video can be played at 144Hz in either mode.
The H7550ST has 1920 x 1080 resolution, 3,000 lumens of brightness and a 16,000:1 contrast ratio. It can throw a 100″ image from 1.5m, with a 300″ maximum image size. Acer will begin selling the projector in March for €840.
As mentioned above, there were also updates to models that we had seen before. The XB270HU monitor (Display Monitor Vol 21 No 47) was not on show, although we heard that a similar model with eye-care features (flicker-free backlight, non-glare screen, low-dimming technology and a blue light filter), but no G-Sync, will be available in Q1; it will cost €420.
The 17.3″ V17 Nitro notebook will be available this month with an Intel Realsense 3D camera integrated into the front bezel. The inclusion is an experiment; Acer is 'testing the waters' (there are very few programmes using the Realsense technology at the moment). However, it also serves as an attempt to diversify the (fairly static) notebook market, which is to be commended. We saw the camera used for gesture control – it worked well with the Windows 8 Live Tile/Metro interface, but not so well on the desktop – and to play games that will be bundled with the laptop. Skype calls, face and object scanning are also supported. Building Realsense into smaller devices, such as tablets, is difficult due to the size of the camera module, but the possibilities are being examined.
The V17 with Realsense will cost €1,100.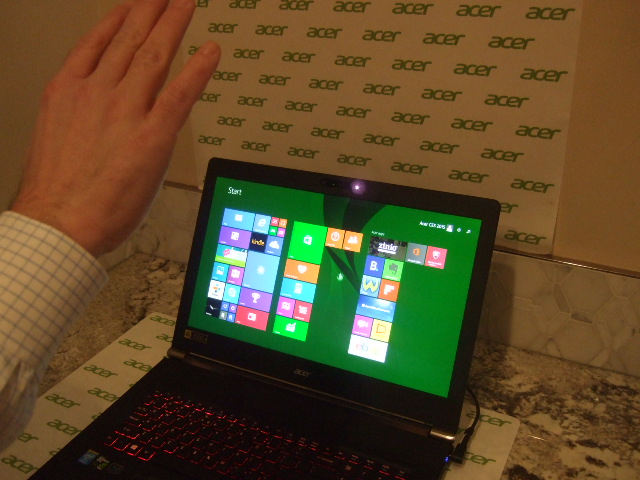 Finally, Acer is rolling out Intel's latest Broadwell chips to its R13 and S7 notebooks. These will be available in January, starting at €840 and €1,000, respectively.
All prices are ex VAT.