Simon Yang.LED Inside, a division of TrendForce, reports that LED manufacturers are turning to mini LED, due to micro LED's technological bottlenecks, which make it harder to commercialise in the short term. (Why Do We Need MicroLED Displays?)
Companies can develop mini LED using their current equipment, with minimal changes to the manufacturing process. Mini LED could potentially be adopted for television, mobile phones, automotive and digital displays, with revenue expected to reach $1 billion in 2023. Digital displays and large-size TVs will be the mainstream applications of mini LED.
According to Simon Yang, Assistant Research Manager of LED Inside, with sizes of about 100-200μm, mini LED chips can be used for self-emitting displays and backlighting. Sony released micro LED displays in 2016, which were expensive to make and hit technological barriers. LED companies are now focusing on mini LED. Compared with traditional LED displays, mini LED displays are more likely to feature a wider color gamut.
The cost of using mini LED chips for a self-emitting display is too high, and the resolution may not match that of existing products. Instead, mini LEDs will replace traditional backlighting in LCD panels for TVs, mobile phones and automotive displays. LED Inside estimates that we will see mini LED backlighting demos in 2018. (AU Optronics Will Adopt Mini LED Backlighting in 2018)
It is possible for high-end TV products to adopt mini LED, which offers advantages like higher brightness and dynamic range imaging. In terms of mobile applications, mini LED-equipped products can provide high contrast and brightness to rival OLED products. With local dimming, mini LED could compete with OLED in terms of performance and price.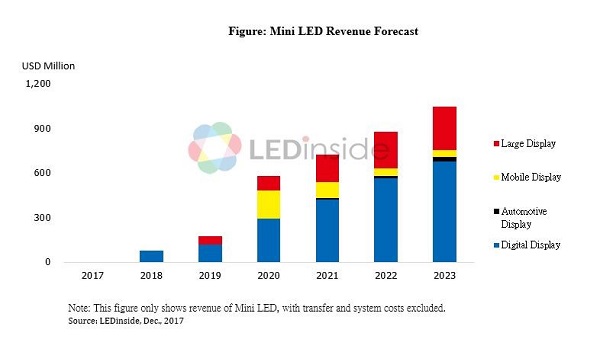 Companies worldwide have been actively involved in the development of mini LED products, including chip makers Epistar, Lextar, San'an Optoelectronics and HC SemiTek, packaging companies Everlight, Advanced Optoelectronic Technology, Harvatek and Seoul Semiconductor, IC designers Macroblock and Raydium, panel makers AU Optronics and Innolux Corporation, and digital display makers like Leyard.
However, mini LED still faces challenges. Cost is a major concern, as well as a longer processing time and a higher risk of a low yield rate. In addition, mini LED needs more optical distance, which will increase panel thickness.
Analyst Comment
It seems very clear that the main early market for mini-LED will be much more refined backlighting. A combination of the QDCF (quantum dot colour filter) technology (Beginning of the End for the Color Matrix Filter?), which would reduce the need for backlight power compared to existing colour filter implementations and high numbers of mini-LEDs used in backlights, could create LCDs that are much more competitive in depth and performance with OLED than current LCDs are. We expect to see some spectacular examples at CES.
Separately, Epistar said at an investor event that it is planning to make a small batch of mini LEDs in Q2 2018 and will focus on backlighting, LED lighting, infrared and automotive lighting and display applications. (BR)