During a hardware release event in New York, Microsoft showed off a multitude of new devices in what seems to be a complete reset of the Microsoft device line. In the first 10 weeks after releasing Windows 10, Microsoft has achieved a total of 110 million units running the new software platform. So far Windows 10 users have viewed 650 billion web pages with the new Microsoft Edge browser and streaming 120 years of gameplay from Xbox to Windows devices.
To give perspective, Microsoft did not state a quantity for the retail penetration of Windows 10 devices (still very small I assume) although they did say that the retail penetration has grown every month since the release. Based on a release time of 10 weeks, this means that they sold more Windows 10 devices in the second month than in the first.
However, the main focus of the event was on devices, including a number of brand new releases. Here is a summary of the event.
XBox One
Microsoft announced that all XBox One consoles will be upgraded to Windows 10, allowing them to run XBox 360 games on the Xbox One. While there is no new XBox console coming out, the firm is offering the XBox in game-inspired versions with up to 1TB of storage for the upcoming holidays. These will be available in the end of October for $499.
They are adding a new gaming controller that adds higher accuracy – not only on the XBox console but also on Windows 10 PCs.
HoloLens
In a new demo of the capabilities of the Hololens headset, Microsoft focused on the product's gaming potential. They showed off "Project X-Ray", an internal Microsoft game. This game demonstrated mixed reality gaming as Microsoft envisions it.
Source: Microsoft Event October, 2015
The game analyses the room you are in and uses its features to create a personalised game level "just for you". The game is a first person shooter where you defend your home against robots (it seems). The hand holding a controller becomes your weapon, which allows you to shoot the enemy. Of course, the enemy is also shooting at you and I don't know what happens if you are not moving fast enough. I guess game over for you. As you can see the graphics are not bad, but sometimes seem a little "cheesy".
The key here is the idea of a game that runs on the HoloLens device itself, without any external connection. There has to be some connectivity for other functions, but it seems that this game runs in a standalone mode. Microsoft uses the term "mixed reality" instead of using either augmented reality or virtual reality. Judging by the idea of the game and the implementation, I would classify it as augmented reality.
During the presentation, Microsoft referred to the shown virtual objects as 'Holograms'. This is a term that is somewhat misleading, as these objects are not holograms in the usual definition. There is no wavefront display involved using coherent light. Instead, Microsoft referred to the HoloLens as 'see-through 3D holographic lenses'. This term makes some sense if the holographic lenses are used as optical elements to couple the virtual images in and out of the waveguide.
Microsoft is now accepting applications from developers for the HoloLens Development Kit. The system with the SDK is offered for $3,000 with a delivery expected in Q1'16.
Band
Microsoft is upgrading the original Microsoft Band by releasing a second generation version. The wrist-worn wearable is aimed at the fitness market and uses a curved OLED screen, protected by Corning Gorilla Glass 3. The device comes with a number of sensors including GPS, barometer and many others. The wearable works as a standalone device but also cooperates with the phone or any Windows 10 device running the Microsoft Health app.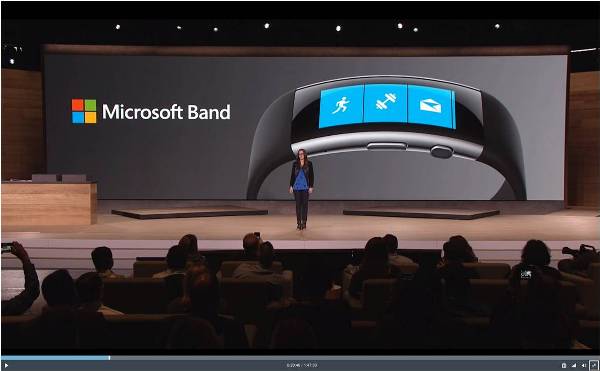 Source: Microsoft Event October, 2015
The Band includes notifications and supports other functions using Cortana under Windows 10; this will require a connection to other Windows 10 devices, though. It uses algorithms to calculate heart rate recovery and calorie use during training. In addition, the system calculates the VO2 Max value, a number used by athletes indicating the oxygen content in the blood. Band estimates this number based on the sensor data.
While this aims at the more serious athlete, the Band also acts as a virtual caddie for golf players. It uses the sensors to know when you hit a ball or not. It knows what hole you are playing and creates a scorecard at the end of the round.
The new Band can be pre-ordered today for $249 with a delivery date of October 30.
Lumia
Microsoft introduced the 950 series with the 950 and the 950 XL models. The 950 has a 5.2" OLED with a pixel density of 564 ppi, while the 950 XL has a 5.7" display with 518 ppi. Microsoft does not give a resolution but refers to them as sporting 3.8 million pixels, which would translate to a QHD resolution (Editor's note: the phones appeared on Microsoft's website shortly after this article was published. They have 2560 x 1440 resolution).
The handsets are using Qualcomm processors with six cores in the 950 (Snapdragon 808) and eight cores in the 950 XL (Snapdragon 810). The Snapdragon 810 has been linked to overheating concerns in the past, which is perhaps behind Microsoft's decision to liquid cool the phone. The Surface tablets also use liquid cooling (via a thin copper heatpipe, connected to the processor) – however, the tablets have fans, while the phones do not.
The phones' camera has a 20MP sensor with a triple RGB flash and optical image stabilization. With a dedicated button it can take snapshots and 4K video without signing into the phone. The storage starts at 32GB, but there is also an SD card slot that supports 256GB cards (up to 2TB when cards become available). The phones feature a USB-C connector with 5Gbps throughput, which means that they can be charged to 50% power in less than 30 min.
Microsoft also offers a phone dock that connects the phone to a keyboard and monitor, creating a standalone PC solution that supports better productivity, games and entertainment for the user. The dock has HDMI, Displayport, and three USB ports for accessories. This allows the user to create a very personal set up.
With the included Office apps and this setup, one can work with the phone just as with a PC. Others have offered similar solutions without much consumer uptake so far. The Lumia 950 will go for $549 and the 950 XL for $649. Both will be available in November of 2015.
There is also the new Lumia 550 with quad-core processor (Snapdragon 210). This is a 4.7″ phone, with 1280 x 720 resolution. It has 1GB of RAM and 8GB of storage. Unlike the flagship Lumias, this phone uses micro-USB for charging. It does, however, run Windows 10. Microsoft will launch the Lumia 550 in December, for $130.
All prices are sale prices with contracts.
Surface Pro 4
Microsoft stated that the Surface business has grown to $3.5 billion per year, which means that they sold around 3.5 million in the last year, based on an average sales price of $1,000 per unit which is most likely a little high. They are introducing the Surface 4 with a slightly larger display and higher processor performance.
The display grew from 12" in the Surface 3 to 12.3", without changing the outside dimensions. As a matter of fact, the Surface Pro 4 is only 8.4mm thick, which makes it the thinnest Intel Core processor PC to date. The 12.3" display has a resolution of 2736 x 1824 pixels, equating to a pixel density of 267 ppi. In order to decrease the bezel width, they included the LCD gate drivers into the metal oxide LCD panel.
Surface Pro 4 is 30% faster than the Surface 3 and 50% faster than the MacBook Air. It comes with 4GB, 8GB or 16GB of RAM and storage options from 128GB up to 1TB of solid state memory. Of course this will cost quite a lot more. While the cheapest model with Intel Core M processor, 4GB RAM and 128GB of storage is offered for $899, the high end Intel Core i7 with 16GB RAM and 1TB of storage will set you back $2,699.
Microsoft is introducing Pixel Sense technology (a form of IR touch, compatible with the pressure-sensing Surface Pen – TA) on the display, which also has 0.4mm Corning Gorilla Glass 4 cover glass and 10-point touch. In addition the Surface Pro 4 comes with the new Surface Pen. The stylus has 1,024 pressure points and an electronic eraser. Pressing the eraser once brings up Microsoft One Note which allows sharing of any input system. The pen is stored by magnetically attaching to the Surface Pro 4.
There is a docking station with two 4k DisplayPort connectors, RJ45 and four USB 3.0 connectors. Microsoft also tweaked the keyboard cover that will be backward compatible with the Surface Pro 3.
Surface Book
Microsoft added a larger version of the Surface Pro called Surface Book. They call this "the first laptop PC Microsoft ever made". It comes with a 13.5" LCD display with 3000 x 2000 resolution, translating to a pixel density of 267ppi. This display also comes with the same Pixel Sense technology as described above.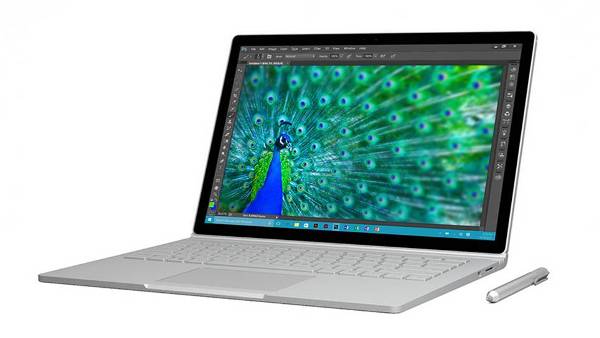 Source: Microsoft Surface Book
With an Intel Core i5 or i7 processor, 8GB or 16GB RAM and up to 512GB of storage this is more performance oriented than even the Surface Pro 4. It has an Nvidia GeForce GPU for even better graphics.
While Microsoft advertises the Surface Book as the 'ultimate laptop', it also is a 2in1 and convertible PC as well. The screen detaches to create a standalone tablet, even though the GPU – a discrete graphics card – is located in the keyboard base, so the graphic performance suffers when detached. Mini-DisplayPort and USB 3.0 connectors are featured.
The Surface Book will be available on October 26 starting at $1,499. In the top of the line configuration the device will cost $2,699.
Analyst Comment
This Windows device announcement brought home the point that Microsoft wants to measure itself with Apple in the device category. This is not about software versus a hardware company any more. They compare the performance of their products against the Apple products to make the point that they are competitive. This comparison does not end at display resolution, processor speed or graphics performance, it includes pricing as well. The prices look like Apple prices, for sure.
From a display perspective they do not follow the typical resolution development of HD, FHD, QHD, UHD, etc. The company has gone for a 3:2 aspect ratio that they claim is close to DIN A paper sizes and have packed as many pixels into the screen as they can. This allows for better reading of two page documents side by side, they claim. From an aspect ratio perspective, this is indeed true. However it also means that you will be reading a page at roughly 50% font size. Good use of the screen real estate does not always means that it is user friendly as well.
Overall, Microsoft is trying very hard to come out of its "slumber" by creating a line of competitive devices based on Windows 10, which has at least overcome the shortfalls of Windows 8.1. Of course, buying into the Microsoft platform means that if Windows 11 follows the typical Microsoft pattern of releasing a not so great product after each good release, you may get stuck with expensive hardware and not so great software. For the business world, this was never a big issue as they just avoided Microsoft updates for an extensive time period if they found a solution that actually worked well. This is not what Microsoft wants to see, but a reminder of the realities in professional IT.
It will be very interesting to see what kind of penetration Microsoft devices can reach in the professional world where competition between PC makers is forceful and price flexibility is the name of the game. (NH)
---