Mediatek Eyewear refererence design
We commented in our report on the Gitex show in Dubai that chip-maker, Mediatek, was taking a higher marketing profile and we found the same at CES, although the company was in the Venetian in a meeting room, rather than on the show floor.
The first bit of news was that Mediatek's MT5595 SoC is being used in a Sony Androd-based UltraHD TV that runs Android 4 (Lollipop). The chip has a lot of power, including two Arm Cortex A17s and two low power A7 processors to support HEVC and Google's VP9 codec at up to 60 fps. It can decode four HD streams simultaneously and can up convert low frame-rate video, broadcast over LTE or Wi-Fi to high frame rates.
Improving frame rates was a major topic at the show and the firm was showing how it can support true 120Hz rendering (rather than ME/MC techniques). It uses the marketing name of Clear Motion and told us that JDI is working on 120Hz panels to exploit the technology. Other features that were being demonstrated included colour processing under the name "MiraVision" and a "super slow motion" mode that allows replay at just 1/16th of the real time speed.
Wearables, of course, were a big story at the show and Mediatek was announcing the MT2601 at the show. The SoC includes a 1.2 GHz dual-core ARM Cortex-A7, ARM Mali-400 MP GPU, and supports qHD display resolution and is designed to support Android Wear. There is support for all three wireless charging standards and also NFC.
Mediatek also has the MT2502 which is for watches, eyewear and Android peripherals. It can be used with the iPhone and supports Siri and HealthKit.
Mediatek promised us more news at MWC.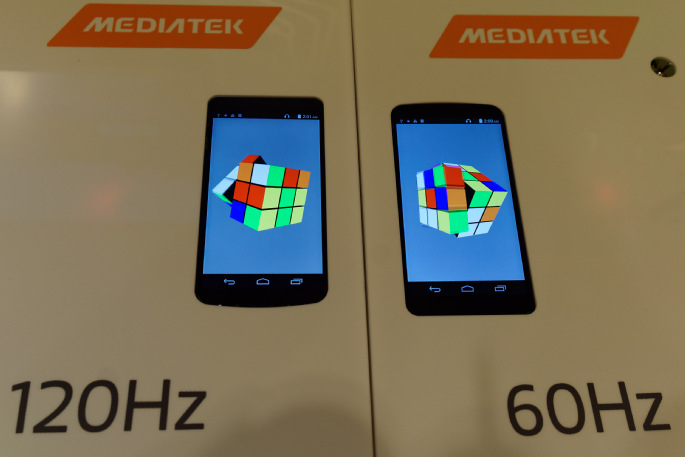 Mediatek can render at high frame rates