The Apple Watch is now on sale worldwide. Apple has said that the relatively muted and mostly-online launch (Apple Watch Delayed) does not imply anything for future iPhone and iPad launches.
Getac has upgraded its existing V110 convertible notebook and F110 tablet (both 11.6″). The second-generation production features a Core i5 or i7 Broadwell processors (up to 3.2GHz), Intel HD Graphics 5500, 8MP rear camera and an optically-bonded touch screen supporting gloved operation. They are available now.
Google has pulled the Nexus 7 tablet from its online store; it is no longer being produced.
Holographic Optical Displays' Voxgram (Kickstarter Coming for Consumer Holographic Displays) is now on Kickstarter (http://tinyurl.com/m7maeq9), seeking $200,000 in support. Backers can receive a display if they pledge $200 or more.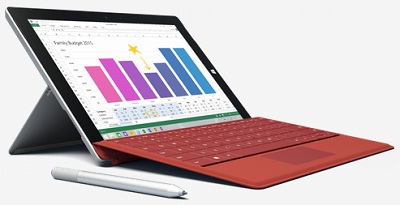 The LG G Watch Urbane (Wearables and Smartphones Are The Focus for LG) is now being rolled out to South Korea. It will soon be followed by a launch in select markets in North America, Europe and Asia.
Microsoft is now selling a low-cost version of its Surface 3 tablet to schools. The new model has 32GB of storage, rather than the standard 64GB. Microsoft has also extended its 10% price discount for schools from the Surface Pro 3 to include the non-Pro model.
Samsung has expanded its Gear VR Innovator Edition (Qualcomm Wants to Play in the Smartglass Market) to support the Galaxy S6 and S6 Edge smartphones.
Additionally, Samsung has launched the Galaxy Tab A (Samsung's Tab A is Low-Cost With Large-Screen) in the USA. The Tab A 8.0 costs $230; the Tab A 9.7 costs $300.