The global wearable band market experienced a revival in the second quarter of 2023, with vendors shipping 44 million units worldwide, marking a 6% year-on-year growth, according to the latest estimates by Canalys. The wearables market is expected to experience a sustained compound annual growth rate (CAGR) of 4.1% leading up to 2027.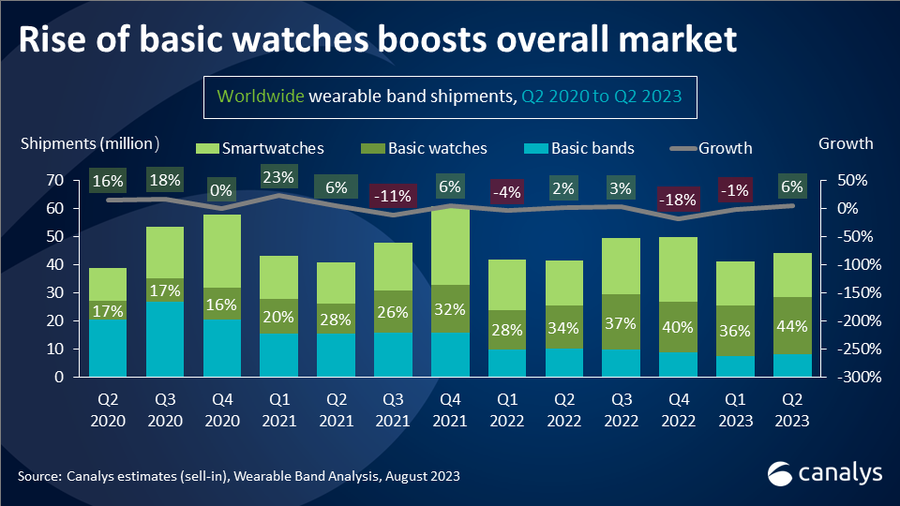 Basic watches have continued to grow, making up almost 50% of the market. This could be attributed largely to the presence of major smartphone manufacturers like Huawei, Xiaomi, and Huami, as well as the growing influence of Indian players in the industry. The Indian market has been a significant force behind the momentum, with basic watches experiencing a 73% increase in shipments. Xiaomi and Huawei introduced a variety of wearables in Q2 to strengthen their foothold, targeting a broad range of consumer tastes with competitive prices. Indian brands have not been left behind either; Noise, for example, debuted entry-level wearables and simultaneously rolled out pricier options. Another noteworthy mention is Fire-Boltt, which reduced its prices even further, setting an average selling price below $19.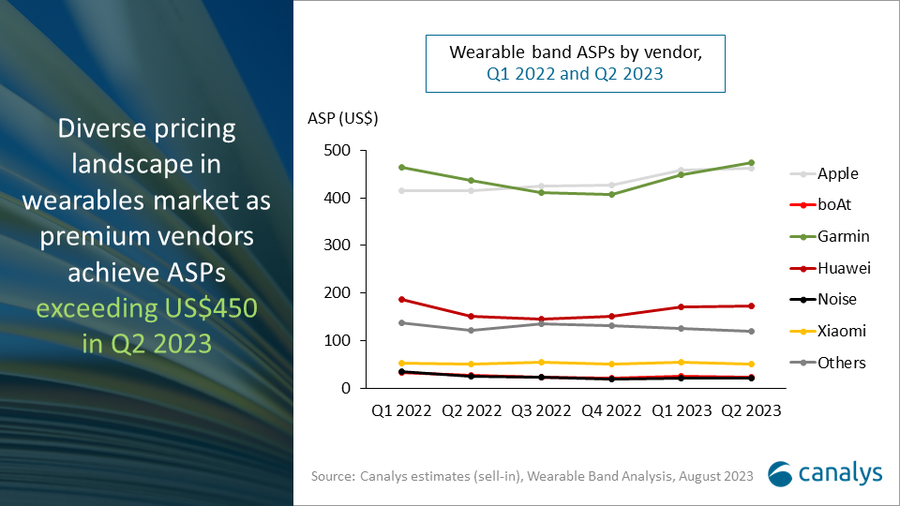 In an era where the line between hardware and value-added services blurs, premium vendors are focusing on intensifying features and providing added value. Google, which witnessed its average smartwatch selling price go from $216 to $266, is a good example of a company that is amalgamating additional services and value.
| Vendor | Q2'23 Shipments (million) | Q2'23 Market Share | Q2'22 Shipments (million) | Q2'22 Market Share | Annual Growth |
| --- | --- | --- | --- | --- | --- |
| Apple | 8.1 | 18% | 8.4 | 20% | -3% |
| Xiaomi | 4.8 | 11% | 4.8 | 11% | 0% |
| Huawei | 4.3 | 10% | 3.8 | 9% | +13% |
| Noise | 3.5 | 8% | 1.8 | 4% | +93% |
| Fire-Boltt | 3.0 | 7% | 1.6 | 4% | +86% |
| Others | 20.6 | 47% | 21.3 | 51% | -3% |
| Total | 44.2 | 100.0% | 41.7 | 100.0% | +6% |
Worldwide wearable band shipments and annual growth. (Source: Canalys)