2016 was a device launch break-out year for VR headset hardware. The two most widely known devices began shipping to consumers in the spring of last year, both using a Pentile OLED display with 2160 x 1080 resolution display. In late March, the Oculus Rift started shipping (selling for $599), and the HTC Vive VR headset (selling for $799) in April. Then, in October, Sony launched PlayStation VR for its PlayStation 4 (PS4) game console (selling for $399) with a 960 x 1080 OLED display.
The Oculus Rift headset used during the Intel press conference day two of CES 2017, Photo: S. Sechrist
That same month, Microsoft (MS) announced support for VR with its Windows 10 operating system (Win10 powered VR headset) along with a host of its tried and true hardware partners including Dell, Lenovo, HP, Asus, Acer, and a China based brand 3Glasses. Price targets for these prototypes were hard to pin down, but the headline at the time was a $299 entry level price with features that include motion tracking.
None of the devices announced in October showed up at CES as working prototypes. They all were presented under glass in a Microsoft suite during the show. All had a tether attached and only one (3Glasses) looked to have an integrated headset as part of the system. We did learn the 3DGlasses HMD will be called the S1 and features 2K resolution (2880 x1440 pixels or 704 pixels per inch PPI). It also sports a 120 Hz refresh rate with a panel response time of under 10 milliseconds. The spec will include full HD image for each eye with a 110-degree field of view (FOV).
Here are some shots of the hardware shown in the MS partner booth.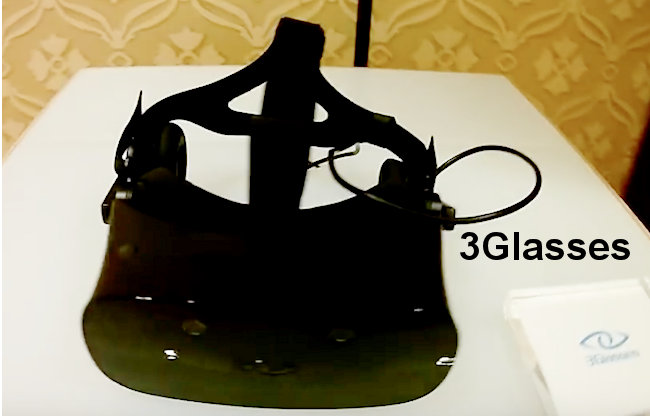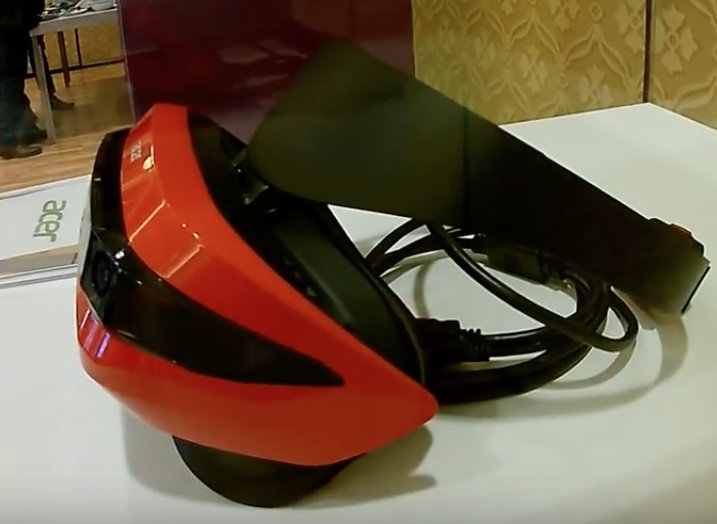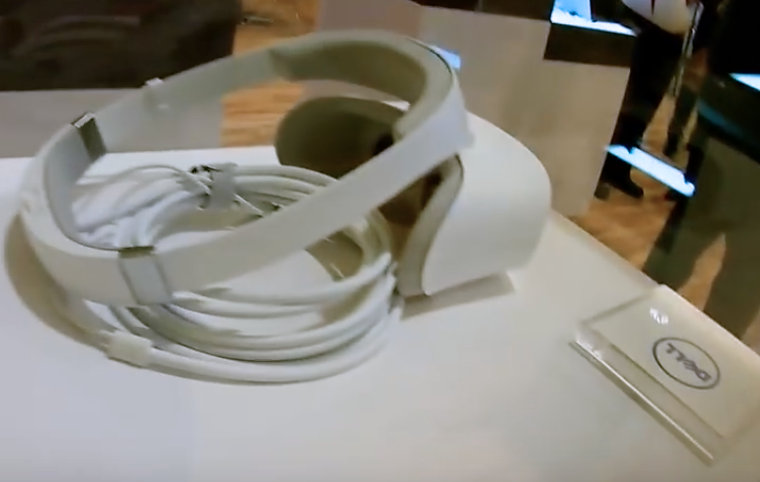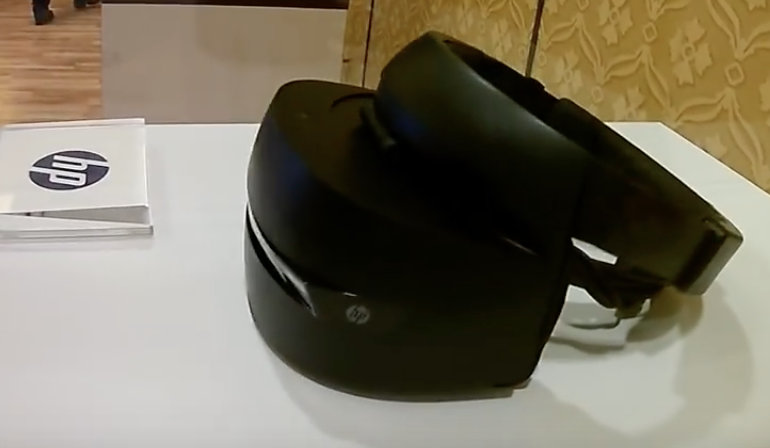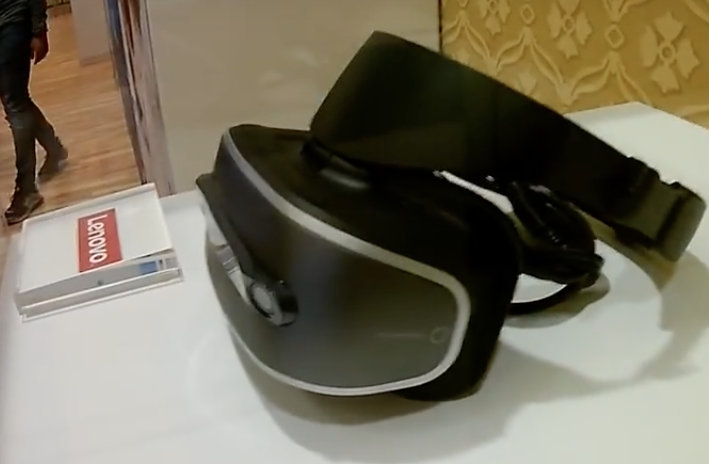 For its part, Microsoft (MS) published a minimum PC hardware spec to run its Windows Holographic Shell (VR OS) to support what it calls "mixed reality" that includes:
CPU: Intel Core i5 mobile (6th-generation 'Skylake' or 7th-generation 'Kaby Lake') dual-core CPU with hyperthreading or equivalent
GPU: Integrated Intel HD Graphics 620 (GT2) equivalent or greater GPU, DirectX 12-capable
RAM: 8GB dual channel required for integrated graphics
HDMI: HDMI 1.4 with 2880x1440px @ 60Hz; or HDMI 2.0; or DisplayPort 1.3 with 2880x1440px @ 90Hz
HDD: 100GB SSD (preferred) / HDD
USB: USB 3.0 Type-A or USB 3.1 Type-C port with DisplayPort Alternate Mode
Bluetooth: Bluetooth 4.0 for accessories
The MS minimum requirement for VR was published initially in August and later at the December, 2017 HEC in China. (Microsoft Clarifies Holographic Platform at Winhec)
If anything, at CES, having these mainstream players involved tends to give the space a degree of validation, even this far into VR market development. Some consider VR investment 'too big to fail;, and indeed, once users get a first hand experience of the technology, no doubt it will catch on, particularly as a game device.
Beyond Gaming, Entertainment Viewing
On the entertainment side of VR, one US- (and China-)based company, Royole, is targeting entertainment only device that is "foldable" or rather portable for use during travel etc. The advantage is a simple focus on the display quality, no position tracking, and, perhaps, a larger content base to start with. The Royole Moon product actually shipped in October with a $700 price, and we were told it was a runner up for a CES Innovation Award. At the Royole press conference, we not were given access to live versions of the technology running.
The company is focusing on an entertainment experience with no head tracking or other HMD specialties, like foveated rendering. The Moon was launched as a follow-on to the Royole X HMD in September 2016, see our write up (Royole Shows Smart Mobile Theater) by Norbert and Matt's more comprehensive coverage (Royole Introduces 3D AM-OLED HMD)
As Matt noted, Royole is much more interesting as a display maker, with a strong presence in Hong Kong, and Shenzhen China producing flexible AMOLED displays. The company said it will target dashboard displays (only after a brightness boost from the present 300 cd/m²) and could also get into the wearable market.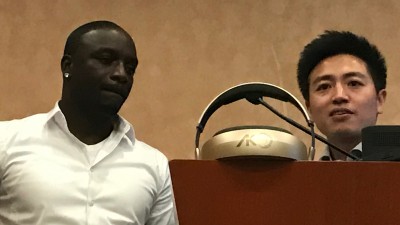 Royole Founder (rt.) Bill Liu and its Chief Creative Officer, multiple Grammy winning rapper, Akon (lt.) both were present at the CES 2017 Press Conference, source: S. Sechrist
The company said its AMOLED based display offers 3000 points per inch resolution and the near to eye experience simulates a "giant 800-inch curved screen." But with no head tracking, or accommodation for peripheral vision, it's an expensive entertainment viewer at best, and a big gamble on the consumer market taking off in this specific application space. The selection of multiple time Grammy (rapper) Akon to serve as CTO and spokesperson for the company, is another indication of Royole's direction in the entertainment space. On the up side, I did manage to get his autograph for (umm… my daughter) after the CES press event. Ha!
So beyond slick looking prototypes, mostly still under glass at CES, we can say that if intent is any indication, mainstream VR devices that included embedded displays are on the verge of exploding onto the scene in 2017. Prices will range from $299 (if the MS partners keep their word) and go up to just under $1K for the headset. This doesn't include a PC or game console device to drive that next gen hardware, creating perhaps the best reason yet for consumers to finally make the move to upgrade that aging Windows XP machine.- Steven Sechrist
Analyst Comment
We think the company could do well with its Moon headset, but the price may be a bit high as a simple entertainment device. Royole may want to hedge it's bets a bit, and consider white box additions that can be repurposed for B2B applications, as well as sell the components like the thin flexible displays and touch sensors for the (forecasted and soon to be?) booming wearable's market. (SS)
I tried the Royole again, but although the displays are good, I would find the weight too much for longer term use (BR)