In 2015, at the IFA conference run by IHS Markit, I was struck by a talk by Tom Morrod of IHS entitled "China is More Than Just a Factory". I was reminded of the talk by a couple of items of news relating to China that I heard at the TCL press event at this year's IFA.

TCL used its IFA press event as a global launch for some new products and during the talk, it mentioned that it is seeing much faster shipment between China and Europe.
For our non-European readers, Europe has a 14% duty on TVs that are imported from outside the EU and its customs area partners (including Turkey). That means that if you want to compete in the TV business in Europe, you have to build sets in Europe and, in turn, that means building a factory in the East of Europe. The favourite places are what I used to call 'Just Outside Germany' in Poland or Slovakia, for example. That brings the optimimum balance between assembly and logistic costs.
Just as Foxconn is looking to build a fab in the middle of the US to make LCDs for TVs, to minimise logistics costs, countries such as Poland are chosen for similar reasons. In Europe, there are no fabs making cells for LCDs, but there are factories putting cells together with backlights and other components in Eastern Europe. The reason that the factories are there is that there has typically been a 6-8 week delivery time between Asia and Europe in the past, with goods generally being sent by sea through the Suez canal. That delay changes the dynamics of the TV business in Europe, as it slows everything down.
More than half of the cost of an LCD comes from the backlight, polarisers etc that make up the module, rather than from the cell which has to be made in a very special factory, so panel makers were able to get back a lot of working capital and gain some delivery flexibility by moving the module assembly in Europe. That was a compelling reason to move panel assembly to Europe.
However, at IFA, TCL said that it can now use the new 'Silk Road' that China is developing to get products from China to Europe in just 16 days, rather than the 38 days needed in the past. We did a bit of checking around and found some shippers that are quoting just 12 days to deliver via train from China to Poland. You can go north from China via the Trans-Siberian railway or go west across Kazakhstan before joining the Tran-Siberian at Yekaterinburg, before heading east to Europe. There's a more detailed graphic here that shows the rail, road and maritime routes being developed.
The Chinese government is investing heavily in its "One belt one road" concept to rebuild the 'Silk Route' from China to Europe – and back. Image:Wikipedia
Of course, the new logistics route won't be used for TVs, because of the duty issues, but as the panel fabs develop in China (including by TCL's CSOT subsidiary), they will increasingly be in a position to feed panels to TV assemblers in Europe using the route.
Voice Was Everywhere – But Whose?
The second 'inflection point' at the TCL event was an apparent demonstration* of the Baidu Duer voice assistant system. One of the big topics of IFA was voice control which was everywhere. TV and other appliance makers are adopting Amazon's Alexa technology and the Google Assistant to add AI and voice control to their equipment in huge numbers. However, the demo of the Baidu assistant, if it really was a live demo and not just a mock up, was impressive in both handling the acoustics of the event and also in handling quite complex 'natural language' requests. Up to now, the most impressive demos of this that I have seen have been by TiVo (then Rovi Corp).
In recent years, I have been increasingly impressed by hardware from China and its ability to compete with hardware from the West or from Korea and Japan. However, I don't remember ever being impressed by software from those regions – in fact, I often love hardware from Japan and Korea only to be frustrated by poor or unreliable software. Software seems an industry where the US has a clearly dominant and pretty well unchallenged position. So the TCL demonstration might mark something of an inflection point. – BR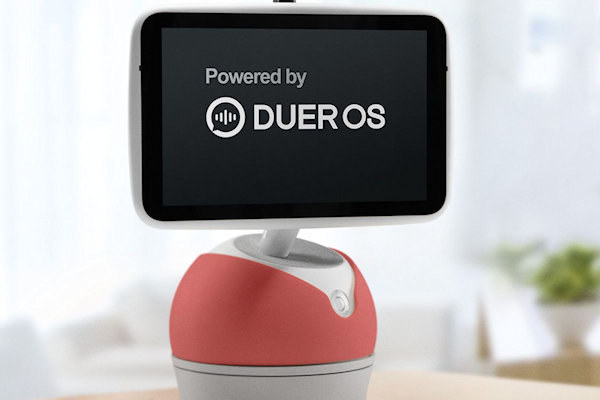 Baidu's "little fish" is a voice-based personal assistant
*over the nearly 25 years that I have been reporting on technology, I have been, I hope, deliberately misled only a few times by faked demos, but it has happened to me and so these days I take the position that I don't really believe anything I see at a trade show until I can replicate it with my own content and own conditions. Further, this was a global launch and as we've often seen this kind of live demo go horribly wrong, some 'theatricality' might come into play. That's no reflection on TCL. (BR)