LG had big news at Infocomm and ran a press breakfast to announce its new 1.8mm ultra narrow bezel monitors in 55″ (and, later, 49″), although no data was released on the asymmetry of the bezel. The displays have FullHD resolution and the internal scaler can compensate for the bezel in images. The brightness uniformity is said to be 90%, which is very good for such a narrow bezel product and LG also told us that the monitor has a "conformal coating" that is applied to the electronics to make it much less susceptible to dirt, dust and moisture. It is quoted as being IP5X conformant.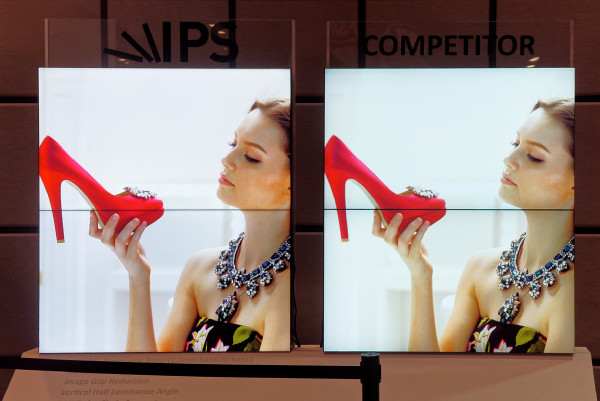 The final product is expected to have internal calibration software to allow the balancing of the colour for groups of panels. However, we believe that this was not working on the samples on display, as there was a big variation in the colour balance shown. The display also includes integrated scaling with support for up to 15 x 15 displays and WebOS functionality as a smart sign.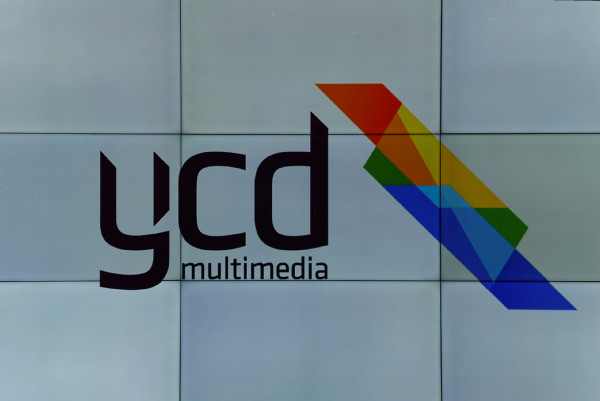 The integrated calibration on LG's new narrow bezel monitor is clearly not yet finished!
Weight is 20Kg and depth is 87mm.
The product will not replace the 3.5mm video wall products, but will run alongside it. There will be some initial production in August, with arrival in the market in September and October. However, it will be 2016 before there is full volume production.
LG was showing its consumer OLED TVs, which are not currently being promoted as part of the Hospitality TV range of products. During the booth tour, the company told us that the very well established service arrangements for hospitality TVs (LG is a leading supplier of hospitality TVs in the US since it bought Zenith some years ago) is proving very useful in being able to support national digital signage rollouts.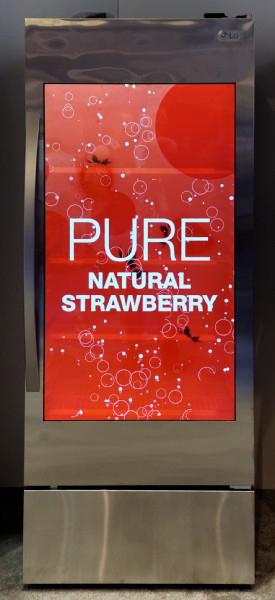 Next we looked at an LCD fridge door that was being demonstrated and used the LG M+ RGBW pixel architecture. LG is a significant supplier of fridges and will probably offer both a complete fridge as well as a special door.
LG is supplying 84″, 65″ and 55″ infrared touch systems and told us that it is seeing good demand for this kind of product for high end retail applications.
There was a demonstration of the LG ChromeBase product which puts a 21.5″ IPS display on a thin client system that runs Chrome. We heard that the desktop system is selling very well in education.
LG also emphasised that it is supplying the latest commercial TVs with the next generation of SuperSign software.
We then looked at the existing 98″ digital signage monitor, 31.5″ UltraHD monitor and "ShineOut" 55X52B monitor that produces 2,500 cd/mm² of brightness.
We asked LG what it planned to do to compete with the small pixel pitch LED products that are now appearing and the company told us that it is looking at acting as a system integrator, offering LED modules from third party suppliers as part of system solutions.

Staff highlighted that the LG logo that protrudes from the bottom of some of its monitors, is removable with two screws. This means displays can be put edge to edge and also allows customers to "de-badge" displays, where they want to promote their own brand, rather than LG's.
Analyst Comment
LG took us by surprise by announcing this jump to a much narrower bezel. Over the last two or three years, the thinnest combined bezels have moved down to 3.5mm. These already cause a problem with handling and mounting (one vendor told us that even with 3.5mm, it recommends that anyone building a 3 x 3 wall buys ten panels, so that they have a spare for "when you break one"), so going thinner worried a number of integrators that we spoke to. The panels will need a gap between the bezels, anyway, to allow for thermal expansion and we weren't clear, after our visit, as to whether the 1.8mm includes that gap.
One of the barriers to narrower bezels has been the poorer uniformity, which can be apparent in video walls, so the LG claim of 90% is a good performance and may enable wider use.
Samsung, of course, had a 1.x narrow bezel display in its closed "Innovation area". (BR)