The final session was on trends in large format displays and the panel comprised:
Jim Noecker, Sr. Solutions Manager, Panasonic Enterprise Solutions Company
Ben Hardy, Product Specialist
Lyle Bunn, Analyst – Advisor – Educator; Dynamic Place-based Media
Tim Griffin – Userful

Lyle Bunn who is a consultant in digital signage said that marketing professionals divide the coverage they get into paid, earned and owned exposure. Paid is advertising and earned is press coverage, awards and social media 'likes', but owned includes digital signage as well as websites, mobile apps and newsletters.
Organisations are putting money into marketing technologies. Large format displays help to bring influence, ambience, branding and vitality and Bunn said that he spends a lot of his time talking about this with new clients. Influence is about buying products, but the use of video walls is usually about "Wow". Often, when Bunn speaks to those behind initiatives, they just want to impress. There are new regulations in the US requiring restaurants to show the number of calories in dishes as well as the price. QSRs feel really challenged to keep people coming in and are happy to invest in digital signage. Another segment that is keen on digital signage is financial services, as banks need to drive customer loyalty.
In Toronto, there is a great digital signage application. One of the stadiums in the city houses both an ice hockey team and a basketball team. Often, digital signage is used to completely re-brand the stadium from blue to red to switch from one to another (apparently it's very impressive to see the complete retail store switched over between events!). However, one of the most powerful uses of digital signage has been to change the traffic flow of fans around the stadium. This could allow large displays to be called "architectural media".
The advantages of LFDs are:
Compelling messaging
Better audience targeting
maximising messaging investment
brand fidelity & consistent messaging.
Jim Noecker of Panasonic talked about LED and he said that the needed pixel pitch depends on viewing distance. He also showed one of the more informative slides that we saw at the event. The chart showed how direct LED displays rapidly get expensive as the pitch gets smaller. However, the cost of small pitch LED has been reducing rapidly and he compared the cost per sq. ft. of high quality ultra-narrow bezel video wall displays against LED and he found that the cross over point is now at 3.5mm. (Given that LED cost is coming down faster than LCD, it's clear that this is the reason that direct LED was everywhere on the show floor at Infocomm.)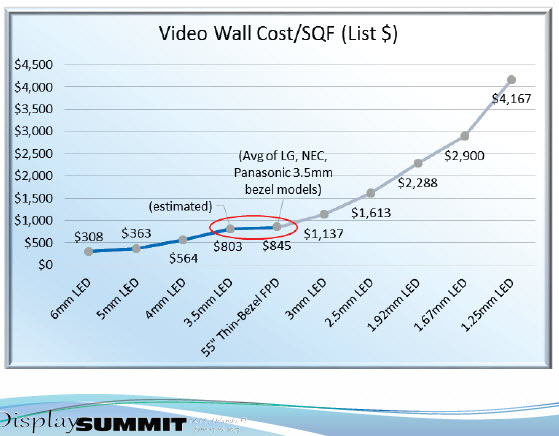 Bunn made an interersting point when he said that part of the reason Asia has more LED displays in urban spaces is simply population density. When there are more people around, the economics are much better than when they are spread out. He also pointed to regulatory issues in cities such as Los Angeles.
Griffin said that the cost reduction process really drives the acceptance of LEDs. However, he also sees a lack of standardisation in LED. Noecker said that the complete lack of bezels and the genuinely seamless display are big advantages for direct LED.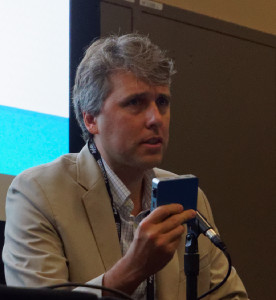 Griffin showed the kind of small PC that can drive Userful displaysGriffin said that its possible to spend $50k to $100k on a video wall and you may need a dedicated system to drive. There are built in matrix scalers in many LFDs, but these are limited to a single source and typically a single resolution. Userful uses a small PC (e.g. Intel NUC-type – he called it ethernet to HDMI. These typically costs $199 to $799 in addition to the cost of the panel. The system can support high resolution, and Userful will bring out 5K shortly, with 8K support coming later. Displays can be arbitrarily arranged in a wide variety of configurations. For more on Userful, see our earlier article (Userful Offers a New Way to Control Video Walls).
In response to a question, Noecker said that LEDs can easily be curved (a faceted curve, he called it). The cheapest way to install an LED wall is to simply join modules and hang them, but some need frames. Standard framing members can be used, but pretty well every installation is customised.
Hardy said that LCDs tend to be used in rectangular formats and are flat. LED is really coming. Bunn said that there are curved installations, but most of the growth and area is in large flat panel. Although "funky" designs are interesting, Bunn said that brands want the delivery system to be neutral. Griffin said that 2 X 2 video walls are simply boring and consumers want something new.
Chinnock asked about hiding the bezel and Pallas (see our ISE and Infocomm reports) was highlighted as a possible solution.
The closing comment was that in media – "never have we created it so well and shown it so poorly", especially in the early 2000s. That has now changed and the comment was made "I wish the burger was as good as the menu board".