CareOS is a French company that is developing mirror displays that are based on its own operating systems which are optimised for IoT devices in bathrooms. The OS is built on top of Android and there will be a client on iOS later. The company told us that the mirror that it was showing at the CES Unveiled event was developed with Kaertech, but it can work with other hardware. The OS takes care of issues such as the colour temperature of the lighting (colour temperature and intensity) and uses a camera to allow the use of 'Airtouch' gesture recognition. Of course, the company has a smart toothbrush application!
One of the points made by CareOS is that its software is compliant with GDPR, the new EU data protection regime.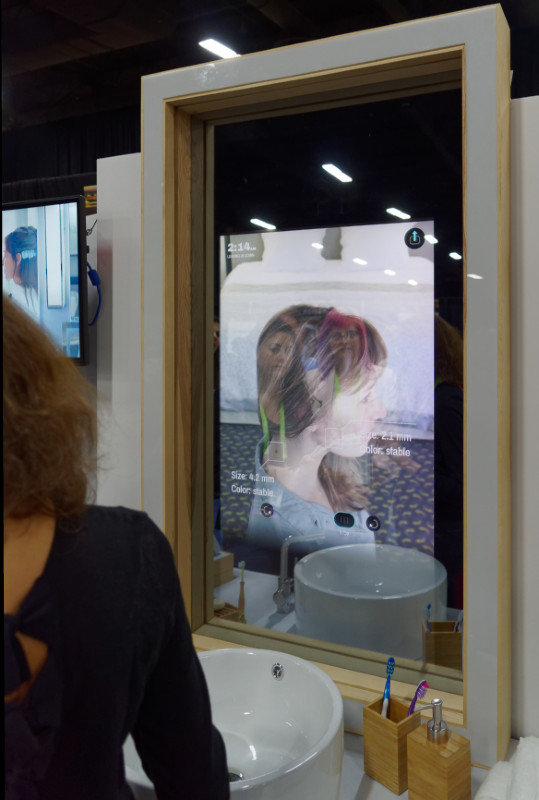 CareOS has bathroom software that is GDPR compliant. Image:Meko
Haverford Systems is a US-based integrator that works on AV systems. It was showing a huge passive 3D display using LED technology and it looked familiar to us. The company confirmed to us that it is the technology developed by Dr Chao Li from China, who explained the technology at the Display Summit in 2016 and showed it at Infocomm. DS20 Li Solves the Problem with 3D The company got a late booth and said it had got a lot of interest in the technology.
Kino-Mo of the UK has featured in our pages before with its spinning LED technology (MWC 2017 Round-up) and the company was at CES with a demo that was getting a lot of attention. The company said that its Hypervsn system is ideal for retail and other applications that need to attract attention. We didn't have time to stop and chat, but it seemed to us that the spinning rotors were closer together than we had seen before and that made for a more continuous image. This can be done by controlling the position of the 24 LED arms to ensure that they are 'interlaced'. The BBC has quite a good video here.
Last year at CES, Razer said that it was getting support for 'intelligent lighting' that reflects content on a Razer system (think Ambilight – Man. Ed.) (Razer's Novel 4K Gaming Projector) and this year, Nanoleaf was at the ShowStoppers evening event with its RGB LED colour-programmable lighting tiles. The tiles cost from around $20 to $25 depending on the number purchased.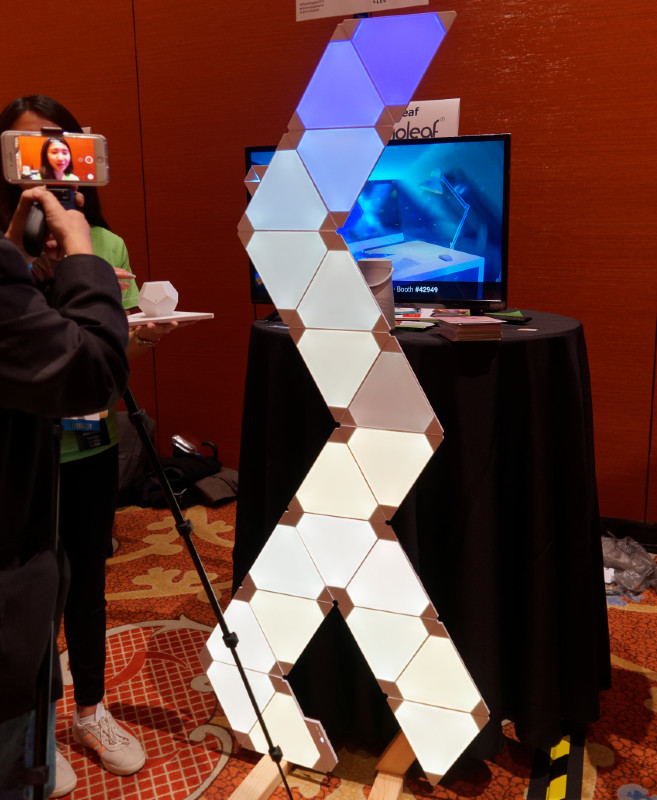 Nanoleaf's coloured panels support Razer systems. Image:Meko
Valens, the company behind HDBaseT, was in the North Hall promoting its automotive developments (Cars, Yes; Display Technology, Not So Much) but also updated us on its latest chip, the VSN1000 which enables a critical Pro AV application. The chip supports packet switching of AV data that is travelling over HDBaseT. That means a big change in HDBaseT switchers, which previously had to be made with 'point to point' connections.
Wacom had a new 32″ display designed to work with its latest Pro Pen 2 technology which supports 8K levels of pressure and also told us of another. The two displays will be called Cintiq Pro and have 24″ and 32″ diagonals. The 24″ will also be available in a pen-only version and it and the 32″ will both have pen and touch functions. Both will have UltraHD resolution. The 24″ will be released in mid-February and will cost $1,999 and the 32″ will be nearer to April and will cost $3,299.
Wacom's Cintiq Pro 32 is for use with its pen which has 8K pressure levels. Image:Meko