CinemaCon 2015 is going on April 20 – 23 at Caesar's Place and other venues in Las Vegas. CinemaCon, celebrating its fifth anniversary this year, is the official convention of The National Association of Theatre Owners (NATO). NATO expected about 5,000 motion picture professionals to show up for CinemaCon 2015.

One of the main features of CinemaCon is the collection of previews presented of upcoming cinema content, a topic close to a theater owner's heart. After all is said and done, the viewing public doesn't pay its $10 or more to see a projector, not even a fancy 6P laser projector. They pay to see a movie, so the Hollywood studios show the theater owners portions of upcoming movies.
While the viewing public may not be aware of the technology behind the image on the screen, the theater owners certainly are. They know that the public won't pay to see movies that are presented poorly, and won't come back to a theater that does a bad job of showing them. Repeat business is a major driver of theater ticket sales. A projector with high-quality images and low total cost of ownership (TCO) is one key to turning ticket sales into profits.
Not surprisingly, all four manufacturers of DCI-Compliant projectors, Christie, Barco, NEC and Sony, are at CinemaCon and are touting the low TCO for their projectors.
Christie actually demonstrated its 6P laser projector at CinemaCon last year. At NAB, also in Las Vegas and the week before CinemaCon, the company officially announced its laser projector systems with up to 60,000 lumens, Rec. 2020 colorimetry and High Frame Rate (HFR) capability. These projectors come in three different flavors, one DCI-compliant for theater owners and the other two targeting venues such as amusement parks, auditoriums, casinos, classrooms, museums, planetariums, theaters and virtual design centers. Christie says about its cinema projector, "Perfect for lighting the largest premium theaters, the Christie Solaria CP42LH RGB laser projector head provides an ultra-bright and colorful platform for giant screen and dome theaters". The 'LH' in the part number stands for 'Laser Head'. Lasers can be added in 5,000 lumen increments to produce a projector for any size venue up to the largest.
The Christie 6P Laser Cinema Projector is a dual-projector system
At this point, Christie is weak on its statements about low TCO and says, "Like any cutting edge technology, there will be a significant premium for laser projectors at first. This will gradually decline as more projectors are sold and vendors reach economies of scale". Using two projectors and two banks of lasers may be a factor in this high cost. Also, TCO is figured slightly differently for these largest theaters with the best images that can command a premium ticket price.
At CinemaCon, Barco announced its series of four 6P laser projectors, the DP4K-60L with 56K lumens, DP4K-45L with 44K lumens, DP4K-30L with 28K lumens, and DP4K-22L with 22K lumens. Barco says the DP4K-45L and DP4K-60L are already shipping, while the DP4K-22L and DP4K-30L will be shipping in Q4 2015. Since 6P laser projection brings the most benefits to the largest venues, it isn't surprising the higher-output projectors are shipping before the lower output ones. For example, the Barco Laser Theatre, built by the Eying Group in Chengdu, China, and uses Barco's DP4K-60L projector to produce 3D at 14 Ft. L. on a 20M x 11M (98' x 36') gain 1.4 screen.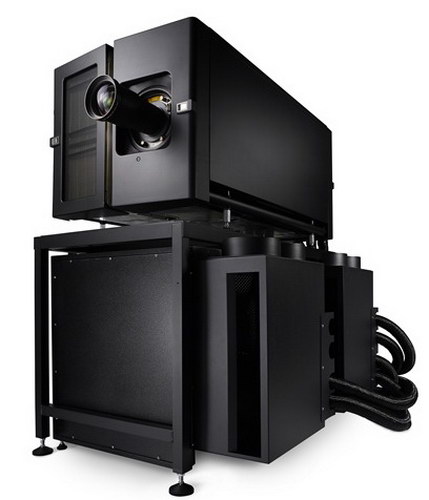 The Barco DP4K-60L 6P laser projector
According to Barco, this series of projectors is the "Total Cost of Ownership champion". Presumably, this comes from the 30,000 hour life of the lasers (to 80% output) and the elimination of lamp-related expenses over the life of the projector. The use of only a single 4k, 3-DLP projector head is certainly a cost saving compared to the dual-head Christie solution.
NEC, which also uses a 3-DLP architecture for its digital cinema projectors, has put more emphasis on small and mid-sized auditoriums. As such, it has not announced 60K lumen behemoths intended for 20M wide screens, the way Christie and Barco have. Instead, at CinemaCon it said the previously announced NC1201L laser projector will be available, beginning in July. This projector is intended to produce DCI color at 14-ft. L in 2D using a 1.8 gain screen on screens up to 12m (39.4 ft.) wide. This is a 2k laser-phosphor projector and has special features that allow it to be used in installations where there is no separate projection booth.
"The NC1201L gives exhibitors an expanded feature set and lower total cost of ownership", said Rich McPherson, Sr. Product Manager for Projectors at NEC Display Solutions. "The NC1201L features NEC's unique patent-pending sealing technology, comprised of sealed optical and laser engines that circulate cool air to minimize dust and smoke from entering the laser and also reduce maintenance requirements".
Sony also made a projector announcement at CinemaCon, introducing the SRX-515DS system. This is a dual projector system that will produce up to 30,000 lumens. The system is actually two 15K lumen SRX-R515 projectors tied together. Like all Sony cinema projectors, these are based on a 3-panel SXRD (LCoS) 4k panel. The SRX-515DS does not use lasers as a light source. Instead each projector uses six (6 – count them!) 330W mercury lamps, for a total of 12 lamps in the system.
Mercury lamps have significant advantages over xenon lamps, at least in terms of TCO. First, they tend to have much longer life than xenon lamps, reducing the need to change lamps. Second, the lamps tend to be safer and easier to change than xenon lamps. Finally, they are much more energy efficient than xenon lamps – mercury lamps are typically 60 lumens/watt while xenon lamps are typically about 25 – 30 lumens/watt. This isn't the complete picture, since filtering a mercury lamp to produce DCI colors reduces its efficiency significantly, while it has little effect on the xenon lamp. After all, the DCI specification was designed around xenon lamps.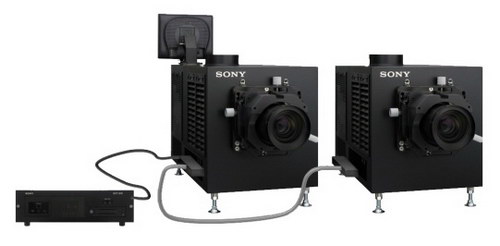 Dual projector Sony SRX-515DS
The SRX-515DS is designed to produce 14 Ft. L. with DCI colorimetry on a gain 1.8 screen up to 19.5M (64') wide.
"Going large with a dual projector system doesn't have to mean compromising picture quality", says David McIntosh, Vice President, Sony Digital Cinema 4K Solutions for Europe and the Americas. "Don't have any doubts about image quality or operability of multiple projection systems. This is just like running a single projector, but twice as bright!"
One advantage the SRX-515DS system gives to Sony's theater owning customers is the improved 3D it will provide. Single projector Sony installations produce 3D using what I consider an abomination of an optical system. Not only does it reduce brightness significantly, like any 3D system, it also reduces the 3D resolution to 2k compared to the 4k native resolution of Sony projectors showing 2D. Another benefit to theater owners is the dual projector system is much easier to switch between 2D and 3D than the older single projector Sony 3D system.
Four digital cinema projector manufacturers introducing four rather different projection systems at CinemaCon. While the Barco and Christie 6P laser solutions are in direct competition with each other in the premium cinema market, the NEC and Sony projectors are targeted at more modest auditoriums. Perhaps we should say "projectors for the rest of us." For a projector technology guy like me, there appears to be an interesting future ahead of us. –Matthew Brennesholtz
Chris took a video of Christie's presentation of NAB of the Rec 2020 support in its laser projectors, which is here (Christie Shows 2020 Material at NAB 2015). I had the chance to see the firm's 6P laser at the IBC event last September and the visual quality was fantastic. (BR)