Always serving as bellwethers of change in the education market, the three winter ed-tech conferences in the US (TIES [MN], FETC [FL], and TCEA [TX]) never disappoint. Three compelling trends emerged from these stout conferences, all highly visible on the exhibit hall floor.
Trend 1. For the first time, interactive large displays outpaced the number of booths featuring interactive whiteboards. Gone were the majestic booth towers of past interactive whiteboard glory. The large format interactive display monitor trumped them in numbers at least at a 3:1 or 4:1 clip. Interactive whiteboard solutions were diminutive and co-located. Should I say "ho-hum"? And did I mention "interactive"? These new large display monitors were indeed interactive – with the touch of a finger – disintermediated from special pens, pointers, controllers and frustrating presenter shadows of yesterday's technology.
Trend 2. For the first time, booths featuring large display solutions outnumbered projector company booths. Projector booths were downsized, co-located, or quietly subsumed within the noisy offerings of an integrator. Whether that's due to the ridiculously spiraling costs of exhibiting at ed-tech conferences, market saturation, or the education market dominance by one large company, it remains to be seen.
Trend 3. Interactive large displays are being pushed in three formats for education:
Mounted Displays. Wall-mounted displays remain as the favorite son of educators, although they are more expensive in terms of installation per unit.
Rolling Displays. Although cabling is a concern, these large displays provide greater flexibility for use in constrained classroom spaces or for sharing between classrooms.
In-table Displays. Primarily of interest to the elementary school market, these solutions are child-centric (the above solutions are teacher-centric), typically all-in-one, flexible and actually quite fun.
The wall-mountable large display for the classroom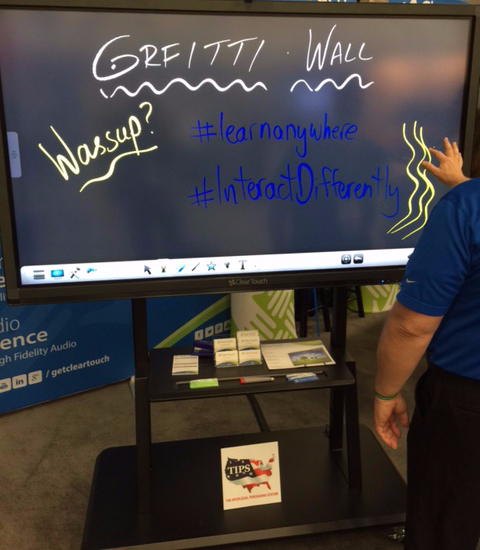 The rolling large display for the classroom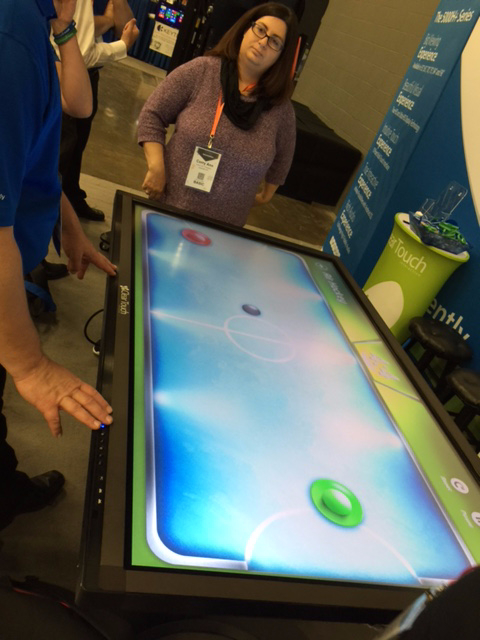 The in-table large display for the elementary classroom
To the casual observer, it may seem like a major shift is under way. Does this mean that education market penetration will become a slam dunk for the large display industry? Some projector company managers appear deeply worried about it. I spoke with one sales manager of a large and successful projector company who was concerned that the display business was cutting into its projection business in a direct way. This manager cited a large district in the Atlanta area that moved away from projectors, choosing instead an offering from a large display company. I could see the palpable fear in their eyes. The emotion attached to our discussion reminded me of the great line from David Cronenberg's 1986 remake of 'The Fly': "Be afraid. Be very afraid".
But I wouldn't be so worried. Read next month's installment to find out why I don't think the K-12 education market will be a slam dunk for the burgeoning large display industry. Instead, it will take a finesse game and smart moves to reach the K-12 market in the US. For higher ed, however – it will be a completely different matter. – Len Scrogan