Kyocera started by showing us a demonstration of an ASIC that it has developed to allow haptic feedback, using piezoelectric actuators. Especially in automotive and industrial applications, it is important that the user has a clear indication of functions. The ASIC allows up to 16 levels of intensity to be applied to deliver a range of different experiences. The haptic system was being demonstrated alongside an infrared-based gesture controller system. The detector is unusual in that it can, for example, differentiate between a different number of fingers being used. In the demo, a two finger 'swipe' in mid-air allowed a call to be accepted, while a full hand 'swipe' rejected or ended the call. Again, this might be useful in automotive, industrial or medical applications. Kyocera was showing this along with 21.3″ colour and monochrome panels for medical applications.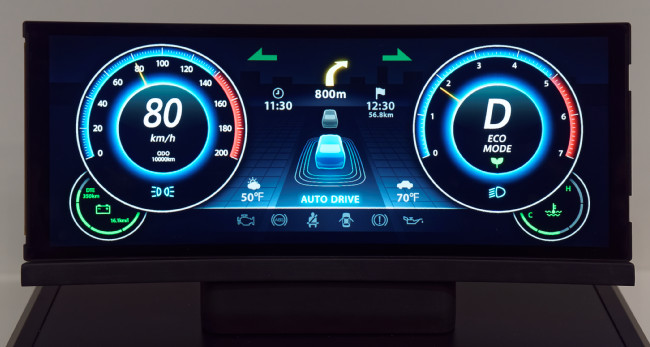 Kyocera had this 12.3inch automotive display. Image:Meko
A 12.3″ 1920 x 720 display for dashboards was being shown and based on an LTPS backplane. The 12.3″ can be supplied in a curved format with 800mm radius, although there is a plan to reduce this to offer a 500 mm radius version later in the year as well as a version that can go up to 2,000 cd/m². Touch functionality is available as an option. Kyocera, of course, bought the business of Optrex in Europe, back in 2012, so has an established position in the automotive market in Europe.
A 10.25″ 1440 x 540 curved display was also being shown and as well as gesture and five point touch, it can support NFC. Radius was again 800mm.