Steve Koenig is the CEA's director of industry analysis and he presented a talk before the official start of CES. He began his time on-stage by asking which technologies are driving device sales? There are seven devices that dominate spending: smartphones; feature phones; tablets; digital cameras; LCD TVs; mobile PCs; and desktop PCs. Smartphones are still the main spending driver, representing around $374 billion last year. Koenig refers to these as 'The Magnificent Seven'!
Smaller products are stagnant or declining. This includes plasma TVs, desktop monitors and car navigation systems – although game consoles are set to grow this year.
The meat of the analysis comes in the 'Three Screens': smartphones, tablets and TVs. About 46% of consumer technology spending will be tied up in smartphones and tablets this year; these products have defined spending over recent years, but may be due to be overtaken by other devices, such as smartwatches; health and fitness; automotive; and smart home products.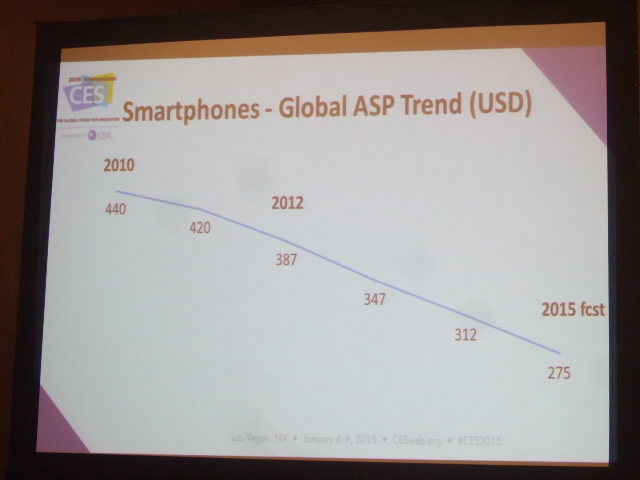 While smartphones are still a massive market, growth is slowing: from 28% in 2014 to a predicted 19% this year. Revenue growth is slowing even faster (from 13% to 9%), mainly attributable to the flood of low-cost devices entering the market. This year, developing markets (CEE, LATAM, MEA and emerging APAC) will represent 75% of smartphone sales (China alone will be 34%), while North America, Western Europe and developed APAC (the mature markets) will represent 25%. Global ASPs are also declining, and are expected to fall below $300 this year.
China is largely responsible for the low-cost phone growth, although products that are being sold there still offer very reasonable specifications. How are top brands competing? To answer, Koenig moved to tablets.
Tablets are wildly popular. Although growth is slowing (expected to hit 20% this year), ownership density is rising – households that already own a tablet are likely to buy another. These products are very versatile, and are expected to see adoption in both emerging (44% of sales in 2015) and developed (56% of sales) regions. However, revenues are falling; having peaked in 2013, they were down 1% in 2014 and are expected to decline 8% this year, to $61.9 billion.
Koenig said that hybrid devices, such as phablets and convertibles, may be to blame for falling tablet revenues. For example, what category does the Surface Pro 3 ('The tablet that can replace your laptop') fall into? About 59% of tablets shipped this year will have screen sizes below 9″. It is possible that we could reasonably expect three, four or even five tablets per household in the near future, each used for a specific function such as remote home control, as well as the more general use to which they are put today.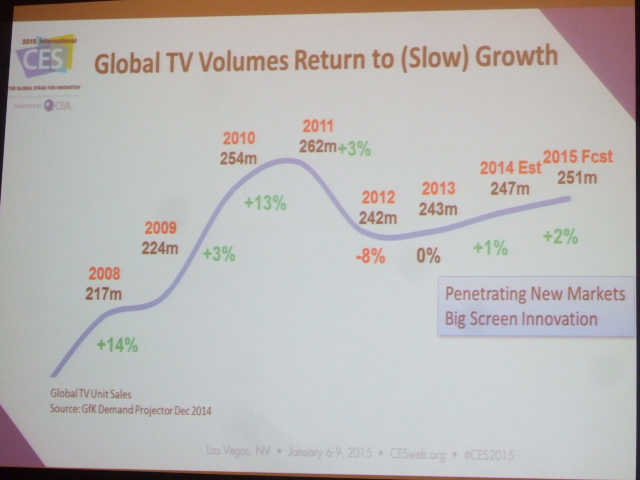 TVs will return to low (2% YoY) growth in 2015, with about 251 million units being shipped. The average screen size continues to rise, and is now 43″ in the USA – however, this trend is not limited to developed markets. Developing regions are leap-frogging the small screen sizes that developed regions began with – 32″ is the average size of the first TV in several markets.
UltraHD has to be discussed alongside TVs, and China is again expected to dominate this market with a 57% global share (13.3 million units). UltraHD TVs are growing massively in popularity – mainly because the cost premium for producing them, compared to Full HD models, is shrinking rapidly.
The share of 40″+ UltraHD TVs in the USA is expected to rise to 20% this year, from 7% in 2014, to 63% in 2018. The cost of 1920 x 1080 sets will continue to fall; Koenig saw sub-$1,000 60″ sets in the recent Black Friday sales, during which time there was also a "huge groundswell" for UltraHD technology in the USA. UltraHD is dominating large TVs, to the point where Koenig believes that it will become difficult to find 60″+ sets with lower resolutions in the near future.
What about curved sets? There was a 245% rise in sales in 2014, to about 3.4 million units worldwide. However, this is still only just over 1% of global TV shipments, and only a few top-tier vendors are offering curved models. There will be more heard about curved TVs as the industry moves towards flexible displays.
Regionally, the BRIC (Brazil, Russia, India and China) countries were identified as 'ones to watch', despite GDP growth being flat in two of these regions (Brazil and China) and down in one (Russia). Indonesia, the Phillipines and the African nations have a more positive outlook and have also been predicted to grow this year. Mature markets are in a worse position, with flat growth in Western Europe and falling growth in Japan. The USA was the only country expected to see a GDP rise, despite concerns over federal policy and the 2016 general election.
In a deep dive, Koenig said that Latin American technology spending is expected to fall 5% this year, to €75.3 billion. Brazil was referred to as "a crumbling BRIC" (cue ironic laughter – TA). Business and consumer confidence is low and the country is experiencing sub-par GDP growth, with the end of the commodities boom as China's growth slows.
Western Europe is also expected to see a 5% spending fall, to €187.5 billion. There are concerns over the plans for the Eurozone, deflation and unemployment.
Overall, developing market growth is fading worldwide, and appears to be reaching an equilibrium with mature markets (the regions represented 49% and 51% of overall tech spending last year, respectively). The emerging Asia region leads spending, due mostly to the massive populations of India and China, although North America is not too far behind (26% versus 22%).
Koenig ended by warning that the core technology categories – the Magnificent Seven – are softening. How long can mobiles continue to dominate?