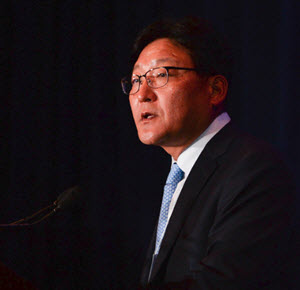 The third keynote was by Sun-Chul Kim who is Exective VP and Chief of the Research Center of Samsung Display and his topic was 'AMOLED Technical Issues and Forecasts'
He started with a discussion of megatrends in the future society – displays have extended our lives to virtual worlds. You should aim to 'carry easy and think big' while displays are getting more mobile, wearable and flexible and there is a convergence of displays and sensors.
In the office, there is more sharing of displays and people. The cloud will become common. He believes that many building windows will eventually be replaced by transparent displays. Mirror displays can change the retail experience while transparent displays will help with safety in automotive.
Virtual Reality is a big topic – usage will extend in the future to augmented reality and holograms will provide a more realistic experience than current displays.
Kim said that displays have dramatically improved. especially now with the arrival of flexible OLEDs.
What are the core value that displays can deliver, he asked? If you can make foldable products you can deliver richer user experiences. Kim said that AMOLED is the only viable technology for future displays because it can produce a true black with wide colours. Response time is fast and power consumption is improving. Flexibility is an important attribute, where OLED is best.
Looking at the key technologes for the future, Kim said that flexible displays need protection against pen use and ball drop tests. The industry needs new multi function protection layers. ITO is not flexible and CNTs and graphene are not good enough, so the industry may need completely new materials for encapsulation and protection. We have to reduce the number and thickness of layers for encapsulation.
There is also a need to reduce the number of layers in the OLED stack.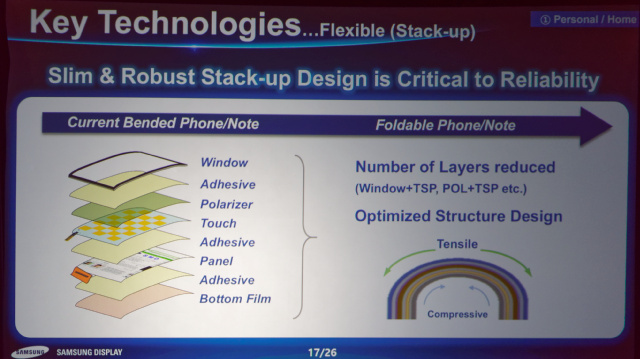 Samsung thinks the number of layers needs to be reduced to help develop flexible displays
Phosphorescent material is needed for OLED and must be further developed.
The automotive environment is difficult to engineer for, but automotive design is becoming more curved and displays have to follow, which is helpful for OLEDs
For digital signage, transparent displays are interesting. Kim said that the cathode needs to be transparent and with low electrical resistance and high heat resistance and flexibility. Unfortunately, these are competitng qualities.
Transparent technology is similar to mirror displays in that short channel TFT technology is needed.
New processes are needed for very high resolution, as well as better alignment. To improve image uniformity, compensation is essential. Latency needs to be shorter to reduce blurring and high frequency driving is essential.
Going beyond OLED, holograms can be created from light fields or by diffraction and interference. Coherence control is important and both technologies need more 2000 ppi in resolution and high speed driving.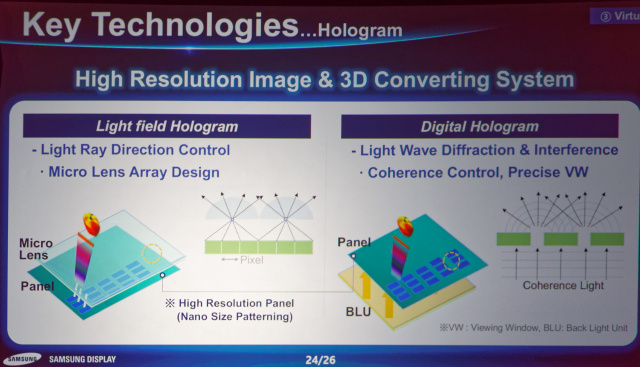 Analyst Comment
The comment that AMOLED is the only viable future technology is in contrast to the comments over recent weeks from other executives at Samsung Display who have highlighted QD displays. It seems, at the moment, that small displays at Samsung Display will continue to be based on AMOLED, while large ones will continue to be LCD with QDs, although direct QD displays might also be part of the future of Samsung Display. (BR)