Tatsuya Yata and seven of his colleagues from Japan Display Inc. (JDI) presented a paper (74.2) titled "Development of a Novel Reflective Display System with Multi-primary Color for Digital Signage" on Friday morning of Display Week. This was after the Exhibition closed on Thursday and most people had already left Los Angeles. I didn't go to the paper either since I was at an AR/VR session, but I saw the display in the author interviews afterwards.It was attracting a lot of attention.
At SID, the display was not shown in the large JDI booth on the exhibition floor, only at these author interviews. The panel was a relatively conventional reflective LCD panel designed for use in digital signage and direct sunlight. The key difference between the new display and previous digital signage displays from JDI was the new display had red, green, blue and yellow as its primary colors while previous panels had red, green blue and white. This gave the RGBY panel an expanded color gamut relative to the previous RGBW panels. Properties of the two displays are shown in the table.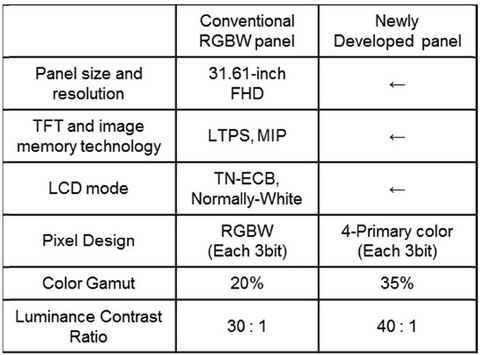 Specifications of conventional RGBW and newly developed panel (Image: JDI)
The color gamut was not exceptional to a person used to looking at modern UHD TVs, but it was respectable and the display did just fine on full motion video. The color gamut was designed to match not TV standards but the Specifications for Newsprint Advertising Production (SNAP). So the image would look not like a TV image, but like the image of a color photo printed in a newspaper. This color gamut is shown in the figure.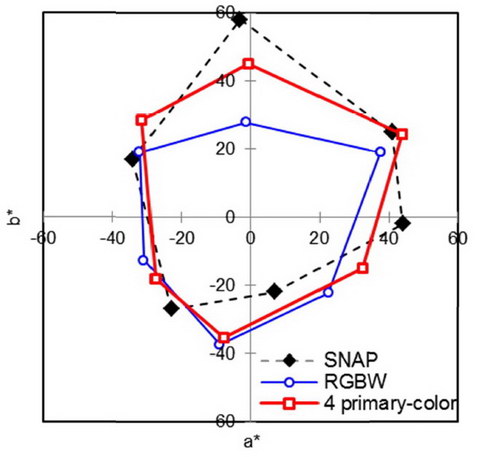 Color gamut areas of SNAP Standard, conventional RGBW panel and JDI's newly developed RGBY panel with a D50 illuminant (Image: JDI)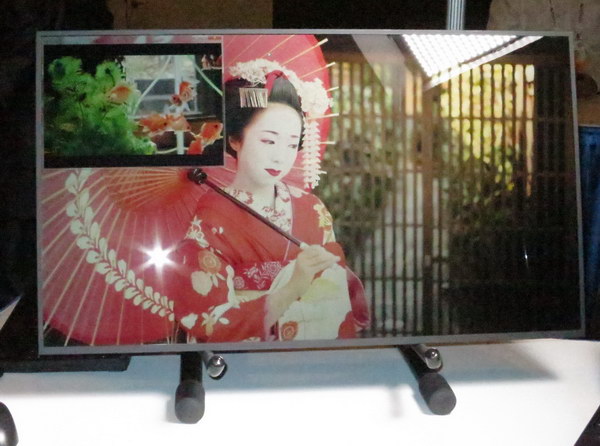 RGBY reflective LCD panel for digital signage shown by JDI at Display Week. (Photo credit: M. Brennesholtz)
As I said, the panel looked remarkably good under the high ambient illumination used for the Author Interviews demo. In this image, the star in the lower left is the specular reflection of the flash I used to take the photo and in the upper right you can see the specular reflection of the LED array used by JDI to provide the high ambient light. –Matthew Brennesholtz