Just one year after establishing JOLED as a company for developing and manufacturing OLED panels, the Japanese consortium made up by the Innovation Network Corporation of Japan (INCJ), Japan Display Inc. (JDI), Sony Corporation, and Panasonic, announced that it is investing in a research facility to develop manufacturing capabilities for midsize OLED panels.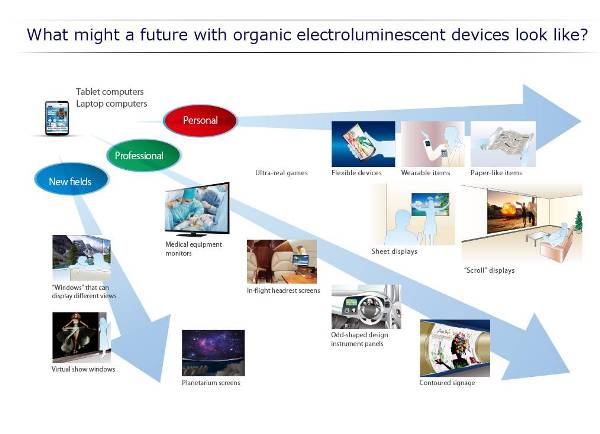 Source: JOLED
As Digitimes reports, the research center will be built in the Ishikawa Prefecture for around $161 million. The goal is to create a center to develop manufacturing processes for OLED panels. The facility will probably also mass produce OLED panels at a future point in time.
First samples are expected to leave the fab in 2016 with mass production to follow by 2018. The aim is to produce 10" to 20" panels for the tablet and notebook computers. According to the Nikkei Asian Review, the factory will work with 4.5 Gen glass substrates. The Nikkei also says that the focus on midsize panels is a consequence of the JDI involvement which supplies LCDs into the smartphone market. For that reason JOLED will not work on smartphone OLED panels.
Analyst Comment
This approach to enter the OLED manufacturing is rather typical for Japan. With South Korean companies leading the way in OLED manufacturing for now, Japan is not relying on one or several companies to enter the OLED field, but by directing this endeavor through the Innovation Network Corporation of Japan a public/private partnership between the government and private companies (including GE Japan Cooperation). With most of the money (about 95%) coming from the government, participation is of course highly beneficial for the companies. On the downside, participating companies have to play within the rules that include direction on which markets to address.

At this time it seems rather difficult to assess what the chances of success are for JOLED to become competitive in the OLED in the short time. On the other hand, when comparing this announcement with the recent announcement of LG investment in a Gen 6 OLED Fab, it seems that JOLED has some catching up to do. Don't forget, Samsung is the undisputed leader in rigid and flexible small panel OLED manufacturing.
In addition, JOLED has to deal with pressure from Chinese panel makers that are investing in the OLED panel manufacturing. OLED is a tough field to enter at this time. On the other hand the stakes are high and the earlier JOLED makes its move the better the chances of success. The question is if it is not already too late. – NH